By STEVE CHUANG

Thanks partly to the broadening application of plastics in such fields as automobiles, packaging, and medical products, the International Plastic Fair (IPF Japan) 2014, held on Oct. 28 through Nov. 1 at Makuhari Messe in Chiba Prefecture, continued to grow in size and in its ability to help visitors experience the world's latest plastic- and rubber-related products.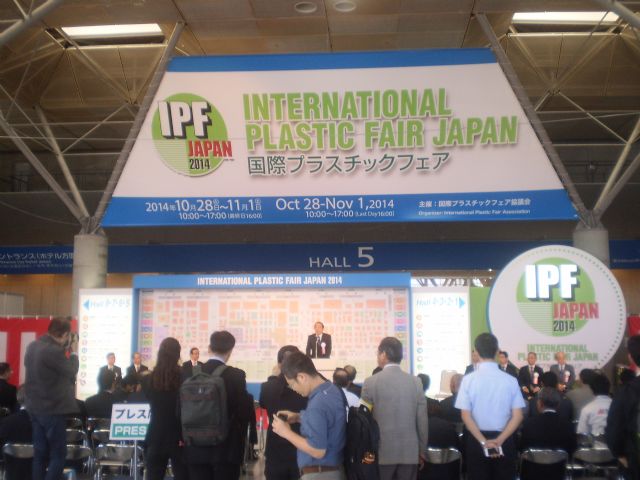 IPF Japan 2014 took place on Oct. 28 through Nov. 1 at the Makuhari Messe.
For the past 24 years, the triennial IPF Japan has been known as the country's largest trade fair for the plastic and rubber industries, as well as one of world's most important shows in terms of the technologies showcased there.
According to statistics released by the organizer, the International Plastic Fair Association, this year's IPF Japan hosted 778 exhibitors from all over the world who occupied 2,248 booths covering 54,000 square meters in eight exhibition halls. Both exhibitor and booth numbers were up from 751 and 2,217, respectively, in the 2011 edition. Japan's globally prestigious companies, including Mitsubishi Heavy Industries, Ikegai Corp., Planco, Matsui Mfg., Toshiba Machine, Sumitomo Heavy Industries, Sodick, and Fanuc, were present.
Exhibits were laid out systematically in the exhibition halls to allow visitors ease of sourcing. Halls 1-3 and Halls 7-8 were filled with a wide range of plastic molding machines and systems, such as injection molding machines, blow molding machines, and extrusion lines, as well as recycling equipment and related parts and accessories. Halls 4-6 highlighted mold design and manufacturing systems, foamed plastics, high-performance raw materials, additives and fillers, rubber materials, contract manufacturing and processing services, composite materials and molding systems, and industrial plastic and rubber components.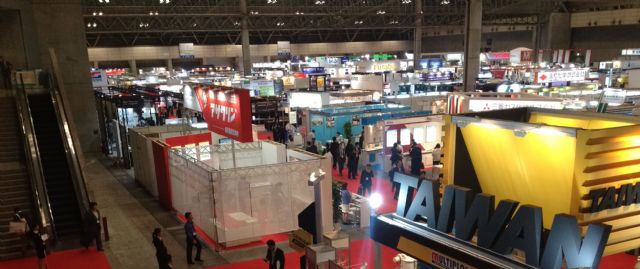 More than 770 exhibitors all over the world took part in the show.
At the fair's opening ceremony, Katsuo Ito, chairman of the International Plastic Fair Association, emphasized that this year's IPF Japan saw more exhibitors than the past two editions, which were hit by unexpected setbacks, such as the Lehman shock in 2008 and the great eastern Japan earthquake and Thailand floods in 2011, partly thanks to the organizer's unremitting efforts toward increasing the show's size and improving its content with the aim of making it an ideal platform for presenting the world's latest technology for plastics and rubbers, and enhancing exchanges and business opportunities among participants.
While the total number of visitors slid to 39,726, compared to over 41,000 in 2011, the show attracted 3,361 foreign buyers during its five-day run, a surge of around 40% from 2,154 at the last edition. The mixed results, to some degree, suggest the fact that while the heyday of the Japanese plastic and rubber machinery industry may have passed, the country remains a global leader in some sectors where advanced technology is always on demand to accommodate the ever-wider application of plastics.
Status of Japan's Plastic Machinery Industry
In recent years, Japan's plastic machinery industry has suffered a continuous decline in output and loss of market share to competitors from Germany and Italy.
According to the latest statistics from the Association of Japan Plastics Machinery, the country's annual output of extruders, extrusion equipment, and blow molding machines totaled only 464, 807, and 645 units, respectively, in 2013, with values of JPY18.95 billion (US$162.97 million), JPY9.35 billion (US$80.41 million), and JPY18.25 billion (US$156.95 million). In fact, Japan's output of plastic extruders and extrusion equipment has been in constant decline for at least nine years, starting in 2005, reflecting the shrinking presence of Japanese suppliers in the global supply chain.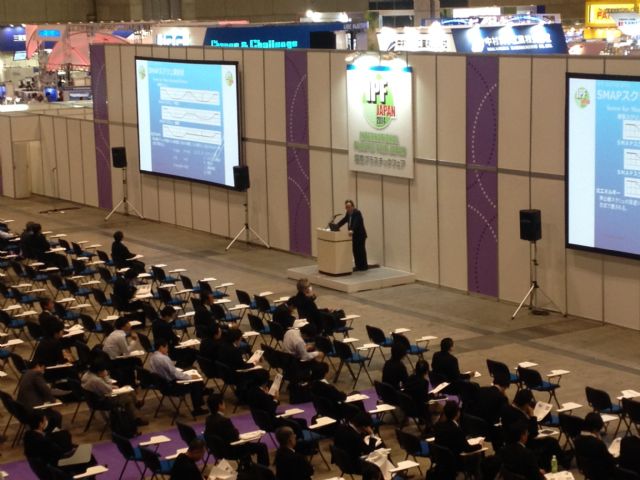 Seminars focusing on the current development of Japan's plastic machinery industry were held during the show's five-day run.
What truly keeps Japan's plastic processing machinery in the global competition is mainly injection molding machine suppliers. In 2013, the country produced 10,765 units of such machines valued at JPY129.4 billion (US$1.11 billion), remaining a global contender despite a decline in those figures from 11,512 units and JPY133.8 billion (US$1.15 billion), respectively, in 2012. The sector's output volume and value have remained above the 10,000-unit and JPY115 billion (US$989 million) levels throughout the decade beginning in 2004, except for 2009, when output and volume and value plummeted to only 4,895 units and JPY64.48 billion (US$554.52 million), respectively, due mainly to the outbreak of the global financial crisis.
In contrast to its persistent drops in output of plastic machinery, Japan's domestic consumption of plastics is growing steadily. Statista, a global market research firm, predicts that Japan's plastic consumption per person, which surged from 50 kilograms in 1980 to 90 kilograms in 2006, will reach 108 kilograms in 2015, making the country world's third-largest per-capita plastic consumer following North America and West Europe with 139 and 136 kilograms, respectively. This continuous growth is driven by not just local consumers' preference for packaging but also to the ever-wider application of plastics in industry, including advanced plastics and engineering plastics.
Injection Molding Machines Take Central Stage
Since injection molding machines are currently the mainstay of Japan's plastic processing machinery industry, it is not surprising that such machines exhibited by Japanese companies, particularly those with electric powered and hybrid servo-driven systems to address concerns over energy efficiency, high performance, and clean output, took central stage at this year's IPF.
For instance, Mitsubishi Heavy Industries showcased a full line of all-electric injection molding machines, highlighting the Japanese plastic machinery industry's well-honed, ever-advancing technology. Among the lineup was the MEII+ series medium-sized electric machine, which are fully electric-driven and use a direct- injection system to ensure high-powered injection performance, as well as a 5-point toggle mechanism to save space and provide high speed and reliability.
Another attention getter was the firm's emR, the world's first rotary platen electric co-injection molding machine, which features an innovative face-to-face layout of injection units and rotary platens that fit it for the molding of large-sized products. The machine also offers excellent mixing and plasticizing performance, achieved by improved, high-performance UB series screws developed with the company's own unique screw engineering and construction technology, as well as by the MAC-VIII+ controller to achieve user-friendly operation and effective control.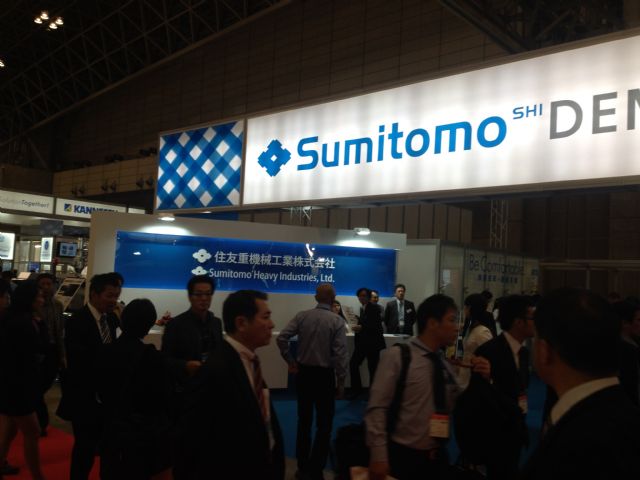 Sumitomo Heavy Industries attracted a constant influx of visitors interested in its machines and technology.
Sumitomo Heavy Industries demonstrated its SE-EV series all-electric injection molding machines, a winner of the Finest Energy-conserving Award in Machinery 2012 from the Minister of Economy, Trade and Industry Prize. These machines maximize the effects of "Zero-molding," the firm's unique engineering technology developed to simplify processing and keep material waste and defects to minimum, thereby greatly enhancing productivity and efficiency. The series also features graceful exterior design and a perfect integration of software and hardware, with maximum plasticizing capacity, injection pressure, and injection speed of C360, 284 MPa, and 550mm per second, depending on the model.
Application in Electronics Production
With plastics being increasingly used in the production of electronic components and parts, many Japanese exhibitors showed off new products and technologies that demonstrate their commitment to this trend.
For instance, Mitsubishi Engineering-Plastics Corp. unveiled its Lupilon HL-8000 polycarbonate (PC) resin specifically for manufacturing thin and large-sized light guide plates. Compared to conventional PC resin and the company's earlier versions, including the HL-4000 and HL-7001, the HL-8000 has better flowability, higher transparency, and lower yellow index, and can help reduce the temperature of the cylinder to attain more consistent quality.
Toshiba Machine promoted its EC180SX-3Z high-speed injection molding machine for molding thin-wall light guide plates used in smart devices. This machine employs a direct-drive mechanism to achieve an injection speed of 1,300mm per second, and an improved clamping unit that allows compression molding to begin during filling, further shortening the production cycle time while ensuring molding accuracy. This machine is ideal for making PC light guide plates 10.1 inches in size and only 0.45mm in thickness.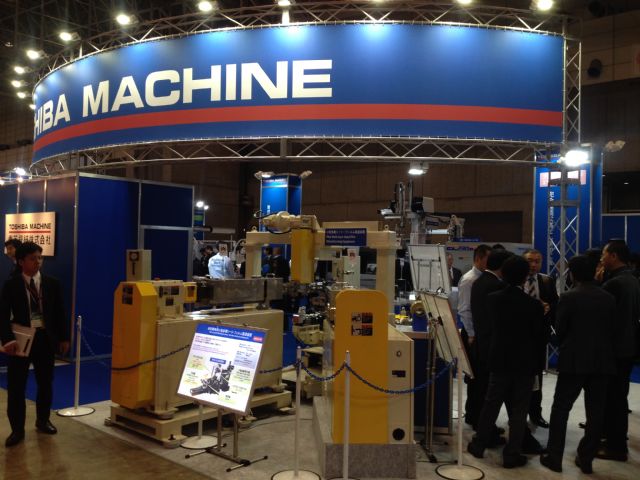 Toshiba Machine displayed a full line of injection molding machines and related equipment.
The growing popularity of high-precision optoelectronic parts has also prompted the Japanese manufacturers to pay more attention to low-pressure molding, a trend that was reflected by Nissei Plastic in the debut of its FNX360III0-100 hybrid injection molding machine that integrates the company's N-SAPLI low-pressure molding technology. Employing technology that helps reduce residual stress and production cycle time, this machine enables the high-quality, high-efficiency molding of high-precision lenses with thick or thin walls along with reduced power consumption. It also uses the "X-Pump," the company's independently developed hybrid pump system, and the TACT IV controller, helping to achieve ease of operation and as clean an output as electric-driven models.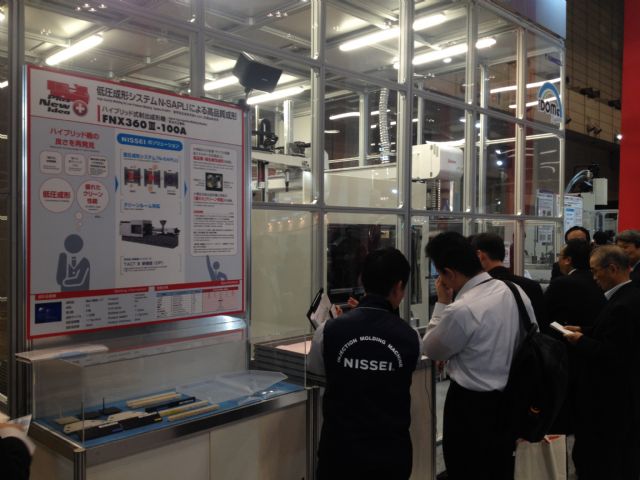 Nissei Plastic showcased its FNX360III-100A injection molding machine incorporating the N-SAPLI low-pressure molding system.
Robots
Industrial robots and robotic technology were another big hit with visitors at this year's IPF Japan.
Among the most impressive exhibitors of robots was Fanuc, which occupied a large area in Hall 7 to demonstrate various injection molding machines beefed up with robotic arms, including the Roboshotα-S100iA + Robot M10iA,α-S15iA + Robot M-1iA andα-S30iA + Robot LR Mate 200iD, for end-users from the automotive and electronics industries.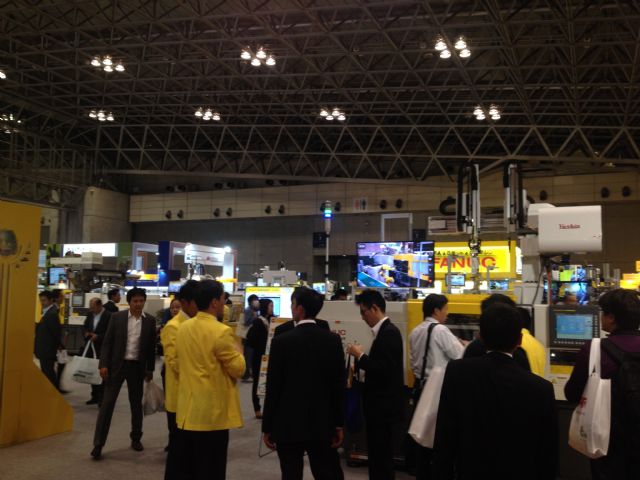 Fanuc was the most impressive exhibitor of robots at the show.
Yushin Precision Equipment brought its HAS series high-speed take-out industrial robots to the show, machines which feature not just optimally sleek arms, stable operation, and smart control, but also the world's shortest take-out time of only 0.27 seconds. Built with the firm's patented ECO-Vacuum technology, these energy-stingy robots consume 75% less compressed air than competing models while perfectly addressing end-users' requirements for advanced industrial robots with higher speed, lighter weight, slimmer frame, and smoother motion.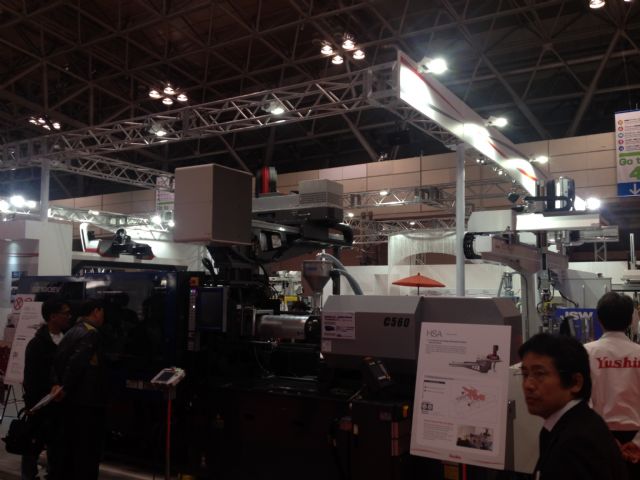 Yushin Precision Equipment's HSA take-out robotic arm boasts the world's shortest take-out speed of only 0.27 seconds.
Strong Taiwanese Presence
More than 40 Taiwanese exhibitors, mostly organized into different groups by Taiwan External Trade Development Council and Taiwan Association of Machinery Industry, took part in this year's IPF, making the island one of the largest exhibiting countries.
Many of Taiwan's top-end machinery makers were there, including Chuan Lih Fa Machinery Works and Multiplas Enginery Co. (injection molding machines), Fong Kee International (plastic extrusion equipment), Matila Industrial and Jenn Chon Plastics Machinery Works (blown film machines), Ho Hsing Precision Industry (screws and barrels), San Lung Gear Works (gearboxes), Tong Yu Hydraulic Machinery (rubber injection machines, tire curing presses, and compression molding machines). The high-profile products they displayed were popular with professional buyers.
Chuang Lih Fa, for instance, promoted its AE series all-electric plastic injection molding machines employing Siemens control and servo motors for outstanding performance and high accuracy, and improved injection units with enhanced servo control to ensure stability and high speed, along with a standardized structural design for easy, low-cost maintenance. These machines also feature an exclusive energy-regeneration function that not only helps cut power consumption but also contributes to environmental protection. The machines are perfect for the production of thin-wall optical products, in-mold labeling products, and precision parts.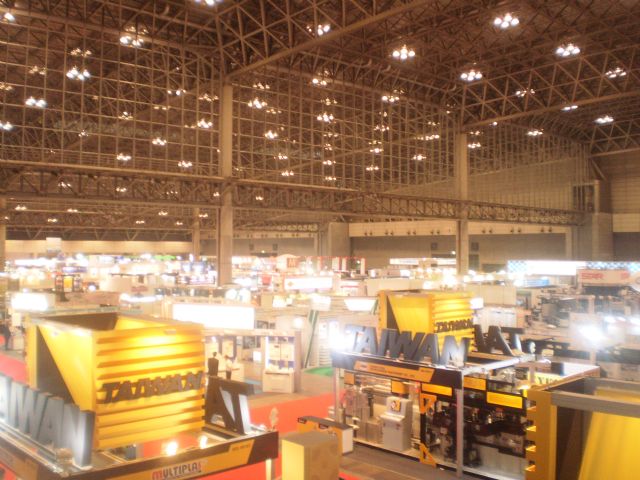 Taiwan was one of the largest exhibiting countries at this year's IPF Japan.
Taiwan's No.1 branded supplier of gearboxes, Sun Lung, showcased a full slate of its newly developed gearboxes, including a model for counter-rotating conical twin screw extruders. This innovative gearbox uses steady transmission and high loading capacity of conical gears, as well as conical gear precision hobbing and grinding technologies, to optimize the features of plastic products. It is precisely ground with special machining facilities and strict tolerances to attain high-precision measuring up to DIN standards, high transmission efficiency, and long lifespan.
CENS, the best-known export media company from Taiwan, occupied a booth in Hall 4 to provide useful buyer guides, including
Taiwan Machinery
and
Taiwan Plastic & Rubber, Packaging and Printing Machinery Special,
along with real-time business matchmaking services for professional buyers in need of high-performance plastic and rubber machinery from Taiwan. With extensive information about Taiwanese suppliers of nearly all kinds of machinery, CENS publications proved highly popular with buyers.
The next IPF Japan will be held Oct. 24-28, 2017 at the same location, where it is expected to further expand in size and attract more visitors from all over the world.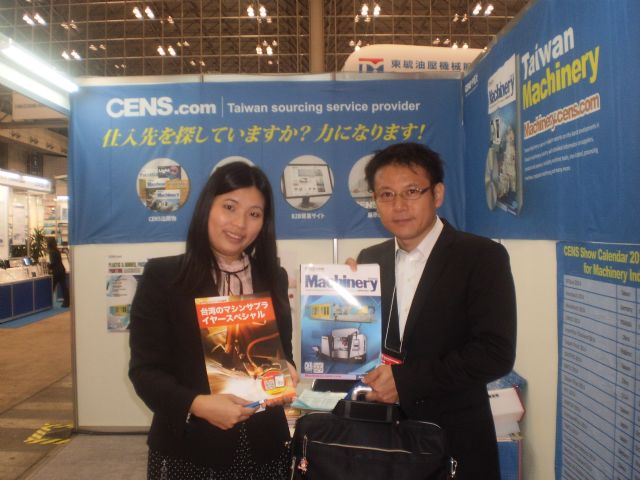 CENS's publications were popular with professional buyers.