Global thin film transistor-liquid crystal display (TFT-LCD) panel suppliers are forecast to ship 718 million large-sized (9.0-inch and larger) panels in 2014, up 3% from the previous year, according to NPD DisplaySearch.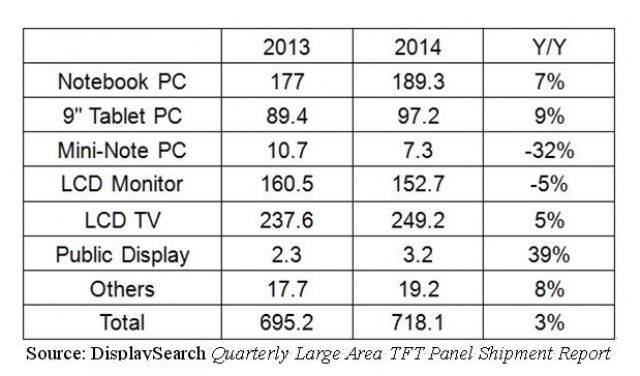 Large-sized TFT-LCD Panel Shipments (2013-2014)
Panel price increases and growing average TV size will help revenues track unit gains up 3% year-on-year (YoY) to US$75 billion, the display-market research firm predicted.
Both shipments and revenues in the large-sized TFT-LCD panel segment fell in 2013. The market has been rebounding since the second quarter of 2014, putting producers on track to meet their targets this year. Demand has been especially strong for larger-sized 4K2K, or UHD (Ultra High Definition), TV panels, notebook PC LCD modules and 9-inch and larger tablet PC panels. Where 2013 was a year of inventory adjustments and panel value upgrades, 2014 has been marked by increasing demand in the face of lean supply, NPD DisplaySearch explained.
The strong growth in average size and area in LCD TVs led to a balancing of TFT-LCD supply and demand. In some segments, shortages have boosted unit prices. LCD TV panel shipments reached 64 million units in the second quarter of 2014, a record high, showing the strong momentum from downstream re-stocking. Another record was set in the third quarter, as shipments reached 65 million units.
Beyond TFT-LCD, shipments of active matrix organic light-emit diode (AMOLED) tablet PC panels with resolution of 280-360 ppi (pixels per inch) are expected to reach five million units in 2014, the research firm said.
DisplaySearch noted that panel makers' conservative plans for notebook PC panels in the first half of 2014 created a shortage during the year. In terms of technology, producers started upgrading to full-HD (FHD) and other high resolution formats in 2013, adopting flat light guide plates in the backlight for ultra-slim panels. Slim and ultra-slim notebook PC panels comprised 75.9% of shipments in the third quarter.
Cannibalization by smartphones and maturation of smaller-size tablet PCs have combined to shift tablet PCs to the larger sizes of nine inches and up. AMOLED was successfully introduced in the tablet PC market with the higher color gamut feature, slim and light weight advantages and the future potential of flexible form factor design.
Shipments of LCD monitor panels fell to the lowest level since 2006, due to the maturity of the desktop PC market and the slow replacement cycle. Panel makers are planning to shift to larger sizes and add higher value products in new sizes and resolutions; panel makers are now focusing on 2560×1440 and 4K LCD monitors.
LCD TV shipment area will grow from 97 million square meters in 2013 to 112 million square meters in 2014, 15% YoY. Meanwhile, manufacturers are also planning to ship more than 20 million 4K TV panels in 2014.
Public display LCD shipments are growing by 39% YoY, with the retreat of the plasma display panel (PDP) and strong momentum in digital signage. Meanwhile, industrial applications and the success of large screen automotive displays are growing rapidly. According to the Automotive Displays Report, shipments of nine-inch and larger automotive display panels will grow from 940,000 in 2013 to approximately two million in 2014. Some car makers are using large TFT-LCDs to replace the instrument cluster, such as Audi's TT, which uses a 12.3-inch panel made by Taiwanese panel maker AU Optronics Corp. (AUO).