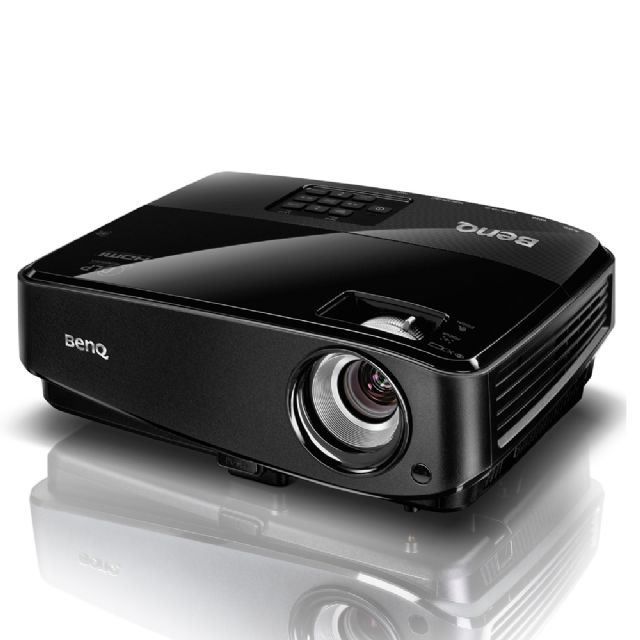 A high-end projector model made by Taiwanese company BenQ, the world's largest supplier of DLP projectors and No. 2 in overall shipments. (photo from UDN)
BenQ Corp., a major Taiwanese maker of computer peripherals, recently announced that its global shipments of projectors in the first three quarters of 2014 jumped 24% from the same period of the previous year, or year-on-year (YoY).
Research data recently compiled by Futuresource Consulting show that BenQ's share of the global projector market soared to 13% in the first third quarters, making it the No. 1 vendor of digital light processing (DLP) projectors and the world's No. 2 projector brand.
BenQ expressed optimism about achieving annual shipments of one million projectors this year. In addition to growing sales in the major markets of Europe, China, and the Asia Pacific, BenQ's market share in Latin America claimed to 22% during the nine-month period.
BenQ's performance far outstripped the 10% increase in overall global shipments of projectors in the first nine months, thanks mainly to improvements in the lighting sources and a concentration on the family and educational segments. Of all BenQ projectors sold in the first three quarters, full-HD (FHD) models accounted for 26%.
The company's shares of individual markets are: 17% in Europe, 12% in China, 11% in the Asia Pacific, and 22% in Latin America. In terms of ranking, BenQ is the No. 1 projector vendor in North Europe and Russia, and No. 2 in Canada, Australia, and Brazil.
A senior BenQ official said that his company has been working vigorously toward product and service innovation, and that he is confident of continued projector-sales growth in the traditional fourth-quarter peak season. He expects sales to hit one million by the end of the year.
In Taiwan, however, BenQ was only No. 3 in the projector market. According to the International Data Corp. (IDC), a global market research firm, projector shipments to the Taiwanese market in the third quarter of the year declined by 0.5% YoY and 0.1% quarter-on-quarter (QoQ) to 21,255 units (compared with 21,269 units in the second quarter).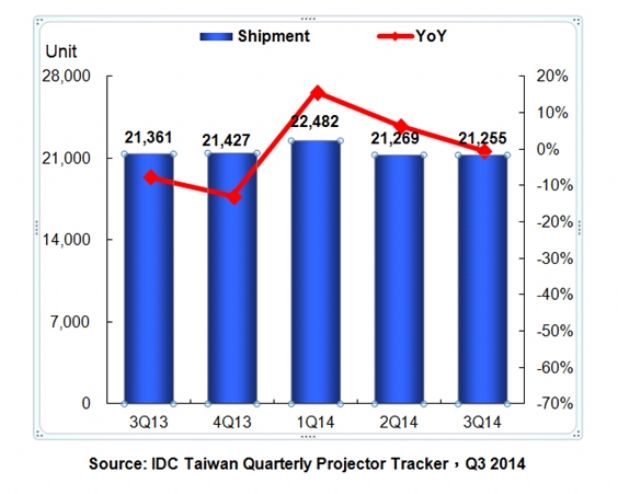 The Taiwanese Projector Market (Q3, 2013-Q3, 2014)
Third-quarter shipments were affected by a lack of large information technology (IT) equipment tenders from schools and educational institutions as well as elections for government officials. Strengthening family demand more or less compensated for the loss of orders from the educational segment, leading to level shipments.
The IDC report indicates that in the third quarter, projectors with a brightness range of 3,000-3,999 lumens were still the mainstream in Taiwan with a 57% share of the market, thanks mainly to increased shipments of entry-level models for family and educational applications.
In terms of resolution, IDC reports that XGA (extended graphics array, with a resolution of 1024 x 768 pixels) models commanded a 67% share of total sales (down from 69% in the second quarter), retaining their mainstream status, while WXGA (wide XGA, 1280×768 pixels) and 1080P models, which have higher profit margins, continued to enjoy QoQ growths of 15.7% and 20%, respectively.
In the third quarter, Epson, NEC, BenQ, Optoma, and Vivitek were the top- five brands in Taiwan's projector market, accounting for 80% of overall shipments. Epson was in top place for the fifth consecutive quarter.
IDC predicts that projector shipments will likely drop in the fourth quarter as most of the current supply contracts between suppliers and big buyers expire. The outcome of new supply contracts will affect the business of projector vendors, especially the more price-sensitive Japanese brands, some of which might give up participating in big tender projects. This is expected to have two major impacts on the market: expanding market space for Taiwanese projector brands, and a likely refocus by Japanese brands on enterprise and family models, leading to increasingly fierce competitions in the market.