Taiwan's Hon Hai Group, a large electronics conglomerate, and its affiliated Innolux Display Corp., the largest maker of thin film transistor-liquid crystal display (TFT-LCD) panels on the island, recently announced plans to build a sixth-generation (6G) low temperature poly-silicon (LTPS) TFT-LCD panel plant in Innolux's complex in the Kaohsiung Science Park in southern Taiwan.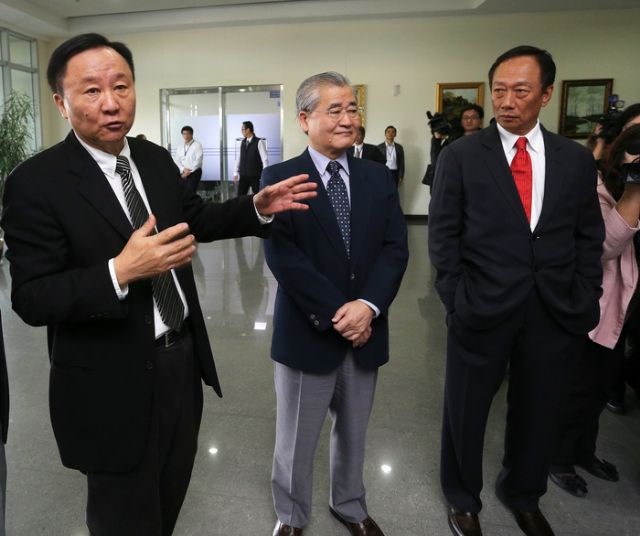 Duan Xinjian, chairman of Taiwan's largest TFT-LCD panel maker (left) and Terry Guo, chairman of the Hon Hai Group (right). (photo from UDN)
Total investment in the project is estimated to top NT$50 billion (US$1.67 billion), making it Taiwan's largest flat panel display (FPD) project since the global recession hit in 2008.
For the press conference that Hon Hai and Innolux held to announce the project, distinguished guests and journalists were invited to tour Innolux's 8.5G panel factory--the first time it had been opened to outsiders.
After Hon Hai ran into problems with a plan to invest in an LTPS TFT-LCD factory in China earlier this year, the company switched its attention to the Innolux facilities in the Kaohsiung Science Park.
Industry experts estimate that a 6G LTPS panel production line with a monthly production capacity of 30,000 to 50,000 panels costs about NT$50 billion (US$1.67 billion). Since the global recession struck, both of Taiwan's top two TFT-LCD panel makers, Innolux and AU Optronics Corp. (AUO), have cut their capital spending substantially and have added no capacity.
Innolux chairman Duan Xinjian reported earlier, at a shareholder meeting, that the company would double its capital spending for 2015 to NT$30-40 billion (US$1-1.33 billion), the largest amount spent by any local panel maker since the recession began. The additional capital will be used to upgrade technology, remove bottlenecks in production, and further expand 6G and 8.5G production capacity.
Industry sources pointed out that Apple's iPhone uses LTPS panels supplied by Japanese and Korean panel makers. As the largest iPhone contract assembler, the sources added, once Hon Hai moves into LTPS panel production it is expected to become a supplier of these key parts for the iPhone--with an accompanying rise in its profit margins.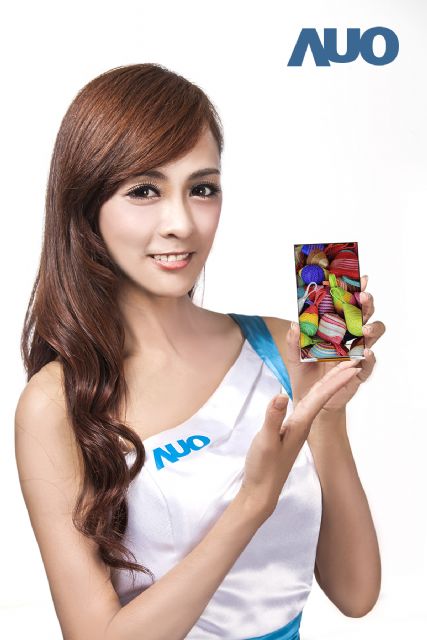 An LTPS TFT-LCD panel for cellphone application. (photo from AUO)
Lin Yen-shih, an analyst with the Industrial Economics & Knowledge Center (IEK) under Taiwan's Industrial Technology Research Institute, pointed out that five or six LTPS factories in China are scheduled to kick off production in 2015 and 2016, leading to an excessive supply of such products.
Recovering Taiwanese FPD Revenue
Taiwan's revenues from FPD production are expected to return to a positive growth of 1.6% to 3.5% in 2015, according to IEK. With the stable growth of demand for large-sized (10-inch and larger) panels, the center added, major players on the island, such as Innolux and AUO, are expected to brighten their prospects by developing higher-end products (such as LTPS) and enhancing partnerships with system vendors.
At a recent annual IEK seminar, Lin affirmed that there are concerns about a panel oversupply after Chinese companies get their new 8.5G production going. However, she added, the inauguration of new capacity by Chinese panel suppliers may not go as smoothly as originally planned and the increase in average panel size for different types of products is expected to digest most of the new capacity, leading to a relatively healthy market for large-sized panels in 2015.
IEK also predicted that Taiwan's FPD production in 2014 will be in the range of a 0.3% increase to a 2.3% decline.
Lin went on to note that the Chinese government has announced an action plan to develop and innovate new types of display products between 2014 and 2016 with the aims of making China the world's No. 2 shipper of panels with global share of 20% and of continuously boosting the Chinese FPD industry in the direction of greater value-added and higher technology.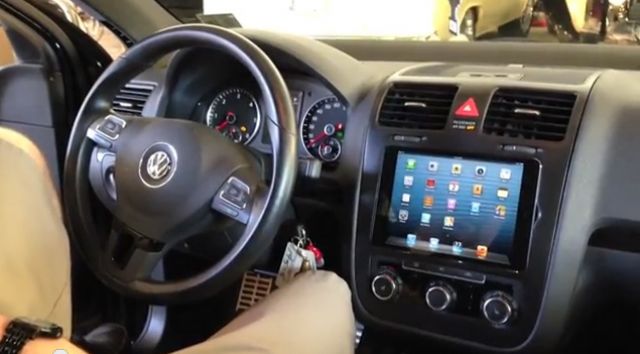 IEK says that automotive-application panels are a highly promising segment that offers higher profit margins. (photo from the Internet)
Under the high pressure they face from increasingly powerful Chinese rivals, Lin said, Taiwanese panel suppliers should turn their eyes to emerging application markets with high growth potential, such as automotive displays. The average size of automotive panels now is seven inches and the average selling price is about US$60, 1.6 times that of a similarly-sized cellphone panel and 3.6 times that of a panel for a tablet PC.
Lin Tze-min, another analyst at IEK, warned that some major Taiwanese suppliers of touch panels, such as TPK Holding Co. and Wintek Corp., are facing price-cutting competition from Chinese counterparts as well as the vigorous development of in-cell and on-cell touch products. The only way to survive in the future competitive market is to develop promising technologies and higher-technology products.
At IEK's annual seminar, Lin Tze-min predicted that the global production volume and value of touch panels will continue to grow at a high speed over the next five years, but that local suppliers will encounter more and more challenges. He backed his prediction by pointing out that Taiwanese touch-panel makers together won a 48% share of global shipments in 2011, but that the ratio dropped to only 22% in the first half of 2014; while the island's global share of production value declined from 48% to 20% over the same period.
The analyst attributed the sharp declines in production and revenue to the emergence of low-price competition from Chinese rivals, which basically rely on financial support from the Chinese government. In 2011, he continued, Chinese touch-panel shipments accounted for only 13% of the global total, but the share climbed to 30% in the first half of 2014; in terms of revenue, however, the Chinese share increased only from 10% to 11%. That means, he explained, that price-cutting competition led to very thin profit margins.