Terry Guo, chairman of Hon Hai Group, major EMS (electronics manufacturing services) provider in Taiwan, recently said that flat panel display (FPD) is a key part of overall high-tech industry and everyone should be optimistic toward the future development of the segment.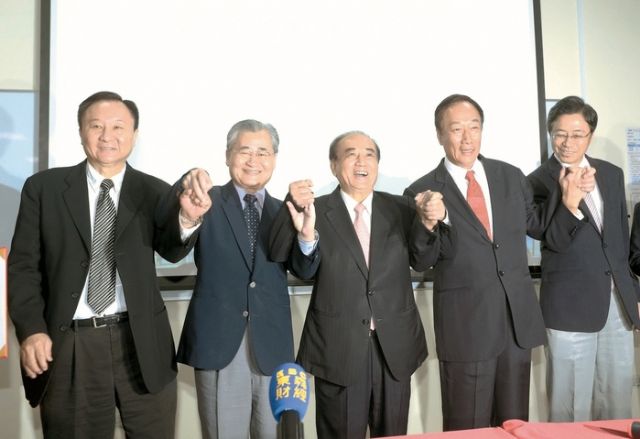 Terry Guo (second from right), chairman of Hon Hai Group; Duan Xin-jian (fifth), chairman of Innolux, and government officials at the 6G LTSP panel plant LOI signing ceremony. (photo from UDN)
At the recent press conference  "Invest Taiwan, Develop Taiwan", Hon Hai and affiliate Innolux Display Corp., major maker of thin film transistor-liquid crystal display (TFT-LCD) panels in Taiwan, signed an investment letter of intent (LOI) to jointly invest NT$80 billion to NT$90 billion (US$2.67 billion to US$3 billion) to build a sixth-generation (6G) low temperature poly-silicon (LTPS) TFT-LCD panel plant in the Kaohsiung Science Park (formerly STSP Luchu Base) in southern Taiwan. According to Guo, the plant will be a milestone for Hon Hai Group's transformation, as well as  benchmark for Taiwanese FPD industry to pull ahead Japanese and Korean rivals.
Many industrial heavyweights and government officials were invited to the signing ceremony. Duan Xin-jian, chairman of Innolux, pointed out that the project will bear the  name of Innolux to streamline  progress. The front-end production process of the new LTPS factory will cost more than NT$70 billion (US$2.33 billion), with the rear-module production process and related system installation to cost maybe about NT$100 billion (US$33.3 billion).
Duan said Innolux is a leading supplier of TV, monitor, and notebook PC panels by staying  ahead Japanese and Korean counterparts, but not in the LTPS cellphone panel business due to lagging in the wake of the global recession. Innolux operates only 3.5G LTPS plant whose production capacity is too small to win orders from big customers. So, he added, the planned 6G LTPS facility is expected to further strengthen Innolux's competitiveness in high-end LTPS cellphone panels.
Guo firmly denied market rumor of Hon Hai's original plans to set up its 6G LTPS panel plant in Chengdu, Sichuang Province of China, but canceled due to local governmental rejection, that in Chengdu his group will utilize different technologies to produce different products. He stressed that the Chengdu project totally differs from the Kaohsiung Science Park project with different product lines, technologies, sizes and equipment, that his group had applied for the LTPS investment project one or two months ago, rather than on the spur of the moment.
Guo also stressed that many customers ask Hon Hai to produce LTPS panels to motivate the investment project, which will be completed within two years.
Wang Jyh-Chau, president of Innolux, said the 6G LTPS panel plant will have designed initial monthly capacity of 24,000 glass substrates, to start mass production in April 2016.
Duan explained that Hon Hai is an EMS provider while Innolux focuses on producing panels, so the two parties can achieve synergy and integrated competitiveness from display panels to system assembly, with , especially high-end cellphone business, the tie-up to  further enhance mutual strengths.
World-class Data Center
At the press conference, Guo also announced Hon Hai to recruit some 3,000 engineers for its investment project in the Kaohsiung Software Technology Park (KSTP) for building into a world-class data center.
Details of the KSTP investment project will be announced late this year after inauguration of a new building in the park, said Guo.