Suppliers of thin film transistor-liquid crystal display (TFT-LCD) panel are stepping up large-sized (larger than 9-inch) panels business this year amid rising demand for key applications. According to the latest DisplaySearch quarterly report, TFT panel suppliers are forecast to ship 718 million large-sized panels, up 3% year-on-year (YoY). Due to recent panel price increases and  larger average area sizes for TVs, large-sized TFT-LCD revenue is forecast to reach US$75 7 billion in 2014.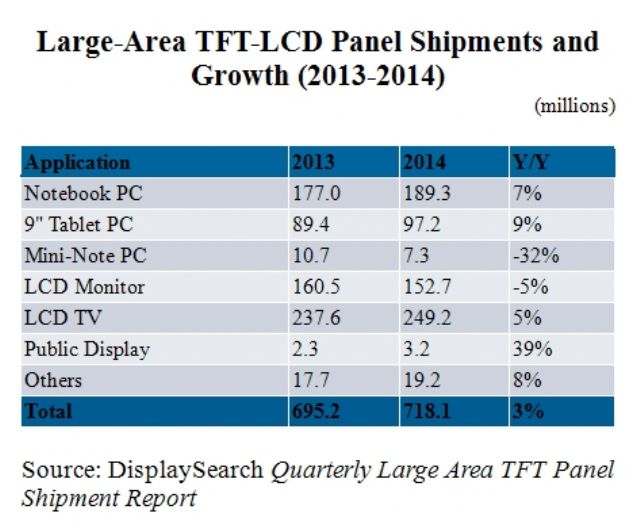 Large-sized TFT-LCD Panel Shipments & Growth (2013-2014) (Source: DisplaySearch Quarterly Large Area TFT Panel Shipment Report)
David Hsieh, vice president of the Greater China market for DisplaySearch, said 2013 was the first year that large-sized TFT-LCD panel shipments and revenues declined, with a market rebound beginning in Q2, 2014  enabling panel makers to realize  business plans. Strong growth in  average sizes of LCD TVs with inventory shortages in those sizes have transformed the industry landscape, enabling panel makers to increase prices and expand shipment volumes, he added.
According to DisplaySearch, LCD TV panel shipments reached a historic high of 64 million units in Q2, 2014 to reveal stronger-than-expected momentum in downstream inventory preparation. The following quarter, shipments were even higher, reaching a new record high of 65 million units.
Panel technology improvements that bolstered shipments included 4K2K, or UHD (Ultra High Definition), TV panels, super-slim bezels, higher transmittance open-cell technology, higher resolutions, in-plane switching (IPS) and fringe-field switching (FFS), ultra-slim and lightweight form factors, and higher color gamut. Other recent improvements in integration included up-scaling circuitry, touch screens, and mechanical parts, DisplaySearch said.
Shipments for OLED panels for high-resolution tablet PCs (e.g., 280-360 ppi) are expected to reach 5 million units in 2014, a new milestone for the category.
According to panel makers' business plans, shipments of notebook PCs and mini-note panels are forecast to reach nearly 197 million units this year, up 5% from 213. In H1, 2014, panel makers' conservative estimates for notebook PC panels had induced a shortage.
LCD TV panel shipments are expected to grow 5% in 2014, reaching 249 million units. On an area basis, LCD TV shipments are expected to increase 15% YoY, from 97 million square-meter in 2013 to 112 million square-meter in 2014; meanwhile, manufacturers are also planning to ship more than 20 million 4K TV panels this year.
The market for LCD public displays is expected to grow 39% this year, due to the demise of plasma display panels and the strong momentum for digital signage. Hsieh noted that industrial applications and soaring growth in larger automotive displays is also pushing large-sized TFT growth.