By STEVE CHUANG

The Japan International Machine Tool Fair (JIMTOF) 2014 was held on October 30 through November 4 at the Tokyo Bight Sight (Tokyo International Exhibition Center). Considered one of the largest and most important trade fairs in the global machine tool industry, the event drew more than 130,000 visitors and provided a stage for Taiwanese exhibitors to show off their R&D prowess to the world.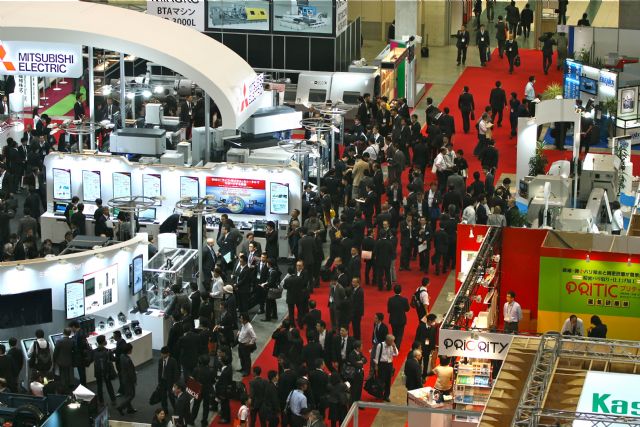 JIMTOF 2014 drew over 870 exhibitors and 130,000 visitors from across the world during its six-day run beginning on October 30.
Machine tools are the mainstay of Taiwan's machinery industry. During the period of 2010 to 2012, the sector's production leaped from US$3.80 billion to US$5.43 billion, making Taiwan the sixth-largest producer in the sector globally, according to statistics by Taiwan Association of Machinery Industry (TAMI). After a slight dip in 2013, when output fell to US$4.89 billion mainly due to sluggish demand in the U.S., Europe and China, output in the sector is expected to end 2014 8% higher at US$5.03 billion and rise further to US$5.09 billion in 2015.
Taiwan is also world's top-ranking machine tool supplier. TAMI's report indicates that Taiwan's exports in the sector amounted to US$4 billion in 2011, 35% more than the US$2.9 billion posted in 2010, to become the fourth-largest supplier in the world. Taiwan is expected to advance a notch further in 2015, with exports topping US$4.5 billion, based on a hope for gain in global demand.
Machining centers and lathes make up the majority of Taiwan's machine tool exports. Output in the two segments is estimated to reach US$1.5 billion and US$1.3 billion, respectively, by 2015. Taiwan-made machining centers are mostly sold to China and emerging countries in Southeast Asia, while lathes are popular in Europe and North America. This indicates the success of Taiwanese suppliers in hitting the right balance between price and quality to win orders in developing countries, as well as in building top-caliber technical capabilities to compete against rivals in advanced nations.
Noteworthily, parts and components are increasingly contributing to Taiwan's machine tool sector. According to TAMI, production and exports totaled US$170 million and US$100 million, respectively, in 2012, making the island the world's third-largest producer and exporter. With the launch of a new trillion-dollar government initiative focused partly on improving the machine tool sector, Taiwanese parts and components makers are expecting more sustainable growth in the short term.
JIMTOF 2014 again gathered top-end machine tool manufacturers from around the world at Tokyo Big Sight to secure its place as one of Asia's best places to showcase state-of-the-art machine tools and related technology. Most of the Taiwanese exhibitors demonstrated their best products and commitment to excellence and reliability, boosting brand recognition and global sales.
Tongtai
One of the Taiwanese exhibitors at JIMTOF this year was Tongtai Machine & Tool Co., Ltd., the third-biggest supplier in the line by revenue in 2013. The company brought several technologically impressive machines to the show, including its VU-5 Rotary Type Ultraonic-assisted Machining Center and Q5 Gang Type CNC Lathe.
Tongtai's overseas sales representative, Jamie Chung, noted that the VU-5 employs a PZT (piezoceramic) vibrator and horn and ER11 collet incorporated with the company's outstanding ultrasonic control technology to achieve tool axial vibration frequency of 15-45 kHz and maximum spindle speed of 20,000 rpm with incredible stability. Through periodical tool axial vibration, the cutting resistance is decreased while finishing quality is enhanced.
The X, Y and Z-axis VU-5 is also notable for its modular design. The model is equipped with a BBT-30 tool holder and high speed spindle to achieve high efficiency machining. It also uses ultrasonic machining technology to reduce chipping and handle microhole machining on hard and brittle materials, including sapphire, zirconia, ceramic, glass, and hardened steel.
Coolant flows through the spindles, enabling chips to be removed efficiently and keeping wear from high temperature and cutting resistance to a minimum to prolong tool's lifespan.
"We've received a steady flow of orders for the VU-5 from Europe since it was released in mid-2013," Chung said. "The machine was developed jointly with a Japanese partner and features impressive performance and precision, ideal for machining that involves hard and brittle materials and calls for a long cycle time to complete." The machine is aimed at end-users in the medical, automotive, die and mold, aerospace, precise ceramic and glass industries and can be used for artificial crown machining, valve deburring, surface finishing, roughing and finishing, drilling, polishing and chamfering.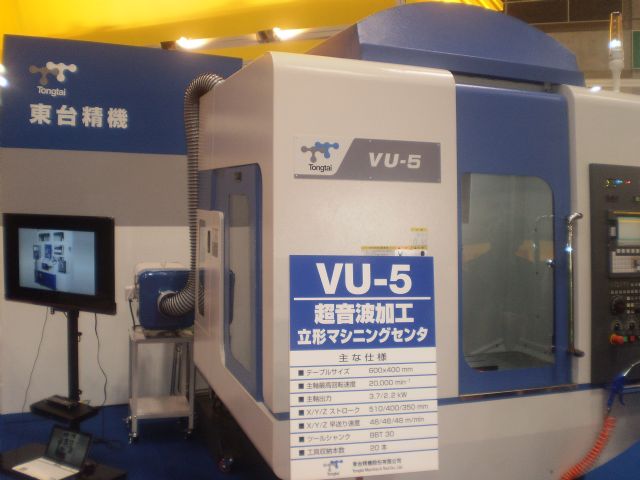 Tongtai unveiled its VU-5 Rotary Type Ultraonic-assisted Machining Center.
Tongtai's other popular exhibit at the show was the Q5 Gang Type CNC Lathe, designed for small and medium parts machining and suitable for mass production. The compact machine delivers consistently high machining precision. It has a 6,000-rpm, 7.5-hp spindle motor, and offers a rapid X/Y-axis traverse rate of 30m per minute. It is also optioned with robotic arms and automation systems, including a configuration composed of a bar feeder, parts catcher and parts conveyor. The machine can also be configured with eight-pallet and two-pallet gantry-loader-type parts stockers to handle workpieces up to 50mm in diameter and 38 mm in length.
"We developed this machine to address growing concerns among end-users for better space saving, higher performance, less manpower input and higher investment returns as a niche product among Tongtai's lineup," said Chung. He said the machine is particularly suitable for the processing of copper-made bars to roundness and surface roughness of 0.42µm and 0.85µm, respectively, with a short cycle time of 20-30 seconds and feed rate of 0.01mm per revolution.
Chung gave JIMTOF 2014 a thumbs up. He said that Tongtai promoted the two above-mentioned machines at the show to introduce global buyers to its world-caliber technology and high-performance machines.
Goodway
Goodway Machine Corp., the flagship company of Taiwan's Goodway Machine Tools Group with annual turnover of around NT$9 billion (US$300 million) in 2013, displayed its GTH-2600 series parallel twin-spindle CNC turning center at the trade fair. The machine is aimed at tapping exploding demand in the automotive industry.
Jeff Peng, sales manager, said that the turning center has a heavy-duty, high rigid frame, developed with Finite Element Analysis and a high tension Meehanite casting structure, of spindles, turrets and saddle for optimal reinforcement and high mechanical strength to handle extremely heavy cutting while maintaining high accuracy. The structure also has high rigidity to extend tool life and provide firm support for the saddle and turret travel, while also shortening the distance of the turret's overhang to increase cutting rigidity.
The GTH-2600 also improves machining accuracy with evenly thick headstock sides that ensure an even and optimal distribution of cutting forces to the machine bed. This results in exceptional vibration damping characteristics. The machine also has P4-graded super-high precision bearings, which are directly assembled for maximum level of support and precision, and heat-dispensing fins designed around the headstocks to evenly disperse heat and reduce deformation, further increasing machining accuracy.
This machine also incorporates advanced turret technology, including a heavy-duty servo indexing turret that reduces indexing time to just 0.2 seconds for adjacent stations, and a 0.5 seconds for stations at the opposite end of the disk turret. Other features include super high precision curvic couplings that accurately position the turret disk; 4,000 kilograms of clamping force to ensure ample turret rigidity for all cutting conditions; and a parallel twin-spindle structure to reduce turret interference. The machine also has an optional C-axis and live tooling turrets to handle turning, milling and tapping on front and rear parts of workpieces.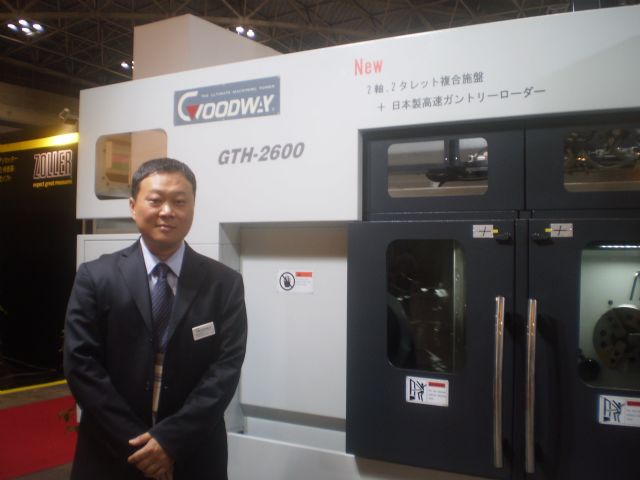 Jeff Peng, Goodway's sales manager, introduced the GTH-2600 series parallel twin-spindle CNC turning center.
While Japanese rivals presented competing models at JIMTOF 2014 to tap the lucrative car part machine tool market, Peng indicated that Goodway still decided to display the GTH-2600 at the show based on its more than 20 years of experience in developing the Japanese market. "We are confident that our CNC turning center has a better price-performance ratio and measures up to safety and quality requirements of Japan. In fact, we have been accepted by contract manufacturers in Toyota's supply chain," said the sales manager, who added then Goodway would ship over 20 sets of the machine more to Japan in December, 2014.
To further explore the Japanese market, Peng revealed that Goodway plans to keep participating in JIMTOF in the years ahead, as well as set up an automation technology department in cooperation with a prestigious Japanese firm to meet strong local demand for highly integrated, automated machine tools. "We are going to boost our capabilities in automation technology, and aim to boost group revenue by 20 to 25% in 2015."
Chmer
Chmer, Taiwan's largest brand of electrical discharge machining (EDM) machines and subsidiary of Ching Hung Machinery & Electric Industrial Co., Ltd., promoted its Q series high precision gantry-type liner motor drive EDM to highlight its R&D advances.
Brad Wang, the company's vice president, noted that the Q series, a winner of the Taiwan Excellence Award for 2015, has several features that set it apart from rivals, including a patented gantry moving structure design. The structure eliminates the need for back seal plates, improves cutting accuracy by eliminating lower arm deflection and reducing maintenance and repair costs. With five axes (X, Y, U, V and Z) and a fixed table for improved accuracy with fewer passes, the innovative structural design is 15% more compact than conventional models.
The highly efficient linear motor drive system, developed independently by Ching Hung, is built into the EDM to offer ultimate positioning accuracy and repeatability without mechanical backlash commonly seen in conventional ball screw-driven systems. The system, Wang emphasized, still has lots of advantages, including better parts profile to be achieved on the first pass, ease of maintenance, and no accuracy degradation.
The EDM also features the firm's self-developed Auto Wire Threading technology, which can thread wires down to only 0.07mm in diameters and has a simple, reliable mechanism that allows for minimal, cost effective maintenance ,while ensuring high productivity. It also comes with EC Tension Control technology that improves threading rates to less than 10 seconds with constant tension.
Another notable feature of the machine is the G7 Energy Saving Power Supply. Wang said that the power supply can transform power applied in the discharge process to recharge the generator and cut power consumption by up to 20%, compared to conventional power control systems. Other benefits of the machine include a wire break refraining function that enables higher cutting speeds and reduces heat emissions.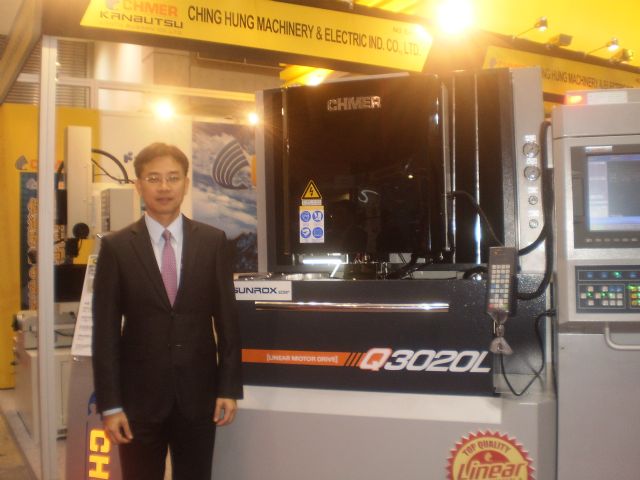 Brad Wang, Chmer's vice president, is proud of the technologies and key components built into his company's Q series high precision gantry-type liner motor drive EDM, seen behind him.
"Chmer has sold machines to over 50 countries of the world, with cumulative sales of more than 10,000 units as a globally known brand of EDMs," said Wang. "That achievement comes from years of efforts by Ching Hung to transform from OEM (original equipment manufacturing) and ODM (original design manufacturing) into OBM (original brand manufacturing)." Chmer therefore chose JIMTOF 2014 as the platform to unveil its latest technologies and machines with an eye to raising its global profile, the vice president said.
Wang said that Chmer attended 40 to 50 trade fairs throughout the world in 2014 to increase brand recognition among professionals and achieve sustainable development.
Luren
Luren Precision Co., Ltd., Taiwan's No.1 maker of shaving cutters, shaping cutters and gear cutting tools, showcased its LUG-3040 CNC Universal Gear Tool Grinding Machine at JIMTOF 2014, also targeting the automotive industry.
Company president Chuck Chen said that the LUG-3040 is world's first multi-functional gear tool grinding machine. It is equipped with advanced controllers from Fanuc, a directive drive motor for the workpiece spindle, and built-in motor for the grinding spindle.
The machine is also the first machine of its kind in the world with a shaving cutter sharpening function achieved through topography grinding methods. It also offers functional options, including hob sharpening for spur hobs and helical hobs, sharper cutter sharpening for helical shaper cutters, and standard gear profile grinding for spur gears and helical gears.
Features of the LUG-3040 include a 12-inch TFT color flat screen, graphical operator guidance, dialog input tailor to hob sharpening and hob-related programming, CNC control with a Windows-based operating system for PC-based program calculation and information storage. It also has easily changeable chucks for dressable grinding wheels and CBN grinding wheels, with a maximum grinding wheel thickness, spindle speed and drive power of the grinding spindle of 30mm, 10,000 rpm and 20.5 kW, respectively.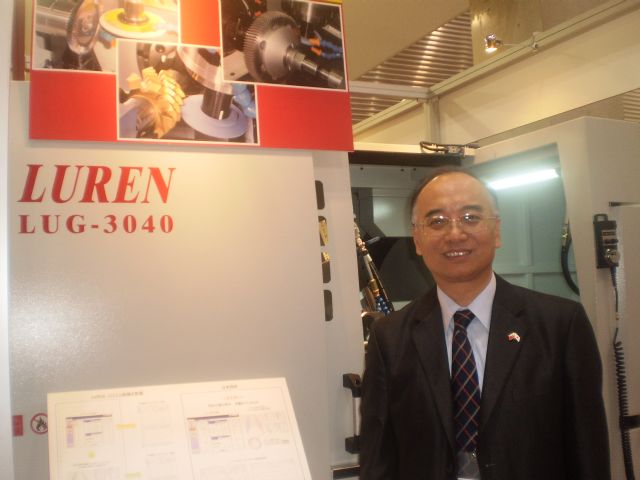 Luren President Chuck Chen claims that the LUG-3040 CNC Universal Gear Tool Grinding Machine is world's first multifunctional gear tool grinding machine.
Observing that more Japan's general machine tool makers, including JETEK, Mitsubishi and Yasda, promoted gear tool grinding machines at JIMTOF 2014, Chen emphasized that Luren still has competitive advantages over those big newcomers. "Luren has decades of know-how in gear cutting tool production and offers a better price-performance balance and higher custom production, not to mention our machines are better at integrating IPCs and controllers than the Japanese models," said the president. "We are also developing related software in cooperation with Taiwanese partners to improve Taiwan's presence in the segment."
In the face of growing rivalry from Japanese competitors at the show, Chen said that from another viewpoint, showcasing the best machines at such a successful trade fair could help Luren to further impress buyers with its cutting-edge technology. This was the main reason the company brought the LUG-3040 to the show.
Jeton
In addition to machine tool makers, suppliers of related parts and accessories from Taiwan also took part in JIMTOF 2014 with a shared goal of enhancing their reputations among overseas buyers.
Among them was Jeton R/D & Mfg. Inc., Taiwan's top-end supplier of high pressure adjustable nozzles, adjustable coolant hoses and spraying hoses for machinery. The company heavily promoted its "Jeton" brand at the show.
Founded in 1983 in Taiwan's central metropolis of Taichung, Jeton's products have been adopted by globally known machine tool suppliers, including Tongtai, Goodway, Awea, Victor Taichung of Taiwan and Brother of Japan, according to company manager H.C. Chang.
Chang indicated that Jeton's current success is built mainly on strong commitments to adding the greatest possible value and helping customers grow in the increasingly intense global competition with its state-of-the-art products.
Among the exhibits at Jeton's booth at the fairground's west hall were adjustable coolant hoses made of POM plastic steel. The hoses offer stronger resistance to oil and chemical corrosion and greater pliability, allowing easy adjustment of hose length and angles without the problem of spring back.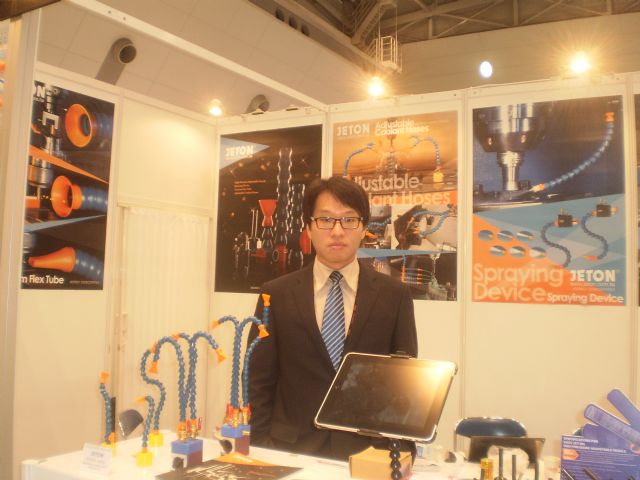 Jeton manager H.C. Chang says the company's brand recognition is growing year by year at JIMTOF.
Since bending causes neither fatigue to the hose nor reduction to inner diameters, Chang mentioned that the company's hoses all feature high structural durability. For instance, its non-conductive hoses, available in cardboard boxes, bags and coils, are ideal for use in electrical discharge machines, as well as an ideal solution for the transport of low-pressure fluids, including alcohols, ethyl, acetone, commercial dish detergents, gasoline, greases, sodium hydroxide, brake oils, and insecticides.
Jeton's high-pressure adjustable nozzles are noted for enhancing work efficiency and accuracy, extending the service life of cutting tools, shortening processing time, and lowering costs.
The nozzle series is another star product of the company. The nozzles come in inclined-injection, direct-injection and mounted types. They are designed with a unique mechanical structure that allows 360-degree gyration and can be bent by 35 degrees to widen injection ranges. They are also made of high quality material and assembled with high precision. The products have been widely used in spraying, cooling and ejector systems in various machines.
"We are upbeat that Jeton will be increasingly recognized by professionals at this year's JIMTOF," observed Chang, noting that there were more quality buyers at the show compared to the 2012 edition. "We have been aggressively promoting our products around the world, including Japan, and expect these efforts to translate into stronger revenue growth in 2014, compared with 2013."
YOKE
Another notable Taiwanese exhibitor at the show was YOKE Industrial Corp., a supplier of safe lifting accessories and fall protection products under its "YOKE" brand. The company has commanded about a 65% share of the global market for fall protection equipment for industrial use, making it the segment's biggest branded vendor.
The company's overseas sales representative, Aki Chien, noted that YOKE started out in 1985 by trading lifting chains, hooks and related accessories, mainly with the U.S. customer, Ultra Safe. The company then ventured into developing and manufacturing such products in 1996 at its first factory in Taichung City, central Taiwan.
Following decades of efforts to improve product quality and safety, the firm has obtained approvals of BG-Prufzert of Germany, ABS of the U.S., DNV of Norway, SABS of South Africa, CSA of Canada and ARAMCO of Saudi Arabia. Its factory has also passed the ISO 9001 and Chinese National Laboratory Accreditation certifications.
Chien emphasized that YOKE is the world's top brand of fall protection equipment, followed by Usang of Taiwan, Pensafe of Canada and Krams of India. Siemens, Mercedes Benz, GE, Honeywell and other globally known enterprises are among its customers. Its first client, Ultra Safe, places annual orders with YOKE topping US$1 million.
Over the years, YOKE has won the 9th SME Innovative Research Award, the 5th Rising Star Award and the 17th National Award of Outstanding SMEs in Taiwan.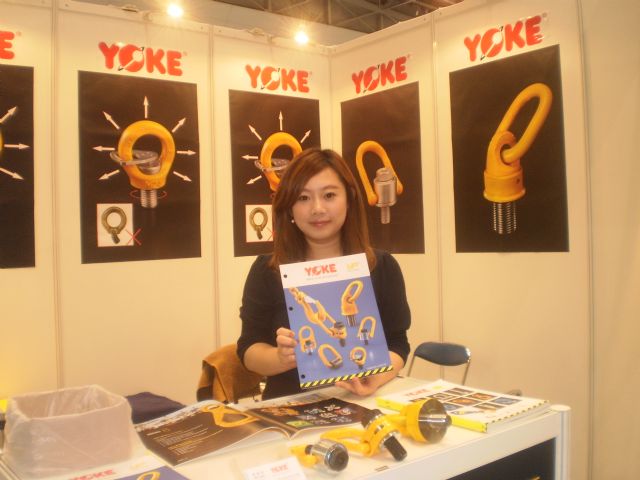 YOKE sales representative Aki Chien was happy to see the bigger turnout at JIMTOF this year.
"YOKE has taken part in JIMTOF for several years to further drive its presence in the global machine tool industry," said Chien. "The good news for YOKE is that this year's JIMTOF has more end-users than ever before, providing access to many potential customers." In the coming years, she added, the brand will also actively explore the segment for safe lifting accessories and fall protection products for offshore use, and take part in more trade fairs in Japan to expand its global sales.
Hann Kuen
Established in 1985 in Taichung, Hann Kuen Machinery & Hardware Co., Ltd. attended JIMTOF in 2014 as a strategy to enhance its image as a professional maker of spindle heads among global buyers.
Han Chiang, a company sales representative, noted that the firm's spindle heads come in a wide range of specifications, with a maximum drilling/boring capacity in steel of 50mm and a maximum spindle traverse of 150mm. The company also supplies servo-driven, hydraulic-driven, and manual-driven slide tables with three types of spindle motion: X, X and Y, and X,Y, and Z axes. All of the company's products can be built to order. Hann Kuen also represents many well-known brands.
"At this year's JIMTOF, we met many buyers interested in our products and looking to build OEM cooperation with our company," said Chiang. "This is why we returned to JIMTOF this year, particularly at a time when Hann Kuen is actively tapping the Japanese market."
Chien attributed the high interest in the company's products at the show to the high quality of its spindle heads. He emphasized that the company draws on its deep knowledge and manufacturing skills to achieve this level of quality. It also uses top-end parts and components, such as bearings from Japan's NSK and linear guideways from Taiwan's Hiwin Technologies, to produce various drilling spindle heads, tapping spindle heads, boring and milling spindle heads, and slides.
Today, Hann Kuen ships most of its exports to Europe, America, South Korea, Japan, Latin America, mainland China, the Middle East, and Southeast Asia. It also has branches in Xiamen and Wuxi to serve customers in mainland China.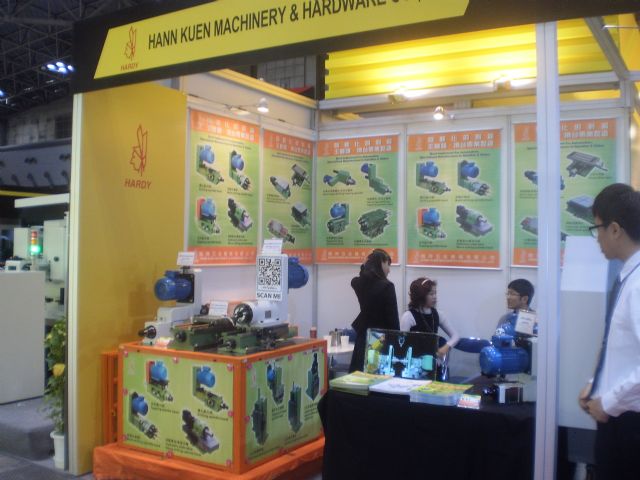 Hann Kuen displayed high-quality spindle heads, attracting numerous inquiries from Japanese and international buyers at JIMTOF 2014.