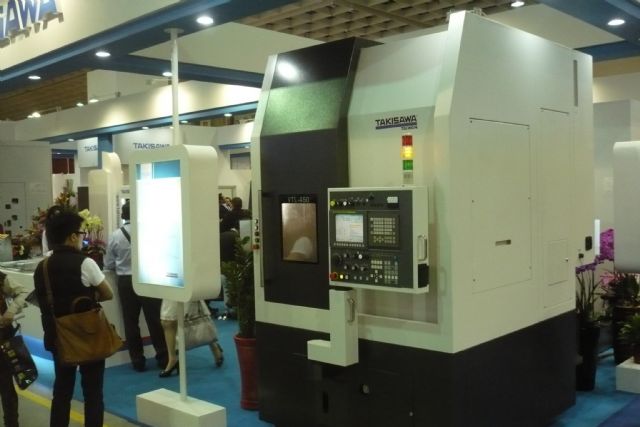 Taiwan's 2015 machinery exports to see rough going.
In Jan.-Nov. 2014, Taiwan shipped US$19 billion of machinery, up only 6.4% year on year, with the island's machine-tool industry having exported US$3.43 billion of equipment, growing at lower-than-expected rate of 6.2% year on year.
According to Taiwan government statistics, local machinery makers  received around US$1.9 billion of orders monthly in the first eleven months, with monthly shipments of only US$1.7 billion, which is due to the stronger New Taiwan dollar versus Japanese yen and South Korean won against US dollar that makes Taiwan less competitive than the other two Asian rivals.
The 35% depreciation of the yen has led to Japan's machinery shipments exceeding 100 billion yen (US$833.33 million) for the  15th month since September  2013; while the won has depreciated 10.6% since 2007 versus NT-dollar's 8.6%.
S.C. Hsu, chairman of the Taiwan Association of Machinery Industry (TAMI), representing around 2,600 manufacturers, says  although the island's machinery shipments decreased 1.6% year on year to US$19.7 billion in 2013, the shipments for Q4 that year increased satisfactorily.
Hsu fears the relatively strong NT- dollar to continue weighing on Taiwan's machinery makers into 2015, also noting Japanese machinery makers have cut prices of their greenback-denominated, high-performance machines on global market.
South Korean makers, Hsu notes, are more threatening than Japanese makers to Taiwan due to product redundancy in many markets. Such downside is further exasperated by the weaker won, as well as South Korea's Free Trade Agreement (FTA) with the European Union, United States and China that waive duties on S. Korean exports, to leave Taiwan disadvantaged with tariff obligations.
China's machinery makers add salt to injury by encroaching on Taiwan's markets with underselling.
While NT-dollar traded at 30.18 for one U.S. dollar on average in the first 11 months of 2014, devaluating 1.84% from the same period of 2013, and has been trading around 31.7:1 in Dec., its devaluation is moderate relative to won's.
Hsu suggests Taiwan government to let NT-dollar fall to 32 for U.S. dollar to buoy Taiwan's exporters, the island's machine-tool makers to shorten lead-time for rush orders, and the government to effectively implement trade policy and accelerate FTA talks to help local machinery makers compete with South Korean and Japanese manufacturers on equal footing.
In the first 11 months of 2014, China remained the leading  market for Taiwan's machinery, absorbing US$5.23 billion, or 27.5%, of Taiwan exports, up  1.9% year on year, followed by the United States that imported US$3.19 billion, or 16.8%, of the total, up 11.5% YoY. Japan imported US$1.12 billion, or 5.9%, of Taiwan exports, up  7.3% YoY to be the No.3 buyer.
Taiwan's machine-tool makers, in  Jan.-Nov., saw exports rise 2.3% to the United States, 8% to China, 18% to Turkey, 9% to Germany, 17% to the Netherlands, 15% to Russia, 36% to England, 3% to Japan, 22% to Vietnam and 8% to India.
In November, Taiwan shipped NT$54 billion (US$1.74 billion) of machinery, including US$320 million of machine tools, up 8.2 YoY mostly thanks to impressive increase in the shipments to China (up 10%), South Korea (up 22%), India (up 77%), Germany (up 17%), the Netherlands (up 14%), Russia (up 133%), and Brazil (up 35%). (KL)
Taiwan's Machinery and Machine Tool Exports (Jan.-Nov. 2014)


Machinery

Machine tool

Export value

US$19.01bn

US$3.43bn

YoY change (%)

+6.4%

+6.2%

Taiwan's top three markets and export value

Mainland China US$5.23bn

Mainland China US$1.11bn

U.S. US$3.19bn

U.S. US$378M

Japan US$1.12bn

Turkey US$191M

Source: TAMI