Taiwan's business sectors, described by the government as wholesale, retail and food services, generated revenue of around NT$1.2 trillion (US$40 billion) in November, according to the latest statistics compiled by Ministry of Economic Affairs (MOEA).

The figure edged up only 0.7% compared to NT$1.24 trillion (US$41.33 billion) last November but dropped 3.5% from NT$12.48 billion (US$41.60 billion) in October, to which MOEA attributes largely several negative factors, such as inventory adjustments by wholesalers, and continually exposed food safety issues, to have impacted retail and food service sectors to some extent.

Revenue by the traditional retail sector totaled NT$340.3 billion (US$11.43 billion) in the month, up 1.8% year-on-year (YoY), including NT$99.2 billion (US$3.31 billion) from staple goods and commodities sold by department stores, supermarkets, wholesalers and other merchandise stores, the second-highest November record.

Meanwhile, revenue by non-traditional retailers rose by 11.1% YoY to NT$17.7 billion (US$590 million) in November, mostly due to promotions by online shopping operators for the Nov. 11 Singles' Day.

Retail sales of food, beverage and tobacco dropped 1.4% yearly in November, while those of fuel gas also plunged by 15.8% YoY, MOEA notes.

Dampened by lingering tainted cooking oil scandals, the food service sector finished November with revenue of NT$32.5 billion (US$1.08 billion), edging up 0.1% YoY. Revenue of restaurant operators, beverage retailers and catering service providers showed 0.1% growth, 0.8% drop and 0.9% increase, respectively, compared to a year ago.

Also notable is that retail sales of cars and motorcycles in November dropped the most yearly of 11.2% since January, 2013, to which  MOEA attributes shortages of imported cars amid current fluctuations and comparatively high base of last November, when many new car models and motorcycles were launched. However, MOEA stresses that cumulative new-car sales for Jan.-Nov. have capped the 2013 total and are expected to exceed 420,000 units for 2014, a nine-year high.

With revenue by Taiwan's business sectors seeing a significant growth slowdown in November after 15 consecutive months of growth, MOEA says weakening demand for notebook PCs worldwide is one negative factor to cast shadow on local retailers and wholesalers' outlook in December, but 2014 revenue is still likely to hit all-time high of NT$14.5 trillion (US$483.33 billion).
(SC)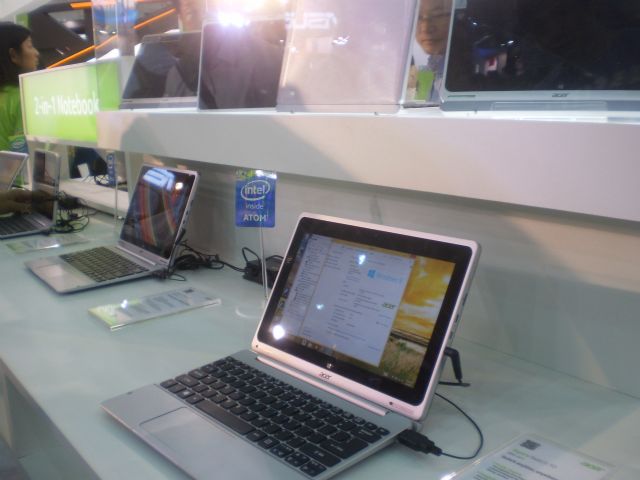 MOEA points to weakening demand for laptops as main dampener of Taiwanese retail and wholesale sectors in December.
Overall Revenue by Taiwan's Commercial Sectors in 2014 by Month
Month

Revenue

YoY Growth Rate

Jan.

NT$1.238 trillion

2.8%

Feb.

NT$1.045 trillion

2.0%

Mar.

NT$1.186 trillion

1.6%

Apr.

NT$1.192 trillion

5.0%

May

NT$1.219 trillion

4.0%

Jun.

NT$1.233 trillion

4.1%

Jul.

NT$1.244 trillion

2.9%

Aug.

NT$1.206 trillion

2.2%

Sept.

NT$1.244 trillion

2.5%

Oct.

NT$1.248 trillion

1.5%

Nov.

NT$1.203 trillion

0.7%

Source: MOEA