Driven by strong sales in December, sales of new powered two-wheelers (PTWs) in Taiwan totaled 667,390 units in 2014, slightly down 0.1% from the previous year (667,973 units sold), according to statistics compiled by the Ministry of Transportation and Communications (MOTC).

Backed by all the major PTW vendors' sales promotions and restocking by distributors, some  45,528 new PTWs were licensed in December 2014, up 25.5% from the same period of last year or year-on-year (YoY). The eye-catching sales volume in December ended the volume downtrend over the previous three months, to have maintained the 2014 volume sold equal to that in the previous year.

Most PTW vendors in Taiwan predict new-PTW sales in 2015 on the island to be similar to that in the previous two years, to be about 660,000 units, or could even improve if Sanyang Industry Co., Ltd. (SYM brand) finds its earlier sales momentum, which has been sapped by its  operating-right disputes in the past two years or so.

KYMCO leads
Kwang Yang Motor Co., Ltd. (KYMCO) retained its 15-year lead in the domestic PTW market in 2014 by vending 283,606 new PTWs in Taiwan (271,867 units sold in 2013), a 4.30% YoY increase (3.60 percent in 2013) to take market share of 42.5% (40.7% in 2013). The consistent leader easily achieved its original sales target of 280,000 units in 2014, with 19,576 new PTWs licensed in December, a 32.6% YoY increase.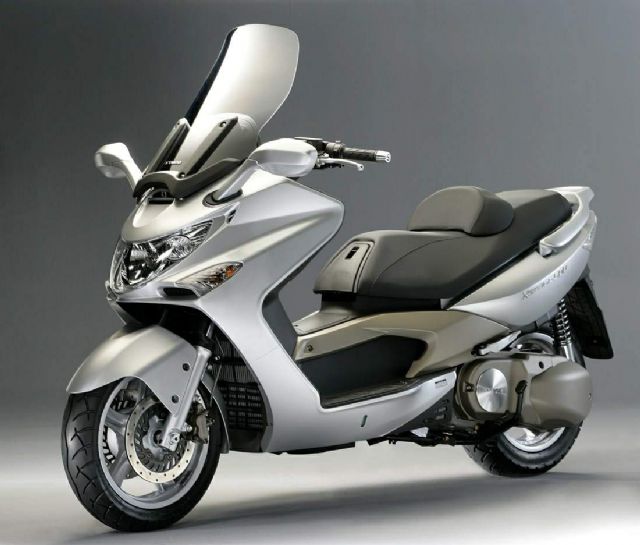 A motorscooter by KYMCO, leader of PTW sales in Taiwan for 15 years straight.
KYMCO says the inventory of its distribution chain on the island had been lowered to sub- 26,000 units after adjustments in October and November, compared to typical levels of some 36,000 units, also stressing having restocked and is ready to take on underselling by rivals.
The No. 2 Yamaha Motor Taiwan Co. (Yamaha) sold 13,478 units in December, up 15.4% YoY, to post 2014 sales volume of 206,497 units (192,557 units sold in 2013), a 7.2% YoY increase, to take  annual market share of 30.9% (28.8% in 2013).
SYM was the No. 3 in 2014 by selling 104,966 units (142,667 units sold in 2013) for market share of 15.7% (21.4% in 2013) and a 26.4% YoY shipment decrease. The maker suddenly slowed shipments in H2, 2014 to enable distributors clear inventory, having sold, however, 6,235 new PTWs in December, up 16.1% YoY to suggest a rebound from the bottom. 
Second-class Brands
Taiwan's domestic PTW market has long been dominated by the top-3 brands to leave only sub-10% share to second-class brands, of which  PGO (Motive Power Industry Co. Ltd.) and Aeon (Aeon Motor Co., Ltd.) have been earnestly developing products and marketing to reverse such trend.
In 2014 these second-class makers won a market share of 10.8% (9.1% in 2013) by vending 72,321 new PTWs (60,882 units sold in 2013), up 18.8% YoY.
Mature Market
With widening availability of mass rapid transit (MRT) systems in major cities and continuously falling birth rate, Taiwan in recent years has become a mature PTW market with stagnant annual-sales-volume increase. Most industry experts and PTW vendors predict annual sales volume of new PTWs on the island to remain 650,000 units over the next few years.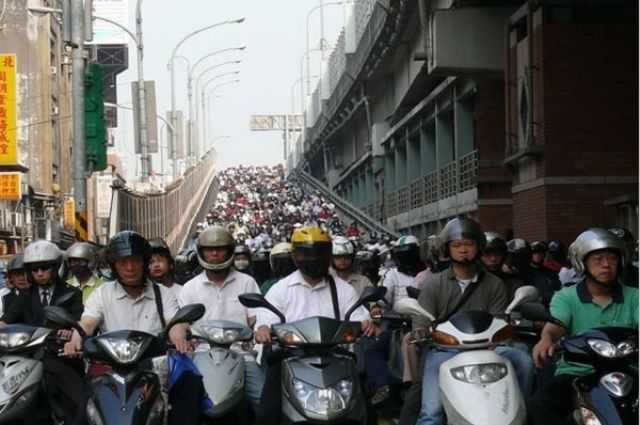 Motorbike gridlock at rush hour in Taiwan, a mature PTW market with annual sales volume between 600,000 to 700,000 units.
Facing stabilized demand in a mature market, PTW vendors conservatively set sales goals in 2015. KYMCO aims to sell about 285,000 new PTWs in Taiwan and export 250,000 units. Yamaha Taiwan targets vending 200,000 to 210,000 units in 2015, on par with 2014; while major second-class PTW vendor Motive Power Industry Co. Ltd. (PGO brand) aims to sell 30% more, or about 40,000 units, in 2015.
Market observers say that the PTW market in Taiwan may undergo changes in 2015 provided SYM manages to find solutions to its internal  problems to focus on domestic sales again.
New PTW Sales in Taiwan (2014)
Maker

Dec. 2014
Volume

Market Share

YoY

2014
Volume

Market
Share

YoY

KYMCO

19,576

43.0%

32.6%

283,606

42.5%

4.3%

Yamaha Taiwan

6,235

13.7%

16.1%

206,497

30.9%

7.2%

SYM

13,478

29.6%

15.4%

104,966

15.7%

-26.4%

Others

6,239

13.7%

39.5%

72,321

10.8%

18.8%

Total

45,528

100.0%

25.5%

667,390

100.0%

-0.09%

Source: MOTC