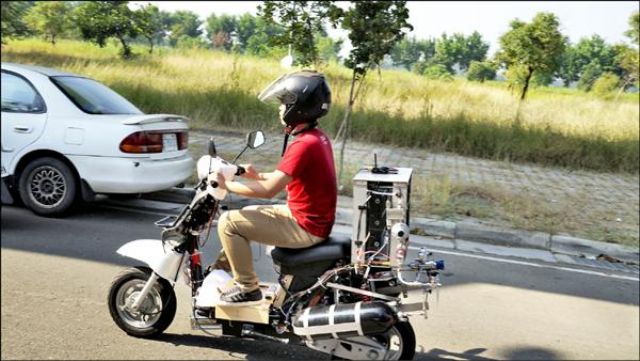 Flying Horse No. 1 hydrogen-Li-battery hybrid scooter developed by NCKU. (photo from NCKU)
With reportedly the highest density or distribution per-unit-area of motor scooters globally, Taiwan continues to develop green-energy powered two-wheelers (PTWs) to reduce carbon footprint of the ubiquitous commuter vehicles on the island.
A departure from the typical efforts that might  help such development is an R&D project carried out by Taiwan's National Cheng Kung University (NCKU), which announced initial success with its  hydrogen fuel/lithium-ion battery hybrid scooter dubbed "Flying Horse No. 1," with its maiden test easily achieving a range of more than 80 kilometers but soon to be extended to 160 kilometers with further tweaking.
A research team led by professor Lai Wei-hsiang of the Department of Aeronautics and Astronautics, NCKU, won a subsidy from the Technology Development Program and was commissioned by the Bureau of Energy under the Ministry of Economic Affairs in 2013 to carry out an R&D project between academia and industry to develop the hydrogen hybrid e-scooter.
NCKU said the Flying Horse was built on an e-scooter platform provided by Taiwan's Chumpower Machinery Corp. The e-scooter platform's lithium-ion battery pack was added with a 3000W fuel cell (using hydrogen gas) and two hydrogen canisters each with 6.8 liter capacity (up to 300 atmospheric pressure). The  R&D team admitted that its hybrid e-scooter emulates in operation the fuel cell car  commercialized by Japanese automaker Toyota in late 2014.
Chemical reaction between hydrogen and oxygen in the fuel cell generates electricity to drive a motor, which burns hydrogen instead of gasoline to be environmentally-friendly as it emits water vapor, with hydrogen being an energy source that can be extracted from a variety of materials.
In road tests, the Flying Horse scored high in steering and acceleration, with data collected from such road tests matching those in laboratory, NCKU said. Professor Lai said some Taiwanese companies have been trying to develop fuel-cell e-scooters but have not been successful to extend  cruise range to practical distances.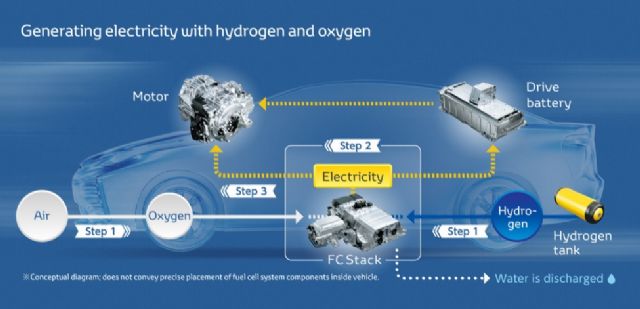 Generating electricity with hydrogen and oxygen for fuel cell vehicle (FCV). (photo from Toyota)
By adopting a new high-pressure storage technology to fill hydrogen gas, Lai explained, the hydrogen on the Flying Horse No. 1 directly ignites the fuel cells to then store the electricity generated in the lithium-ion batteries onboard. Such operation recharges the lithium-ion battery pack during riding to further extend battery life as in regenerative braking in e-vehicles.
In experiments, according to Lai, the Flying Horse No. 1 can cruise some 160 kilometers at a steady   40 kph. Currently the NCKU team is focusing on the integration of key power-generation technologies and downsizing the hydrogen canisters to enable placement in the e-scooter body.