A recent survey indicated that all LCD TV panel makers are increasing sales targets for 2015, based on confidence from strong demand for LCD TV panels, increasing variety of TV models, and  aggressiveness of leading brands like Samsung VD, LG Electronics, and Sony, according to DisplaySearch, a leader in display market research and consulting.

Peter Su, analyst of DisplaySearch, pointed out that the 2015 target is 261 million units, up from the 249 million panels shipped in 2014. In a recent forecast report, DisplaySearch increased the 2015 LCD TV set shipment outlook to 239 million, up 7% from previous year, or year-on-year (YoY), as recent trends support sustainable growth. The target for panel shipment growth is lower, up only 5% YoY. This is due to inventory adjustments at the TV set makers and also because panel makers want to focus on larger sizes.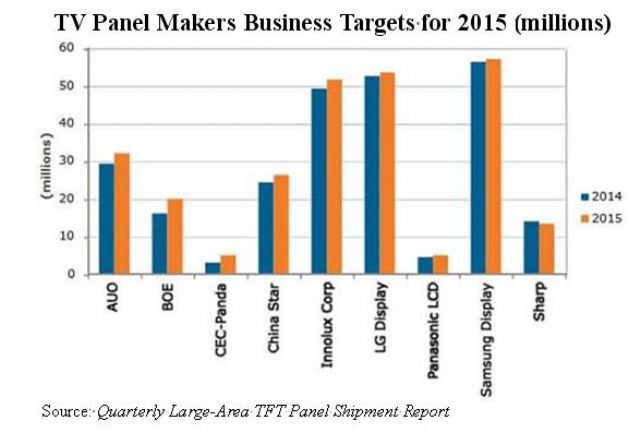 TV Panel Makers' Sales Targets for 2015 (millions) (Source: DisplaySearch)
AU Optronics Corp. (AUO), recognized as the second-largest thin film transistor-liquid crystal display (TFT-LCD) panel manufacturer in Taiwan, will expand eight-generation (8G) production capacity in Q4, 2015 to produce more 21.6- and 43-inch panels; while Innolux Display Corp., recognized as the No. 1 TFT-LCD panel maker in Taiwan, will expand 6G (T2 fab) capacity to produce more 39.5- (40-) and 65-inch TV panels, Su said. Both Taiwanese companies will increase production of 65- in 6G lines, because neither is competitive with their Korean and Chinese counterparts in 55- at 8G lines.
AUO is a major 42-inch panel supplier, Su added, but is shifting from 42- to 43-inch in 2015. Both AUO and Innolux will shift some LCD monitor capacities to produce TV to grow that business segment. AUO will decrease 39-inch panel supply, and Innolux will phase out 39-inch products completely in 2015.
BOE is gearing up to fully load its Gen 8 fab in Hefei, China and by the end of 2015, the company will have a new Gen 8 fab. The company wants to increase TV panel shipments from 16M in 2014 to 20M in 2015. The major increase is for 48", 49" (especially 4K×2K) and 55" from Gen 8. BOE is also producing some 65" in Gen 8 while studying the possibility of using Gen 6 for 65".
China Star is also planning to run its second Gen 8 fab, the T2 line, from H2, 2015. The company's target is an increase in TV panel shipments 8% Y/Y. China Star is already the largest 32" panel supplier and is maintaining its shipment levels in 2015, while the other 32" suppliers are decreasing 32" production.
Korean panel maker LG Display is planning to increase shipments 2% YoY in 2015. LG Display has shifted some capacity in 8G in Korea for oxide backplane conversion and for organic light-emit diode (OLED) TV panel production. The company is seeking to increase its a-Si TFT-LCD capacity at its 8G panel factory in Guangzhou, Guangdong Province of China. LG Display is also planning to re-allocate some capacity to TV panels, especially 6G and 7G, which was originally dedicated to information technology (IT) products. Recently, LG Display decreased production of mobile products in 6G to produce more 32-inch panels.
Another major Korean player Samsung Display is gearing up to fully load its Suzhou 8G plant in China. The company has no new capacity in 2015, but product mix adjustments will increase shipments 1% YoY.
Sharp of Japan is planning to produce more panels in larger sizes like 60-, 70-, and 80-inch; therefore its 2015 target is lower on a unit basis, Su said.