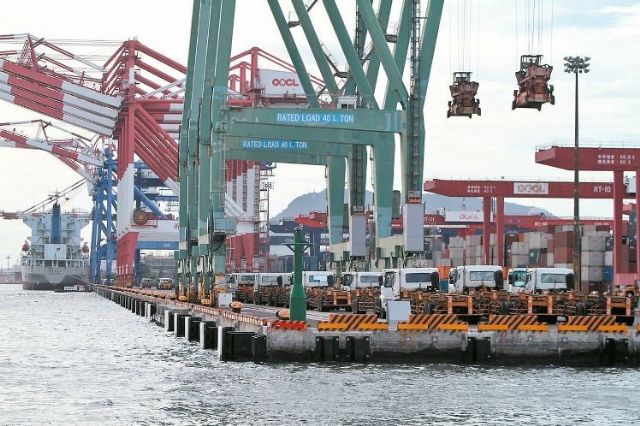 Taiwan's exports total US$313.84 billion in 2014, up 2.7% YoY for an all-time high. (photo courtesy of UDN.com)
Compiled by STEVE CHUANG
Amid growing threats as continuous devaluation of Asia's major currencies against the greenback and intensifying rivalry from Korea, China and other emerging countries, as well as tepid economies in the EU periphery, Taiwan still scored robust  international trade figures in 2014.
The latest report by the Ministry of Finance (MOF) shows Taiwan's overall exports amounted to US$313.84 billion, up 2.7% year-on-year (YoY), albeit lower than the government's forecast of 3.02%, with the export revenue beating an all-time high.
The weaker-than-expected export growth was attributable mainly to plummeting international oil prices, to hammer the local mining, plastic and rubber sectors and therefore caused Taiwan's overall exports last December to hit a nadir of US$25.65 billion since March of the same year, for a 2.8% decline from a year ago. The disappointing result offset the 3.3% yearly growth seen in the cumulative exports for the first 11 months of the year.
Electronics Exports Up
Separately, Taiwan's exports of electronic parts and components totaled US$99.99 billion in 2014, up 13.5% YoY for a record high, to contribute to 3.9 percentage points to the overall export growth rate. Exports of integrated circuits, solar cells and LEDs showed a 15.1%, 13.5% and 9.6% surge, respectively, shows MOF's statistics.
With the global 3C (computer, communication and consumer electronic) industry continuously gaining steam from development of wearable electronics and IOT (Internet of Things), MOF is optimistic that the industry's exports will keep soaring in 2015, albeit uncertain whether its growth will be as strong as last year's.
In contrast to the electronic parts and component industry, the mining, optoelectronic and ICT (information and communication technology) sectors, however, generally struggled in 2014, as reflected in the MOF's statistics that show annual exports by the three sectors totally decreased US$6.7 billion compared to 2013, to dilute the overall export growth rate by 2.2 percentage points as result.
As for outlooks of local mining and ICT companies in 2015, MOF officials commented that growth of the mining sector exports is hinged on whether international oil prices will bottom, while exports of ICT products are less likely to decline deeper in the near term.
MOF's report indicates that Taiwan's overall imports totaled US$274.23 billion, inching up only 1.6% YoY, to result in a trade surplus of US$39.61 billion to set a zenith on record.
Disappointments in December
While steadily dropping oil prices are believed to  benefit most non-oil-producing nations and cut fuel and production costs for small and medium-sized manufacturers globally, particularly in Europe and Japan, cheaper oil is regarded responsible for Taiwan's disappointing trade results last December.
MOF's report shows Taiwan's exports reached US$25.65 billion, diving 3.9% month-on-month (MoM), or 2.8% YoY, to end a 10-month uptrend in the month, while imports also dropped to only US$21.2 billion, 5.6% less than a month ago or 12.3% lower than a year ago, with both figures being the worst since last March.
MOF officials found three obvious factors for the waning exports: declining exports of optoelectronic products, growth slowdown of electronic makers' exports, and, particularly, plummeting international oil prices. They explained that recent weak oil prices are making global buyers hesitant to place orders in case of further oil price drops, especially significant when OPEC (Organization of the Petroleum Exporting Countries), led by Saudi Arabia, are standing its ground not to cut oil production in the short term.
Blaming low oil prices seems rational, as exports by Taiwan's mining and petrochemical sectors declined by about US$1.2 billion as a whole last December compared to a year ago, driving down the overall export growth rate by around 4.5 percentage points as shown by MOF's report.
Overdependence on China
Taiwan's overdependence on the Chinese market has been frequently been proposed as cause to inevitably impact negatively the island's sustainable development in the long run, with such intractable issue not seeing significant improvement last year.
According to statistics of Taiwan Customs, China along with Hong Kong absorbed 39.7% of Taiwan's exports last year, almost equal to that in 2013. Officials from Bureau of Foreign Trade (BOFT) continue to pledge to focus on reducing the island's overdependence on the Chinese market by assisting Taiwanese exporters to explore other overseas markets.
While China remained the biggest buyer of  Taiwan-made goods, the island's exports to the U.S. among other countries showed the strongest growth of 7.1% last year, to put the country ahead of Japan as Taiwan's second-largest trade partner by trade volume. To help local firms better explore the U.S. market, BOFT plans to lead eight supplier groups stateside this year.
Outlook for 2015
Taiwan's trade outlook for 2015 seems bright, as MOF forecasts the island's exports to keep trending upward at 3%-plus growth in the year, which, however, depends on a couple of economic and market factors, including the U.S. Federal Reserve's new monetary policy and timetable to raise interest rates amid low inflation; continuing  rise of China globally that may result in  Taiwanese suppliers supplanted by Chinese; steady depreciation of Asia's major currencies against U.S. dollar; more quantitative easing worldwide; growing geopolitical risks as that in the Ukraine; the impact of Korea-U.S. free trade agreements on Taiwan, EU and other nations, and so on.
Despite Taiwan's strong export growth in 2014, mainly driven by iPhone 6 sales, experts from Taiwan Institute of Economic Research, an economic and market research institute, warns that Taiwan encounters foreboding structural problems that will add to growth uncertainty this year, such as the failure to participate in regional economic integration, slow progress to upgrade local industries, and intensifying rivalry from Korean and Chinese competitors.
(SC)
Taiwan's Export Categories and Destinations Seeing New High in Value in 2014


Value

Category

Electronic Parts and Components

US$99.99 Bn.

Transportation Equipment

US$11.65 Bn.

Machinery

US$20.89 Bn.

Destination

China and Hong Kong

US$124.69 Bn.

ASEAN countries
(Indonesia, Malaysia, the Philippines, Singapore, Thailand and Brunei)

US$58.64 Bn.

Japan

US$19.91 Bn.

Total Exports
(YoY Growth Rate)

US$313.84 Bn.
(2.7%)

Source: Ministry of Finance
Comparison between Taiwan and Korea's Exports
Year

Taiwan

Korea

Value

Growth Rate

Value

Growth Rate

2013

US$305.44 Bn.

1.4%

US$559.63 Bn.

2.1%

2014

313.84 Bn.

2.7%

US$573.10 Bn.

2.4%

Source: Ministry of Finance