Paul Peng, president of AU Optronics Corp. (AUO), reportedly the second-largest maker of thin film transistor-liquid crystal display (TFT-LCD) panels in Taiwan, recently said the 2015 global TFT-LCD market is expected to be sound, thanks to several factors.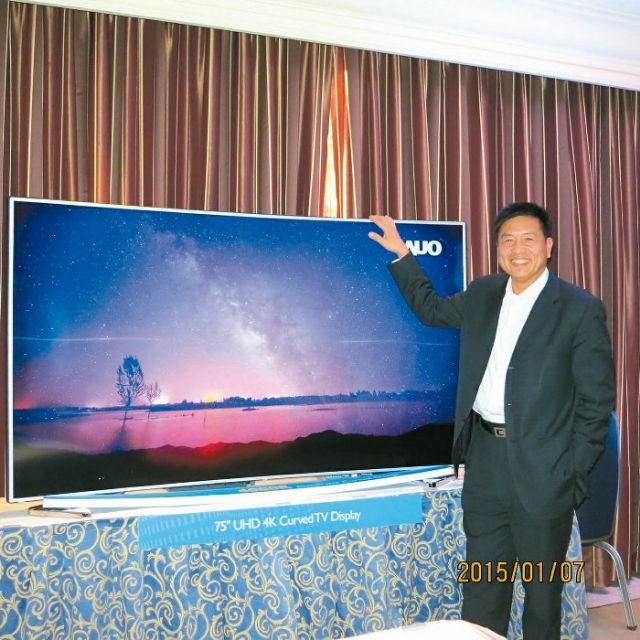 Paul Peng, president of Taiwan's No.2 TFT-LCD panel maker AUO, demonstrates a 4K2K, or UHD (Ultra High Definition), TV panel. (photo from UDN).
Easing geopolitical disputes worldwide, falling oil prices etc. might further stimulate consumer demand in 2015, Peng explained, and increasingly strong demand for LCD TVs worldwide especially in emerging markets would continue to generate increasing panel shipments. In addition, rising sizes in TV panels is also driving demand.
To launch new products in 2015, the president added, AUO will carry out annual equipment-maintenance in Q1, 2015, traditionally the off season, while trial producing new products.
Industry sources say, amid fierce competition in the global flat panel display (FPD) market with especially increasingly formidable rivals in South Korea and China, Taiwanese panel suppliers have to refocus on different niche products, such as automotive panels and higher-priced and -margin products like healthcare panels.
One of the best examples is the diagnostic displays adopted in medical equipment. According to DisplaySearch (recently acquired by IHS Inc.), global shipments of diagnostic displays are forecast to grow at a 5% compound annual growth rate (CAGR), between 2014 and 2018. Larger high-resolution wide-aspect-ratio displays are starting to become more popular, but 21.3-inch displays had a 67% share of unit shipments and a 65% share of revenues in H1, 2014.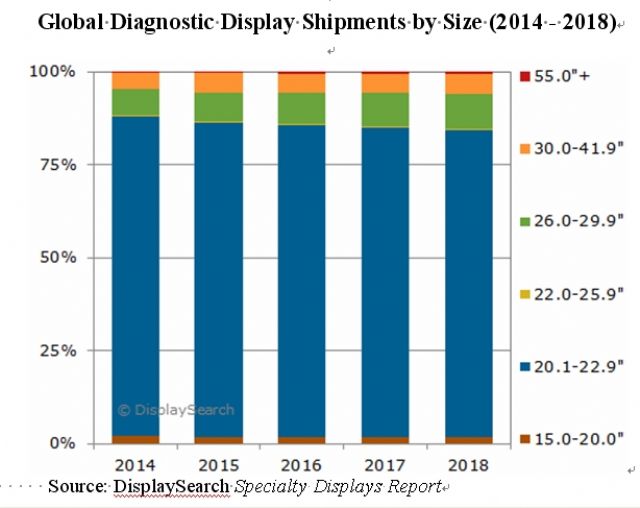 Global Diagnostic Display Shipments by Size (2014 - 2018)
"The majority of future shipment growth will take place in emerging regions, not in developed regions, where much of the growth has previously occurred," said Todd Fender, senior analyst professional and commercial displays for DisplaySearch. "At the country level, brands are looking to China as the largest opportunity of growth, followed closely by Latin America."
Veteran radiologists who were trained to read images on traditional x-ray film using light boxes have been the driving force behind the continued strength of 21.3-inch displays with a 4:3 aspect ratio; however, as younger doctors enter the workforce, the legacy of film and grayscale-only images will slowly fade away, DisplaySearch said. For example, in the first half of 2014, 43% of diagnostic displays were grayscale, but by 2018 these displays will have just 34% of the market.
In today's traditional personal access communications system (PACS), multiple displays are used to review and read images; however, this configuration may lead to lower productivity and faster eye fatigue. Larger and higher resolution single screens have entered the market over the last few years, in an attempt to reduce or eliminate these issues. Displays with 6-10 mega-pixels (MPs) and even-higher resolutions are forecast to increase over the next several years, as users migrate from multiple screens to single-screen viewing.
Clinical-Review Displays & Surgical Displays
Similar to diagnostic display shipments, clinical-review display shipments are forecast to grow at a CAGR of 4%, between 2014 and 2018. Eighty-three percent of clinical review display sizes fall between 19- and 22-inch, and 98% have a resolution of 2 MP or lower. "There will be a gradual shift to 4 MP and 8 MP wide aspect ratio displays as availability increases and as prices fall," Fender said.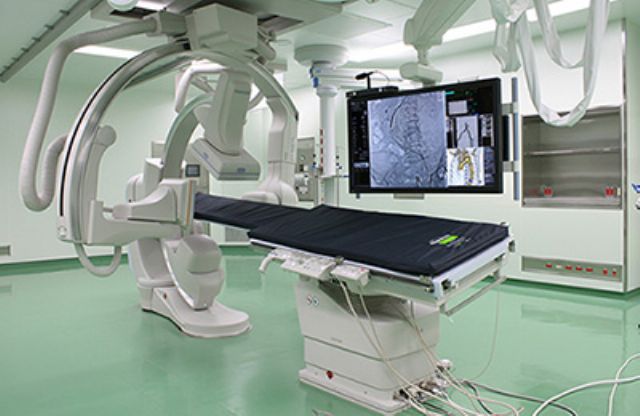 Surgical display shipments are forecast to grow more than any other medical-imaging category, reaching 7% CAGR between 2014 and 2018, according to DisplaySearch. (photo from Internet)
Surgical display shipments are forecast to grow more than any other medical-imaging category, reaching 7% CAGR between 2014 and 2018. Although almost half of surgical displays fall between 15- and 20-inch, the fastest area of growth is forecast to be in displays that 55-inch and larger, which are expected to grow at a 23% CAGR between 2014 and 2018. Additionally, 8 MP and 9 MP displays will grow significantly between 2014 and 2018; however, neither resolution will have a large share of the surgical display market.
"Larger displays are becoming more affordable, and they are being installed in surgical rooms as medical on-site and virtual professional collaboration becomes more popular," Fender said. "Larger screens are much easier for multiple viewers, and many are also used as live teaching devices."