Compiled by KEN LIU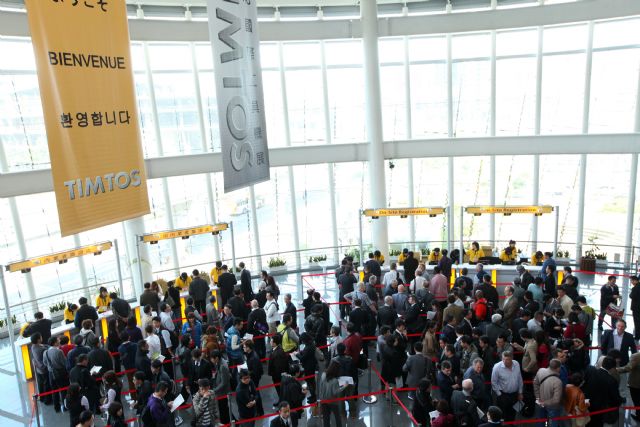 Record turnout is projected for TIMTOS 2015.
The Taipei International Machine Tool Show (TIMTOS) 2015, staged March 3-8, is projected to draw over 1,000 exhibitors from 17 nations to occupy 5,400 booths this year, setting new high and unseating the Japan Machine Tool Fair as the No.2 machine-tool event in Asia, according to co-organizer Taiwan External Trade Development Council (TAITRA), whose partner is the Taiwan Association of Machinery Industry (TAMI), which represents over 2,600 machinery makers.
This year's show will feature three major themes: high-efficiency, automated production and Taiwan developed CNC control system.
TAITRA Sectary General W.J. Huang points out that Taiwan's machine-tool industry has developed a unique industrial cluster, which provides the Taiwanese manufacturers easy access to essential components to boost assembly efficiency via lower-cost logistics.
Taiwan's machine-tool makers are particularly favored by international buyers for excellent manufacturing flexibility, rapid response and contract-manufacturing capacity to enable delivery of quality, reasonably priced products, says Huang.
Throughout 2014, the island's machine-tool industry shipped some US$3.75 billion of machines, increasing 5.8% from the previous year, mostly thanks to the 22% increase in shipment to mainland China, 20% increase in shipment to the United States and 128% increase in shipment to Italy.
TAITRA has instructed all 60 offices worldwide to promote the 2015 show, particularly in the top-25 export destinations for Taiwan's machine tools, including China, Russia, Turkey, India, Brazil, Mexico, the Philippines, Thailand, Myanmar, Vietnam, Malaysia, and Indonesia, with the campaigns expected to draw around 7,000 foreign buyers not to mention an estimated 46,000 local buyers.
TAMI Chairman S.C. Hsu points out that TIMTOS is recognized as a crucial platform for foreign buyers to source quality Taiwan-made machines and local machine-tool makers to promote products personally to global buyers.
Some of the prominent local manufacturers that have booked booths include She Hong Industrial Co., Ltd., Victor Taichung Machinery Works Co., Ltd., Goodway Machine Corp., Yeong Chin Machinery Industries Co., Ltd., Tongtai Machine & Tool Co., Ltd., Quaser Machine Tools, Inc., AWEA Mechantronic Co., Ltd., Falcon Machine Tools Co., Ltd., CHMER EDM, Hiwin Technologies Corp., the Fair Friend Ent. Group, Shieh Yih Machinery Industry Co., Ltd., Chin Fong Machine Industrial Co., Ltd., and Kuen Lin Precision Co., Ltd.
The 2015 show will also include over 260 foreign exhibitors from established machine-tool powers as Germany, Italy, Japan, Switzerland, Spain, and the United States, the highest in the show's history. Notable exhibitors include MAZAK, DMG, MORI, YASDA, JTEKT, KUKA, FANUC, SODICK, MITSUBISHI, TRUMPF, SIEMENS, and BOSCH.
For the first time, German government organizations and machine-tool associations will jointly set up a national pavilion, with China's non-governmental Foreign Trade Federation to also lead machine-tool makers to the exhibition.
With automation and intelligent technologies being increasingly adopted in manufacturing worldwide to cut abor cost, TAITRA executives feel the island's well developed information-communication technology (ICT) industry is set to partner, share expertise and build synergy with local machine-tool makers to tap business opportunities created by such technologies.
Embodying a fine example of automation will be Chin Fong's automated laser-welding line for stamped car parts, which boosts production efficiency by over 30% for being able to weld  thick and thin parts simultaneously.
Far East Machinery Co., Ltd.'s Factory Automation Technology Co., Ltd. (FATEK) will demonstrate two types of automated production line for aluminum wheels.
The Taiwan-developed CNC control systems displays will include Advantech-LNC Technology Co., Ltd., Delta Electronics, Inc., and Syntech Technology Co., Ltd., whose control systems jointly developed with academic and government-backed technology institutes for high-end combo lathing-milling machines are expected to capture ample attention.
(KL)