Ching Hung Machinery & Electric Industrial Co., Ltd., currently Taiwan's No.1 and world's No.5 electric discharge machine (EDM) manufacturer, is promoting several advantageous machines, including the AD5L-series CNC high speed small-hole drilling EDM for making molds used in aircraft industry.

This machine has many striking designs, including small footprint of 1,900mm X 2,100mm, invert-controlled high pressure pump, linear motor, large submerged work tank, invert spindle, and universal canned cycles/codes and offline programming.

The pressure pump increases flush pressure as the drilling goes deeper, the linear motor with glass scales in X asix increases positioning speed and improves accuracy, and the work tank allows for addition of submergible A-axis and B-axis tables from various manufacturers, while the invert spindle reduces electrode wear and improves accuracy of the drilling, and various canned cycles as the CHMER and edge find can be used throughout the drilling.

The company is technically capable of making over 90% of the crucial components for its machines, including the linear motor and the PC-based controller. The motor is used to replace ballscrew. According to the company's data, the median tolerant error for every five cuttings with the linear motor is 0.20 micron while the average error with ballscrew is 0.28 micron.

When a large number of EDM makers worldwide have exited the industry due to overcrowded competition and the intrusion of cutting-machine makers into their primary market—mold manufacturing, Ching Hung has branched out into the sectors of high-speed milling machine and high-end double-column tapping center.

Also equipped with linear motors, the company's high-speed milling machines and double-column tapping centers aim at high-end market.

Spending at least NT$30 million (US$1 million) a year on R&D and releasing a new machine every three months, Ching Hung is also developing robots to keep up with the rising automation trend.

The company's machines hit the market with own brands "CHMER" and "AMStech", with the former for general market and the latter for high-end market.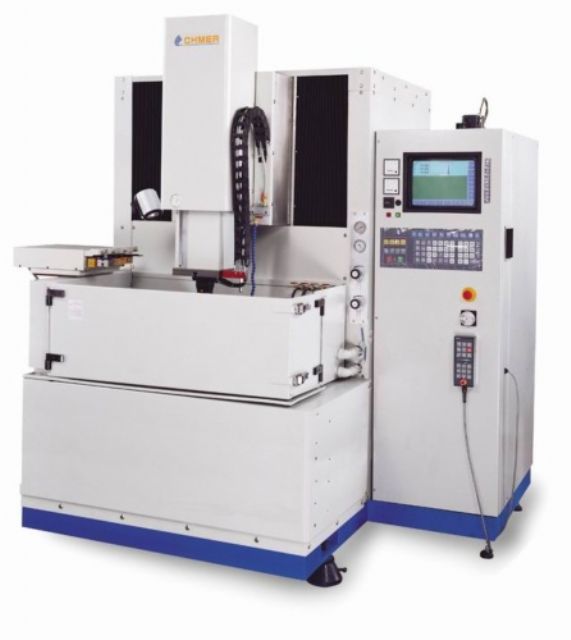 Ching Hung Machinery & Electric Industrial Co., Ltd.
Tel: 886-4-2350-9188
Fax: 886-4-2350-9199
Email: overseas@mail.chmer.com
Website: www.chmer.com