Compiled by KEN LIU

Reportedly the world's No.4 machine-tool exporter with revenue of US$3.87 billion, Taiwan machine-tool makers generally enjoy sound reputation worldwide, due mainly for efforts to emulate advanced makers to roll out user-friendly designs that help customers cut labor cost, operational complexity and materials which in turn boost production efficiency, with many Taiwanese suppliers promoting machines matching specs of German and Japanese counterparts but at more competitive prices.

Campro Precision
Founded by a team of machine-tool veterans in 2003 to specialize in CNC machining centers, Campro Precision Machinery Co., Ltd. is promoting several notable machine tools, including the U series 5-axis machining center, and CPV and CPV-B series vertical machining centers.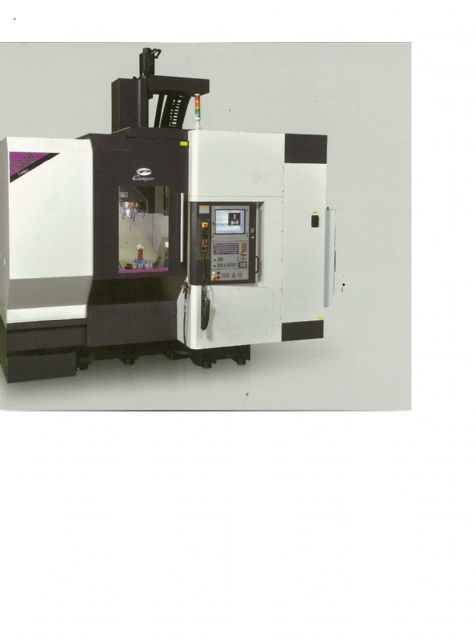 Campro's U-series is ideal for cutting complex workpieces in small volume with high precision.
U series is a horizontal double-column machining center featuring not just improved structural design for enhanced stability but also an A-axis that can be tilted 30 through 120 degrees, with a 360- degree rotatable C-axis, along with a direct drive motor and built-in linear scale and angle encoder.
Its built-in high-speed (12,000 rpm) spindle boasts high torque and stability when in operation, also featuring low energy consumption and ability to prolong life cycle of cutting tools. The 3-axis linear guideway coupled with a linear scale also helps to enhance the machine's stability, while the numerical control made by Germany's Heidenhain ensures easy operation and speedy auxiliary computing.  
It is competitively priced and has small footprint, to be ideal for cutting complex workpieces in small quantity with high precision, efficiency, easy operation.
Without Secondary Processing
The CPV and CPV-B series are built to cut rough workpieces into finished products without secondary processing as polishing or grinding. 
The CPV series, available with X-axis travel of  550 millimeters, 750 millimeters, 900 millimeters, 1,100 millimeters, and 1,300 millimeters, is specifically designed for making 3C (consumer electronics, computers, and communications) components.
This series feature compactness to occupy less than three square meters, with spindles turning at 8,000, 10,000, 12,000, or 15,000 revolutions per minute, depending on model. The CPV-550 and CPV-750 have X/Y/Z axis travel of 30 meters each per minute; the CPV-900 and CPV-1100 have corresponding figures of 36/36/24 meters, with the  CPV-1300's being 24/24/24 meters.  
In contrast to lightweight workpieces which the CPV series is designed to handle, the CPV-B has  a square guideway for heavy-duty cutting of  components for cars, motorcycles, molds, aircraft, and medical equipment.
Designed for heavy-duty work, B series spindles turn at slower speeds of 6,000-8,000 rpm to generate stronger torque. The X/Y/Z-axis travel of 20mm x 20mm x 20mm, 20mm x 20mm x 15mm, 15mm x 15mm x 15mm, or 15mm x 15mm x 12mm per minute, depending on model. The B series is slightly bigger than the CPV series to occupy four to five square meters. 
The maker adopts pre-delivery quality inspection using international-standard laser and ball-bar measurement on all its machines.  
The maker's major buyers in Asia are makers of vehicle components, electronic products, and energy-exploration equipment, with products going to medical-equipment and precision-component makers in Europe, and vehicle-parts makers and aircraft manufacturers in America. 
In addition selling products under its own brand, Campro also fills OEM (original equipment manufacturing) and ODM (original design manufacturing) orders from customers worldwide. Its factories in Taiwan and China roll out over 30 sets of CNC machine tools with X-axis travel from 900mm to 2,200mm per month.
Campro's steady growth is mostly due to devotion to quality along with ample processing skills. Both  ISO 9001 approved and CE certified in the U.K. and Taiwan, it has built in-house machine tools  that turn out high-precision parts and workpieces to help customers sharpen competitive edge.
Ching Hung Machinery
Among the machines being promoted by Ching Hung Machinery & Electric Industrial Co., Ltd., reportedly Taiwan's No.1 and the world's No. 5 electric discharge machine (EDM) manufacturer, is the AD5L-series CNC high-speed small-hole drilling EDMs to make molds for the aircraft industry.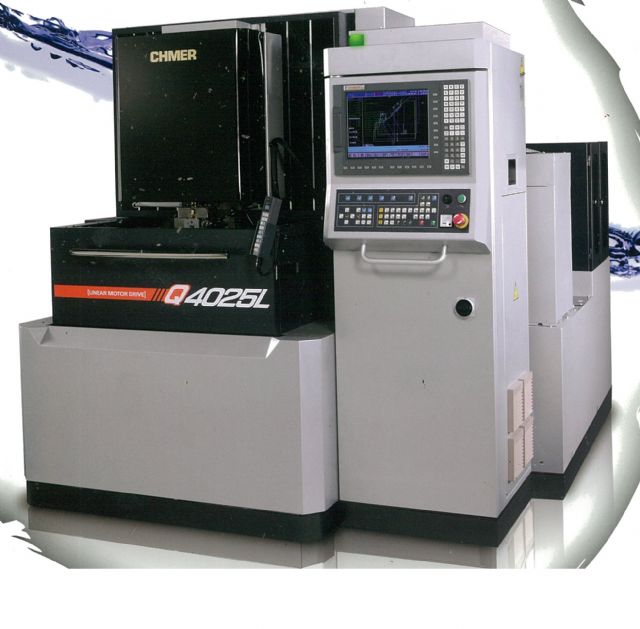 CHMER's high-precision wire cut EDM is perfect to make molds for aircraft industry.
These machines offer many attractive features, including a small footprint of 1900mm x 2100mm, invert-controlled high pressure pump, linear motor, large submerged work tank, invert spindle, and universal stored cycles/codes and offline programming. 
The pressure pump increases flush pressure with deepening of drilling, the linear motor with glass scales along the X axis increases positioning speed and improves accuracy, the work tank allows for the addition of submersible A-axis and B-axis tables from various manufacturers, the invert spindle reduces electrode wear and improves drilling accuracy, and stored cycles such as CHMER and edge seeking can be used for drilling. 
Ching Hung boasts many advantages as the world leader in the sector. One of which being the ability to make in-house over 90 percent of crucial components, including linear motors and PC-based controllers. We're one of the world's two EDM makers with integrated linear motors. The use of linear motors generally requires high-end technology because driving a cut wire on an EDM to cut workpiece puts a motor under torque and heat stress, which affect cutting precision, says director Brad Wang. 
The motor replaces a ballscrew to achieve higher precision. According to the company's data, average error for five cuttings with a liner motor is 0.20 microns, but 0.28 microns with a ballscrew. The automatic wire threading (AWT) device is another advantages, enabling threading in only six seconds, the world's fastest.   
Saturated Market
When many EDM makers worldwide have withdrawn from the industry due to saturated market and encroachment by cutting-machine makers into their primary mold-manufacturing market, Ching Hung has branched out into the high-speed milling machine and high-end double-column tapping center sectors. We have high self-content rate of key components that buffers us against competition to facilitate our product diversification, stresses Wang.  
The maker's high-speed milling machines and double-column tapping centers, also equipped with linear motors, target the high-end market.  
The company markets machines under its own "CHMER" and "AMStech" brands, the former for the broad market and the latter for the high-end market.  
According to Wang, Ching Hung's business has recovered substantially since the 2008 global financial meltdown, to have reached a post-crisis growth peak in 2010, with production capacity being expanded to deal with increasing flood of orders.
Forwell Precision
Founded in 1987 in central Taiwan, Forwell Precision Machinery Co., Ltd. excels in a wide range of automatic mold change systems, including quick die-mold change system, die/mold cart systems, PCB fine-piercing systems, and automatic die clamping systems.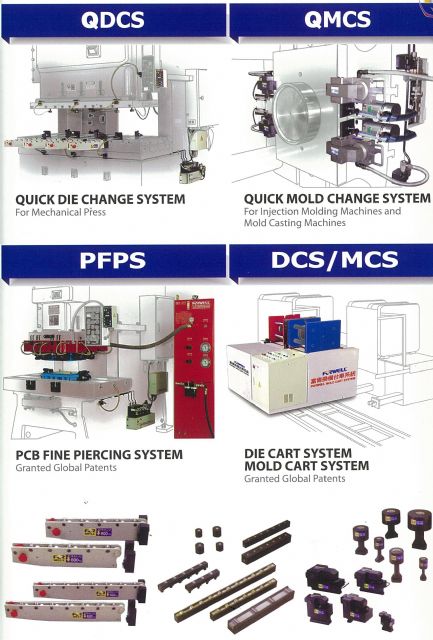 Forwell offers a wide range of automatic mold changers.
It is developing an automated, integrated mold-manufacturing management system aimed to   boost production efficiency and competitiveness of customers, according to chairman, Xiao Wen-long.
The system will handle mold manufacturing, conveying, stocking, maintenance, and retrofitting  automatically. This management system is the first of its kind in the industry, whose existing systems only manage encoding and stocking but leave conveying, maintenance, repairing and retrofitting to manual operation, says Xiao.
He adds that the automated system is built on the demand for "rapidly finding and stocking needed molds." The first step is developing a rapid mold changing system and rationalizing the changing process in addition to standardizing the molds. The next step is putting aside space in a factory for the integration of mold conveying, maintenance and production lines, which needs to be pre-planned.
Xiao says the automated mold changing system is akin to an automated warehouse system or an automated parking system except for the subjects involved.
Xiao admits to being inspired by the rising trend of using automated production and smart factory across manufacturing, and projects to debut the system sometime in 2015 at a prominent world trade show.
Dedicated Unit
To start up the project, Forwell set up a dedicated unit some two years ago and is retrofitting its manufacturing site in Ninbo, Zhejiang Province in China to make the systems and strengthen its presence in the mold-changing system market there.
Also the company built a manufacturing complex, composed of four factories, an office building and a corporate headquarters, in June 2014 in Huai'an, Jiangsu Province for NT$350 million (US$11.29 million) to mainly build the mold warehousing system, mold-maintenance systems and standardized molds for its automated mold-changing system. The factory is projected to generate around NT$2.5 billion (US$80.64 million) in revenue a year to propel the company into industrial-robot manufacturing.
Also operating factories in Chongqing, Sichuan and Shenzhen, Guangdong in China, the company became ISO 9002-approved in Oct. 1997 to become the first such maker of quick die/mold change systems in Taiwan. In the following year, the company earned the CE Mark to qualify to sell products to Europe. Shortly thereafter the company also won ISO 9001 certificate to prove its quality products.  
Klima Technology
Klima Technology Inc. under the Comaxima Group is promoting an emulsion fuel processing machine ECH-A for machine tools and industrial machines.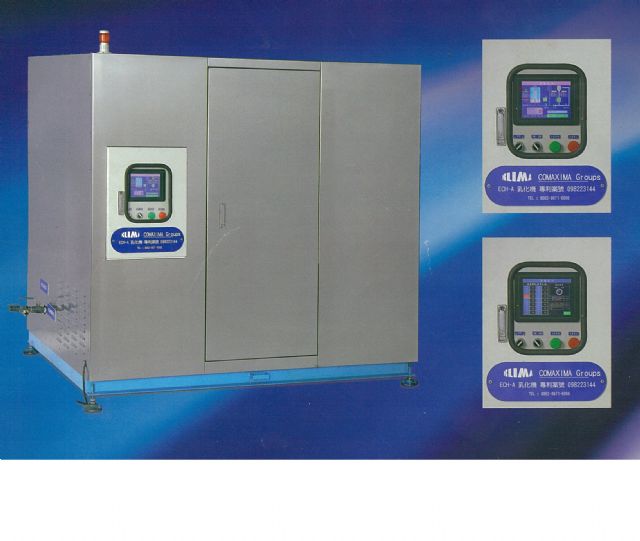 Klima's ECH-A emulsion fuel processing machine uses no additives to mix water and oil used in machines.
This machine's emulsion technology is unique to requires no additives but only water to combine with oils used in machines, saving operators cost of emulsion additives. This technology is developed specifically to mix water with heavy oil, to ensure mixing rather than repelling oil.
Mixing renders liquid drops of only about two to five microns in diameter, to achieve excellent cooling and saving 5-15 percent of fuel due to zero carbon deposit in tubes or pipes.
Containing no potentially corrosive additives, the mixture does not damage rubber parts in machines to significantly boost lifespan of machines and help minimize pollutants.
The maximum proportion of water in the mixture can be raised to 35 percent or above based on the need of industries.
The company was established in 1980 to manufacture machines to make heating and air-conditioning equipment, laying a solid foundation to enter the emulsion-fuel processing equipment sector in recent years.
The company offers automatic hair pin bending machine, manual expander, expander gun, vertical expander, automatic U-type brass pipe bending machine, clearing & de-burring machine, hang-door dehydration machine, O-ring inserting machine, high-speed ring making machine, saw slice & de-burring machine, automatic brazing machine, leakage test machine & high-speed connector, dryer, tube array layout machine, and high-speed fin press line.