To further promote the popularity of electric scooters in Taiwan, the Environment Protection Administration (EPA) under the Executive Yuan (Cabinet) mapped out an e-scooter battery-swapping system demonstration project in late 2013, and commissioned the Taiwan EV Development Association (TEVDA) to carry out the project, which will end in March 2015.

The project, according to TEVDA, aims to expand awareness in Taiwan about e-scooters, related services, government subsidies, as well as to collect data on e-scooter riding to facilitate future e-scooter promotion plans.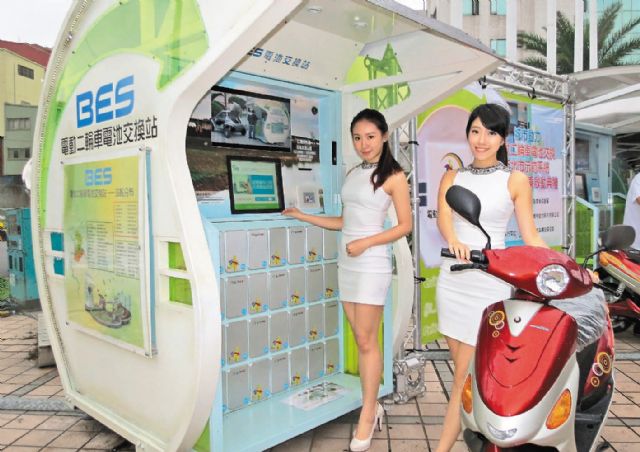 Models introduce Taiwan's Battery Swapping System (BES).
The battery-swapping demonstration project is carried out by TEVDA and co-executed by the Department of Marketing and Distribution Management, Oriental Institute of Technology (OIT). In Taiwan, the project provides e-scooters powered by common-standard batteries to local riders (free of charge), hoping to increase the number of e-scooter riders and let more people experience the e-scooter battery-swapping system and related services. Over the past year or so, a growing number of people in Taiwan have been riding e-scooters and using the battery-swapping services, the EPA says. Project participants will be asked to provide suggestions for future e-scooter promotion projects on the island.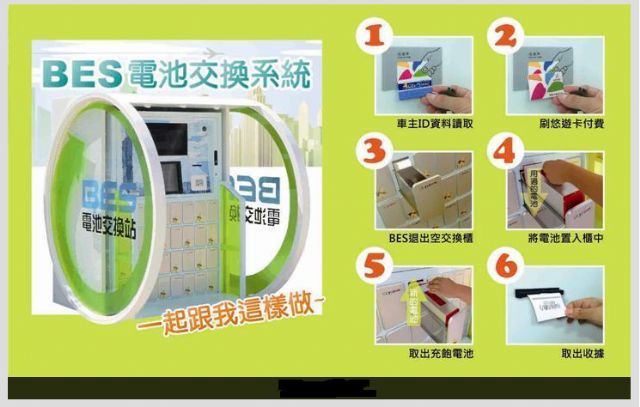 The system's battery-swapping process.
In addition to providing e-scooters for free trial riding, the project also includes various types of promotion activities throughout Taiwan to promote clean-energy e-scooters, as well as riders' data and information analysis.
A total of 30 battery-swapping stations were installed in major cities in Taiwan, including 10 providing free-leasing e-scooters.
EPA claims that the popularity of e-scooters in Taiwan are expected to rise in conjunction with the extended range achieved by installation of more battery-swapping stations throughout the island; while the higher penetration rate of e-scooters is expected to lead to low air and noise pollutions in major cities, as well as upgraded quality of life and environment. Even more, e-scooters are expected to be adopted by more people living in urban areas as the short-distance connecting vehicles to public transportation systems.
So, EPA says, the demonstration project is expected to be a very important reference to future's policy-making decisions for extending operation scale or copying the model to other cities. The final target, the administration says, is to reduce air pollution and carbon emissions.
TEVDA
TEVDA chairman Cheng Cheng-hung, who in charge of executing the EPA-commissioned demonstration project, says his association is dedicated to promoting e-scooter usage in Taiwan, which has the highest density of powered two-wheelers (PTWs) in the world, especially in major cities. The air pollution generated by such vehicles has been a major concern on the island. By showcasing the battery-swapping systems to interested riders, who can get a free-of-charge leased e-scooter, Cheng adds, the program aims to resolve the problem of battery charging, which has contributed to the image of inconvenience associated with e-scooters.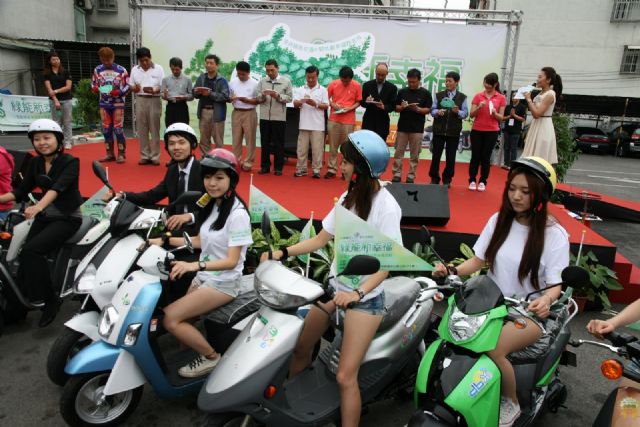 The EPA-sponsored project arranges activities to promote e-scooter usage.
Professor Huang Fei-huei of OIT, the EPA project convener, points out that the demonstration project plans to install a total of 30 battery-swapping stations mainly in northern Taiwan, and to choose 10 e-scooter distributors to provide e-scooter leasing (at least 100 units compatible with the TES , or Taiwan E-Scooter Standard), battery-swapping station installation and operation, questionnaire collection, and information for e-scooter renters, as well as to participate in related e-scooter promotion activities.
Cheng claims that TEVDA has been aggressively promoting e-scooter adoption in Taiwan since its establishment. The association has succeeded in making e-scooters a legitimate transportation vehicle on Taiwan's roads. The increasing penetration of e-scooters on the island, the chairman adds, has also led to the strong development of local e-scooter and related industries. The best example, he explains, is a group of local lithium-ion battery makers that have mapped out a TES-compatible common-standard battery packs for e-scooters.
CityPower
CityPower Taiwan Co., Ltd., a battery-swapping station developer and e-scooter maker, is responsible for the development of the battery-swapping stations currently adopted in northern Taiwan. In developing the swapping station, CityPower claims, it has two priorities: resolving concerns about e-scooter range and making such vehicles more convenient to use so as to make e-scooters more popular in Taiwan.
CityPower's intelligent battery-swapping system enables e-scooter riders to access any battery-swapping station (an IC chip onboard the e-scooter can identify the vehicle). The rider can also get a portable, common-standard battery pack from a drawer of the system, paid with an EasyCard, a very popular electronic pre-paid card in Taiwan. In addition, the station will have a system to return empty battery packs for recharging. The entire process takes only about 30 seconds.
The company says that all battery packs at the swapping stations are the same and can be swapped at any such station. The system can automatically shift the battery-use authorization to the e-scooter rider after each swap. Each battery pack comes with a lifetime service guarantee, and the battery-swapping system can automatically inspect and test every time when the pack is swapped into the system. Poor-quality packs will be weeded out and recycled by the system, while damaged packs will be rejected during the swapping process.
Currently in Taiwan, most battery-swapping systems are located at places such as powered two-wheeler (PTW) repair shops, Mass Rapid Transit (MRT) stations, convenience stores, big parks, gas stations or roadsides.