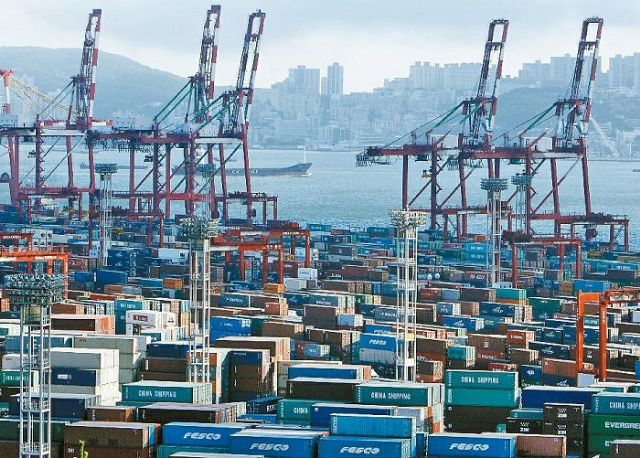 Taiwan, with export-driven economy totally reliant on imported oil, is forecast in 2015 to see GPD growth of around 4 percent amid weak international crude oil prices (photo courtesy of UDN.com).
With international crude oil prices having fallen to record lows since the 2008 financial meltdown and a major news channel reporting per barrel price may dip to US$20, Taiwan's GDP in 2015 is forecast to grow by around 4 percent, an equivalent of some NT$160 billion (US$5.08 billion), over 2014, according to the Directorate General of Budget, Accounting and Statistics (DGBAS).
DGBAS officials are optimistic that Taiwan's economy will significantly benefit from weak international prices of crude oil, based on the remark by F.N. Perng, Taiwan's Central Bank Governor, that every US$10 drop per barrel in international crude oil price oftentimes contributes about 0.2-0.3 of a percentage point to the global economic growth rate. And Taiwan relies totally on imported fossil fuel to drive its export-driven economy, so lower oil prices obviously cut costs across-the-board for manufacturers, shippers and airlines.
The DGBAS has sound reason to hold its optimistic GDP growth forecast of around 4 percent this year, with international crude oil prices having dropped below US$50 per barrel in mid-January the first time since 2009, though one major news channel has said that such price has bottomed recently, to have actually rebounded mildly since February, with some experts predicting the per-barrel price to, beginning in H2, remain US$60-80 throughout 2015.
Among global financial firms and economic research institutes who have published reports on Taiwan's 2015 economic outlook, Standard Chartered Bank (Taiwan) particularly echoes DGBAS's optimism by predicting an even stronger GDP growth of 4.3 percent, which seems unrealistic, especially when the U.S. has seen its manufacturing industries gradually slacken in Q1, resulting mainly from a growth slowdown of the Chinese economy.
(SC)