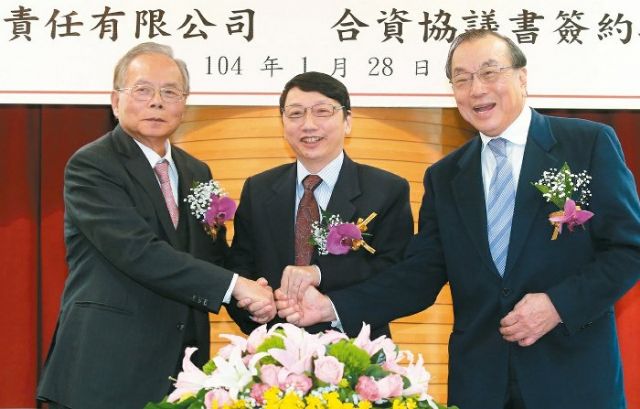 Wu Cheng-chin (from left), chairman of Excel, L.W. Chen, president of CPC, and C.Y. Sun, chairman of Uni-Shine at joint venture signing ceremony. (photo from UDN)
CPC Corp., reportedly Taiwan's largest petrochem and fossil energy company, recently announced a partnership with local petrochem company Excel Corp. and petrochem logistic firm Uni-Shine Chemical Corp. to produce lubricants and solvents in Vietnam. With total investment of NT$1.58 billion (US$52.6 million), the joint venture is scheduled to kick off mass production by 2017 with annual production capacity of 32,000 kiloliters of lubricants and solvents, with targeted annual revenue of about NT$800 million (US$26.7 million).
CPC has signed a cooperation agreement for the joint venture to hold a 40 percent stake, while the other two parties to each hold 30 percent, adding that it will handle lubricant mixing and production, as well as sales. In addition, the new venture will engage in importing solvents, to set up 15 tanks to each hold 25,000 kiloliters, as well as a 30,000-ton shipping dock.
Lin Sheng-chung, chairman of CPC, pointed out that the venture will market lubricants under its own CPC and Mirage brands, first in the Vietnamese market, and gradually expand sales to Association of Southeast Asian Nations (ASEAN). Lin stressed that the new venture is CPC's first overseas lubricant plant, but the second joint venture in the nation. Industry sources said that CPC aims to take on international lubricant brands in the Vietnam market, such as Shell, Castrol, Mobile etc., with lubricants to be sold for automotive, motorcycle and boat engines.
CPC said the venture partner Excel is its largest liquified petroleum gas (LPG) distributor in Vietnam who has established sales channels there. Uni-Shine specializes in chemicals management and storage, and operates four chemical storage centers, including two in Taiwan and two in China.
To further consolidate its lead in Taiwan's domestic lubricants market, CPC recently completed the first-stage capacity expansion at its lubricant mixing plant in Chiayi, southern Taiwan. The capacity expansion targets to offset the supply shortage after the plant closure of CPC Shell Lubricants Co., Ltd. (CSLC) in December 2014, a joint venture between CPC (49 percent) and Dutch oil company Shell (51 percent) to produce base oils and lubricants in Taiwan. CSLC is located in CPC's fifth naphtha cracker plant in Kaohsiung, southern Taiwan, which will be closed and moved this year due to local inhabitants' protests.
A leading supplier of lubricants in Taiwan, CPC generates about NT$4 billion (US$133.3 million) of revenue from such business.