Some 21,898 projectors were sold in Taiwan in Q4, 2014, up 2.2 percent year-on-year (YoY) and 3.0 percent quarter-on-quarter (QoQ), according to statistics released by IDC Taiwan, local subsidiary of the global provider of market intelligence.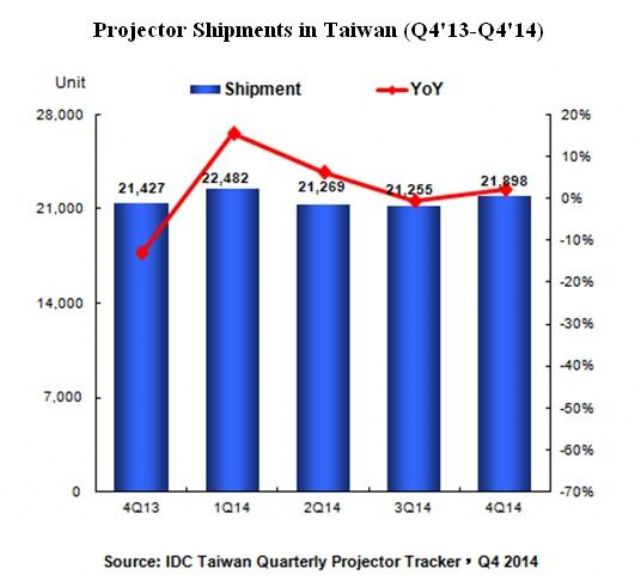 Projector Shipments in Taiwan (Q4, 2013-Q4, 2014) (Source: IDC Taiwan Quarterly Projector Tracker, Q4, 2014)
Ray Lin, associate market analyst, PC & Peripherals Group of IDC Taiwan, attributes the sales increase to educational institutes' year-end spending of budget, to effectively raise  shipments of educational-use projectors during the period. In addition, replacement purchases for home projectors in the traditional high season for consumer electronics also helped increase projector sales on the island.
The 3,000-3,999-lumen models remained the market mainstream during Q4, 2014, taking a 54 percent share of the total, with the market share of 4,000-4,999-lumen models also having been rising alongside increasingly affordable prices.
Regarding resolution, extended graphics array (XGA: 1024 x 768 pixels) models took a market share of about 69 percent thanks to increased shipments of educational-use projectors.
Epson, NEC, Optoma, BenQ, Vivitek were the top-five brands in Taiwan's projector market in Q4, 2014, commanding a combined share of 82.2 percent, with the long-term leader Epson winning a 29.5 percent share.
IDC Taiwan forecasts that Taiwan's projector market is expecting more positive outlook, especially with many municipal governments' educational ministries allotting new budgets for educational-use projectors in 2015, albeit with uncertain purchase volume. Regarding the family projector segment, IDC Taiwan says that vendors are investing more resources in marketing to likely result in higher purchase willingness, to lead to shipment growth.