Compiled By KEN LIU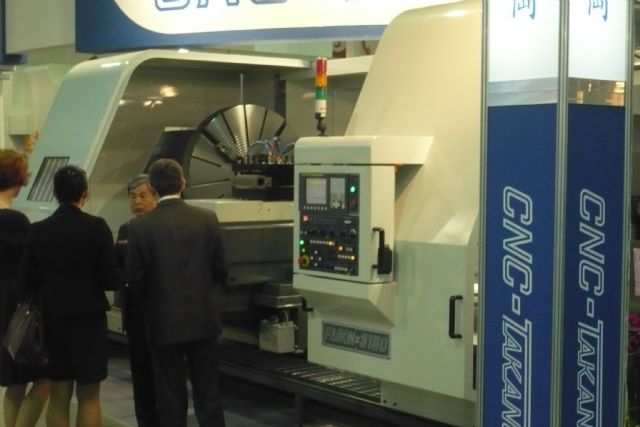 Taiwan's machinery and machine-tool makers forecast for 10% rise in exports in 2015.
Industry executives predict both Taiwan's exports of machinery and machine tools to rise 10 percent this year from last year based on strong exports in January 2015 due to sustained growth in demand from global automakers and aircraft builders.
According to Chairman S.C. Hsu of the Taiwan Association of Machinery Industry (TAMI), which represents nearly 3,000 Taiwanese machine builders, January saw the island's machinery and machine-tool exports overall surge 18.6 percent and 16.1 percent year on year respectively, to US$1.78 billion and US$287 million.
He points out that Taiwan's machinery exports denominated in NT-dollar totaled NT$56.7 billion in January, soaring 25.7 percent from the same month of last year. Throughout 2014, Taiwan's machinery exports were US$20.88 billion, up 5.7 percent from the previous year.
Hsu notes that such January export growth marks the machinery industry as Taiwan's best export category, compared with an 18.5 percent growth of the island's electronics industry, a 13.1 percent rise by the island's textile industry, a 9 percent increase by the island's information-communication technology industry, a 13.9 percent rise by the island's electro-equipment segment, a 2.7 percent gain by the steel industry, but down 4.4 percent by the petrochemical industry in the same month. Totally, Taiwan's exports in January totaled NT$798.5 billion (US$25.75 billion) in revenue.
Mainland China remained Taiwan's top export destination for machinery, including machine tools, this January, importing US$544 million, or 30.5 percent, of such machines to represent a staggering 78.6 percent increase year on year. The United States came in second to absorb US$281 million, or 15.8 percent, of Taiwan-built machines to mark a 2.4 percent growth year on year. Japan was the No.3 buyer to have imported US$112 million, or 6.3 percent, of Taiwan-made machines to register a 6.5 percent rise.
Mainland China was also Taiwan's largest buyer of machine tools in January, importing US$92.36 million, or 32.1 percent, of Taiwan-made machine tools to register a 58.5 percent year on year increase. The U.S. imported US$34.36 million, or 12 percent, of Taiwan-built machine tools, increasing 17.2 percent from the previous year to be the No.2 buyer. Turkey purchased US$16.98 million, or 5.9 percent, of Taiwan-built machine tools, spiking 142 percent year on year to be the No.3 importer. 
Taiwan's machinery imports in January rose 6.7 percent from the same month of last year, to US$1.77 billion. Denominated in NT-dollar, the imports were NT$56.5 billion, up 13 percent year on year. Such increase, both in U.S. dollar and NT-dollar, suggest the steady recovery of the island's economy.
Hsu pinpoints several spots worthy of caution in 2015 that may prove troublesome for Taiwan's machinery makers, and machine-tool makers in particular. The difficulties include further depreciation of Japanese yen and South Korean won against US-dollar to render NT-dollar-to-greenback rate less favorable in export quotations, hence dulling Taiwan's edge against trade rivals Japan and S. Korea, as well as China's signing of FTA with S. Korea, which will also undermine Taiwan's export competitiveness.
Industry executives fear the 40 percent devaluation of Japanese yen to prompt more global machine-tool buyers to shift orders to Japanese makers this year. The South Korea won has devalued 15.2 percent against US dollar since 2007 versus the 4.3 percent rise of NT-dollar, rendering Taiwan-made machines tools about 20 percent less price-competitive relative to South Korea's.  
Hsu points out that the NT-dollar-to-greenback ratio depreciated to a median 31.8 this January, dropping 5.64 percent from the same month of last year, but has recovered recently to 31.5 to each US dollar.
South Korea concluded a free trade agreement (FTA) with China in November 2014, after the Korean-European Union agreement became effective July 1, 2011, and the Korean-American agreement took effect March 15, 2012. Unfortunately and due to seemingly irrational wrangling and suspicions among students and certain labor groups in Taiwan as aired on TV last year, Taiwan authorities have had to halt previously smooth negotiations with China over signing a trade agreement, which would lower tariffs on mutual imports, including that on machine tools.
The FTAs signed between S. Korea, the USA and EU have facilitated expansion of South Korean machine-tool makers' market shares globally to sideline or make less advantageous Taiwan-made machines.
To cope with such hurdles, Hsu suggests island's machine-tool makers to build capability to effectively fill surging and urgent orders, which implies the lack of such capacity currently; while the government should accelerate signing FTA with major economies to lower or waive duties to  enable the island's machine-tool makers to compete on equal footing with rivals. Also, the government should continue allowing depreciation of NT-dollar.
Taiwan's Machinery & Machine Tool Exports (January 2015) 
Category

Machinery

Machine Tool

Export value

US$1.78bn

US$287M

YoY change (%)

18.6

16.1

Top 3 markets

Mainland China (30.5%), America (15.8%), Japan (6.3%)

Mainland China (32.1%), America (12.0%), Turkey (5.9%)

Note

TAMI forecasts the island's machinery and machine-tool industries to rise 10% respectively in 2015.

Source: TAMI