Sales of new powered two-wheeler (PTW) in Taiwan declined 19.5 percent year-on-year (YoY) to about 41,700 units, according to statistics compiled by Taiwan's Ministry of Transportation and Communications (MOTC), to show a relative-weak start for this year's PTW market.

The top-three PTW vendors suffered sales declines in the traditional off-month, during which  tepid sales were exasperated by the weeklong Chinese New Year holidays (in January) that typically slows spending on certain goods as vehicles with consumers usually staying home for family gatherings and relaxation, hence the obvious YoY drop.

Industry insiders attribute the sales decline to major PTW vendors' joint efforts to reduce inventories at distributors, to prepare for the launch of new models by mid-2015, as well as minimize potential supply glut resulting from currently falling gasoline prices that may direct PTW buyers to the automobile market. They add that both Kwang Yang Motor Co., Ltd. (KYMCO brand) and Sanyang Motor Co., Ltd. (SYM brand of the former Sanyang Industry Co.) had forecast 700,000-plus units overall in the market this year, but the said uncertainties have been motivating the vendors to reduce the forecast volume.

Trying to turn around the downtrend in purchase willingness, both Yamaha Motor Taiwan Co. (Yamaha), reportedly the No. 2 PTW on the island, and SYM, the No. 3, have decided to advance their new-product announcements. SYM had just announced its SB300 and SB300 SR 300cc models to tap larger market shares in the rapidly-developing "yellow license plates" (over-250cc models that are allowed on increasingly more expressways in Taiwan). Yamaha Taiwan has just launched its new CUXi IS, an upgraded version with the start-stop system, which automatically shuts down and restarts the gasoline engine at stoplights to reduce the amount of time an engine idles, which reduces fuel consumption and emissions.

KYMCO, reportedly the largest PTW vendor in Taiwan for the past 14 years, retained its lead in February by delivering about 17,600 new PTWs, holding a high market share of 42.1 percent during the period. Yamaha Taiwan sold about 12,300 units, down about 25 percent YoY; while SYM delivered only 6,828 units, a 34.4 percent YoY decrease.

In the first two months, accumulated new-PTW sales in Taiwan was only 86,600 units, down about 15 percent from the same period of last year. PTW vendors predict sales to rise again in March due to students' purchases after the winter vacation.

Yamaha Taiwan said that its new Cuxi IS with start-stop system, the first of its kind on the island, will have to prove its popularity in the local market. Though the new model has more environmentally-friendly features, rival vendors say such model is more expensive, and the start-stop system may result in heavier workload on the starter motor and engine to, in other words, incur higher repair and maintenance costs.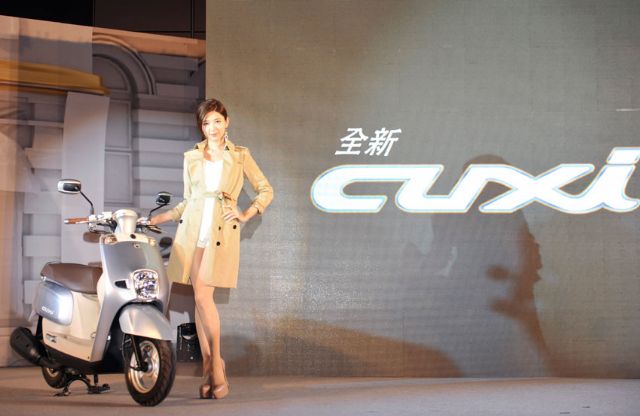 Yamaha Taiwan has just announced its CUXi IS, a 115cc scooter with start-stop system that targets to further raise sales volume in 2015. (photo from Yamaha Taiwan)
Eyeing the big-displacement segment, Yamaha Taiwan has already announced its Yamaha MT-07 700cc motorcycle, coupled with its TMAX maxi-scooter lineup, to have built a wider range for the Taiwan market, which until recent years have only seen a gray market in 500cc-plus motorbikes.
Sales of new PTWs in Taiwan totaled 667,390 units in 2014, slightly down 0.1 percent from the previous year (667,973 units sold), according to statistics from MOTC. The market shares of the top-three vendors, KYMCO, Yamaha Taiwan and SYM last year were: 40.1 percent, 32.4 percent, and 13.4 percent, respectively.