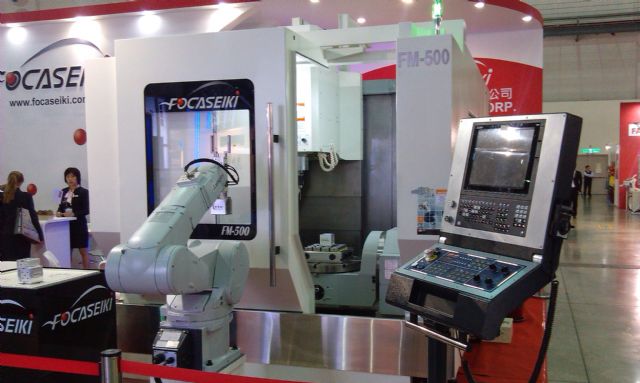 Smart machinery composed of "smart" controller, robot and machine tool.
Chairman S.C. Hsu of the Taiwan Association of Machinery Industry (TAMI), having been impressed by smart manufacturing technologies at top machine-tool shows as IMTS of the United States and JIMTOF of Japan held in 2014, says the era of smart machinery is arriving and smart technology is the centerpiece of the industry, which aims to build automated production independently and inter-organizationally by tapping Internet of Things and cyber-physical systems.
He notes that industrially advanced economies like Germany and the United States are leading the smart technology revolution by deploying smart machinery on production lines. If Taiwan fails to keep up with such trends in smart machinery, then it risks losing competitiveness in future.
Hsu stresses that smart manufacturing depends on smart machinery coupled with robotic arms to achieve automated production and the latest production-management model. The critical challenge for Taiwan's machine-tool sector is to develop smart machinery, sensors and components.
TAMI's survey of JIMTOF 2014, held Oct. 30-Nov. 4, shows 21 of the 32 latest computer numerical control (CNC) machine tools displayed by DMG MORI SEIKI Co., Ltd., the biggest exhibitor at the show, for automotive, energy, medication, and construction industries were outfitted with the CELOS touch-panel control system co-developed by German and Japanese manufacturers.
CELOS is a brand new control system for machine tools adopting human-machine touch-panel interface technology, whose control software has been developed by DMG MORI and hardware by Siemens and Mitsubishi.
The survey indicates that the CELOS App from DMG MORI allows users to manage production documentation more efficiently and displays manufacturing contracts, processes and data on production machines on the control monitor. Such system integrates all production elements as documentation to build an all-digitized management environment, thereby boosting production efficiency by up to 30 percent.
Hsu points out that Japan has surpassed the United States and Germany to become the world's No.1 machine-tool maker from a distant follower, supposedly after adopting FAUNC Ltd.'s CNC controllers that have been rapidly deployed in mass production.
Similarly South Korea has caught up to Europe and America as a world leading supplier of smartphones thanks to its mastery of active-matrix organic light-emitting diode (AMOLED) technology and application of touch panel technology to such phones, Hsu adds, suggesting also that the said technologies being smart.
Seemingly sidetracking, Hsu says Taiwan's machine-tool industry can only lead the world in CNC developer and maker by learning to optimize using technologies as touch control panel and smart machinery that the global machine-tool industry is developing.
Highlighting another pressing issue not directly related to technology, Hsu says the theme of integrating smart technology with machine tools at JIMTOF 2014 exposed the changing values, lifestyle, environment, and perspective among younger workers, who are reluctant to work in factories due to the inherent nature of such work and attached stigma especially among yuppies. The labor gap so created has even been revealed on TV news in Taiwan where factories in rural areas simply can not attract workers.
Smartphones and touch panels, on the contrary, are made mostly in dust-free factories or clean rooms that are seen by younger people as less grimy than plants filled with noisy machine tools; while smartphones have become almost necessities in young people's lives that also help to "beautify" working in electronic factory, with smart technologies and machinery playing complementary roles.
Hsu defines smart machinery being made up of "smart" components including controller, cutter, spindle, ballscrew bearing, and robot, with the controller being central-computer programmed to handle processes as monitoring  hardware for repairing and maintenance.
Smart technology also includes a controller feeding a central computer daily, weekly or even monthly data on type and volume of workpieces a machine processes.
(KL)