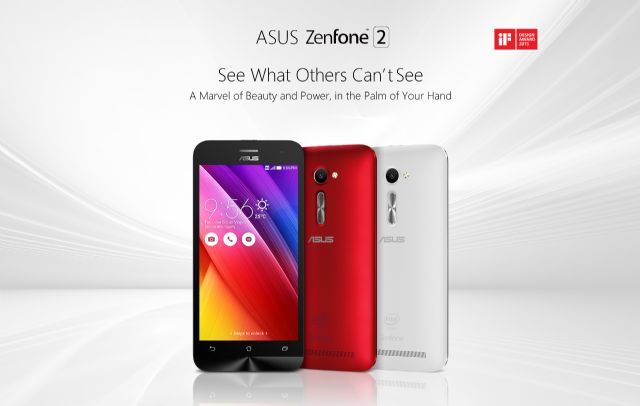 Asus' new ZenFone 2 still adopts "affordable luxury" strategy. (photo from Asus)
Asustek Computer Inc. (Asus), a major vendor of motherboards, PCs and smartphones based in Taiwan, recently announced to start selling its new smartphone ZenFone 2, with a 5.5-inch model to retail from about US$199, and the the 5-inch entry-level one from about US$160.
Industry analysts say such price points show Asus is still sticking to the "affordable luxury" strategy.
Jonney Shih, chairman of Asus, says the company has ample inventory to support global sales of the smartphone, and this year Asus targets to sell some 25 million smartphones worldwide, up 200 percent from 2014. If sales go as predicted, some industry sources say, Asus is expected to become a top-15 cellphone maker globally this year.
According to Asus, ZenFone 2 will be first launched in four major markets, including Taiwan, China, India, and Southeast Asia, with France, the U.S. to follow later. Thanks to contract assemblers' ample inventory (Pegatron Corp and Quanta Computer Inc.), Asus promised no supply shortage as happened in 2014.
Institutional investors say Asus' smartphone shipments will be about 32 percent in the first half and 68 percent in the second, or three million, five million, eight million and nine million, respectively in the four quarters this year.
ZenFone 2 has Intel's Atom Z3580 chipset, which features a 64-bit quad-core processor that has a base clock frequency of 2.3 GHz. In Q2, 2015, Asus is expected to launch lower-priced models  with Qualcomm chipsets, with another model  ZenFone Zoom expected to be sold in June with starting price of about US$399.
At the company's press conference in Taiwan to launch the new ZenFone 2, Shih boasted the new model's impressive capability to take photos of backlit subjects that exceeds even iPhone and Samsung Galaxy.
ZenFone 2 Prices in Taiwan

Model

Screen Size

Resolution

Memory/RAM

Price

ZE550CL

5-inch

1280*720

2G/16G

NT$4,990

ZE550ML

5.5-inch

1280*720

2G/16G

NT$5,990

ZE551ML

5.5-inch

1920*1080

2G/32G

NT$6,990

ZE551ML

5.5-inch

1920*1080

4G/32G

NT$8,990

Source: Asus