TIMTOS 2015 draws 7,130 foreign buyers.
Compiled by KEN LIU
The biennial 2015 Taipei International Machine Tool Show (TIMTOS), held March 3 through 8 in the Taipei World Trade Center Hall 1 and Nangang Exhibition Hall, drew a total of 7,130 foreign buyers and created US$2.1 billion in potential business opportunities.
The buyers sourced products among 1,015 exhibitors, including 260 from 18 overseas nations, that occupied some 5,411 booths.
According to the co-organizer Taiwan External Trade Development Council (TAITRA), a semi-official trade promoter, all the buyer, exhibitor and booth numbers hit new highs this year, with the buyer number representing an increase of 8.3 percent from the 2013 event.
Statistics compiled by TAITRA show the top-10 buyer sources at the 2015 show were China, Japan, Malaysia, South Korea, India, Thailand, America, Russia, Turkey and Singapore.
The organizers arranged between buyers and suppliers one-on-one meetings that resulted in 29 buyers from 18 economies, including mainland China, India, Turkey and Russia, signing to place over US$35 million of orders with 73 exhibitors.
Prominent exhibitors, including the Fair Friend Group, the Goodway Group, and the Tongtai Group, each estimated to have received over NT$1 billion (US$32.25 million) of orders during and after the show, with Fair Friend projecting potential orders from the show to eventually total NT$2 billion (US$64.51 million).
Fair Friend executives pointed out that buyers interested in the company's products came from 30-plus economies, including North America, South America, India, Turkey, the Middle East, South Africa, North Africa, England, France, Germany and Russia.
Ching Hung Machinery & Electric Industrial Co., Ltd. directors said the company received plenty of inquiries from buyers and signed new agents during the show.
Kao Ming Machinery Ind. Co., Ltd. executives pointed out that the company met many machinery agents from America and the Netherlands that will likely result in signed contracts or business deals.
Far East Machinery Co., Ltd. directors felt the 2015 event was the most popular in the show's history in terms of buyer attendance, seeing all of the company's agents and dealers from Europe, Southeast Asia and South Africa show up this year with their customers and placing new orders.
WELE Mechatronic Co., Ltd. executives pointed out that the company saw encouraging order placement at the show, including NT$50 million (US$1.61 million) of orders from local buyers.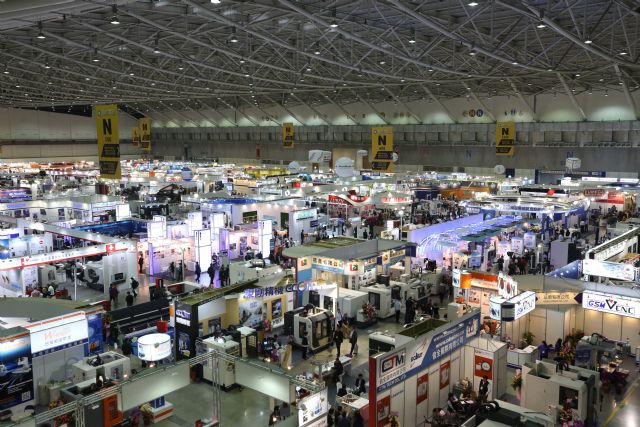 Some 1,015 exhibitors displayed products across 5,411 booths at TIMTOS 2015.
Luren Precision Co., Ltd. executives felt satisfied with the show this year as the company received increased orders from European buyers.
TAITRA officials said the sustained economic recovery in China, the biggest export destination for Taiwan's machine tools, proved to be a solid shot in the arm for the island's machine-tool manufacturers at the show.
Another co-organizer, Taiwan Association of Machinery Industry (TAMI), pointed out that in the first two months of this year, Taiwan shipped US$3.12 billion of machinery equipment, up 9.5 percent from the same period of last year, or up 14.9 percent to total NT$98.9 billion in NT-dollar-denominated exports.
Taiwan's exports to mainland China in the first two months of this year surged 21 percent year on year, to exceed all growth rates of the island's machinery exports elsewhere; meanwhile the exports to the United States posted the second highest growth rate at year-on-year 8.5 percent.
The island's machine-tool sector, included in machinery-equipment industry, saw exports rise 3.5 percent year on year in the first two months of this year, to US$495 million, with shipments rising 3 percent to mainland China, 9 percent to America, 34 percent to Turkey, 23 percent to Netherlands, 55 percent to Vietnam, 13 percent to Japan.
Turkey is the No.3 export destination for Taiwan's machine tools, with imports over US$200 million from the island in 2014. The nation's machine tool importer association, TIAD, signed a pact during the show with TAITRA to strengthen bilateral trade and business ties.
Another event on the sideline of the show saw TAITRA sign agreements with the organizers of the EMO Milan and Japan International Machine Tool Fair (JIMTOF) to promote the leading European and Asian machine tool shows in Taiwan.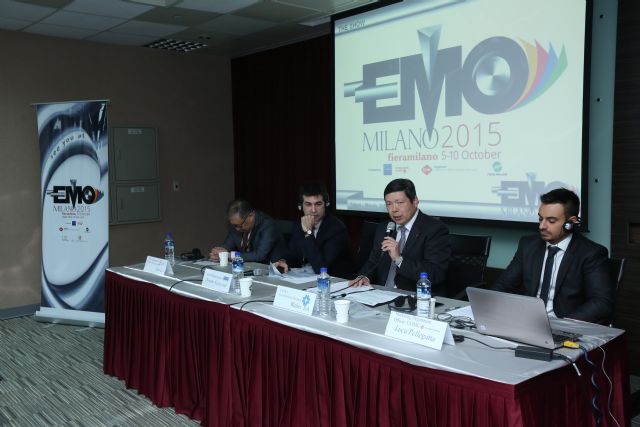 TAITRA and EMO Milan organizer sign agreement to promote the leading European machine tool show in Taiwan.