Industry Award 2015 for Excellence in Research and Innovation handed out to 15 makers
Compiled By KEN LIU

The biennial 2015 Taipei International Machine Tool Show (TIMTOS), held March 3-8 in the Taipei World Trade Center Hall 1 and Nangang Exhibition Hall, saw notable technologies as multitasking, robotic arms and Industry 4.0 that are touted as crucial to "Smart Manufacturing."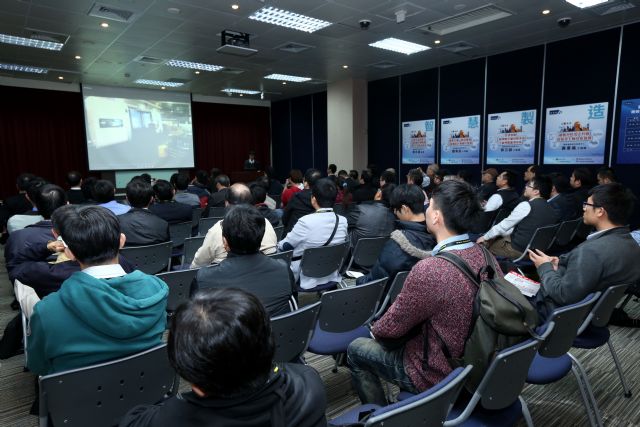 A forum on Smart Manufacturing at TIMTOS 2015 draws visitors.
In the forums held alongside this show, specialists forecast that Industry 4.0 to be the next battleground for global industrially advanced nations to combine robots, Internet of Things (IOT), and automated production lines. Also, smart factory developed on Industry 4.0 will gradually replace traditional production lines and provide Taiwan's manufacturing industry a chance to upgrade.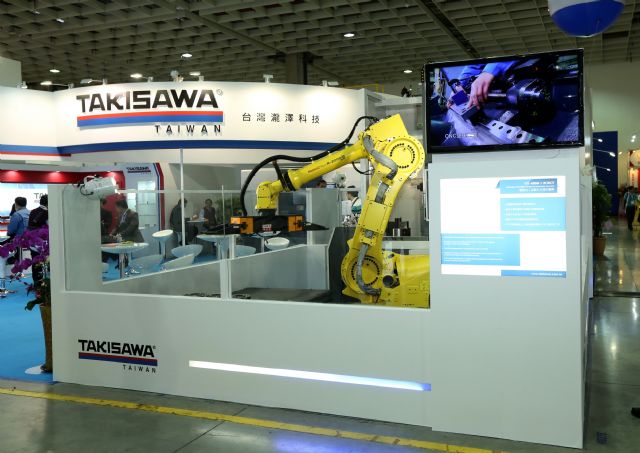 Robotics is core to Smart Manufacturing.
This year, jurors of the Taiwan Machine Tool Industry Award 2015 for Excellence in Research and Innovation held during the show chose 15 manufacturers who submitted 16 products out of 47 competitors with 49 entries as the winners, including Ching Hung Machinery & Electric Industrial Co., Ltd. (CHMER) and Hiwin Technologies Corp.
CHMER, reportedly Taiwan's No.1 and the world's No. 5 electric discharge machine (EDM) manufacturer, won the Supreme Excellence Award for its SP302L ultra-precision gantry-type oil wire EDM.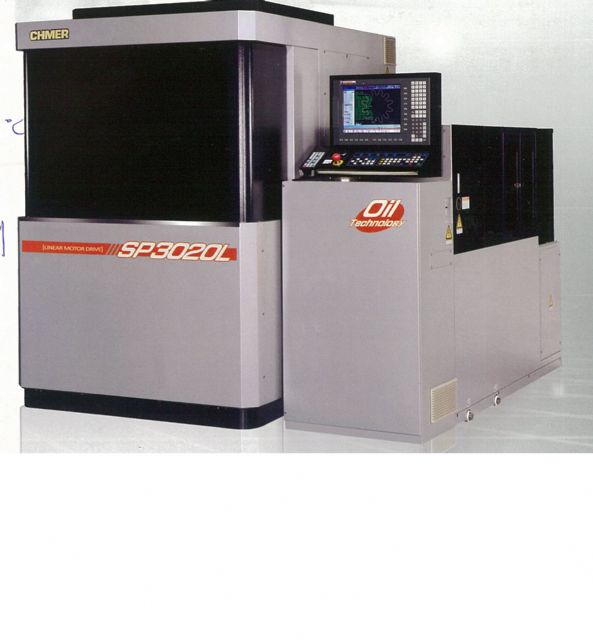 CHMER's SP302L wins the Supreme Excellence Award.
SP302L features the CHMER-developed patented linear-motion drive system, movable-gantry mechanism, energy-saving circuit design, precision temperature control, and online measurement system.
Linear-motion drive system is known for the advantage of minimizing mechanical wear and backlash usually seen in machines that use ball screws or other traditional means to drive linear guideway that carries worktable, hence upgrading processing precision.
The moveable gantry design allows SP3020L to be outfit with fixed worktable, thereby obviating the need for a movable worktable that usually needs ample space for movement that tend to compromise processing precision.
The Cool MOSFET device helps reduce 40 percent of electrical impedance, thereby effectively mitigating the heat inside the machine's electric box and saving 20 percent of electricity. Also, the field programmable gate array (FPGA) chip uses its 100-megahertz clock rate to optimize the machine's electrical discharge frequency, thereby boosting the machine's processing efficiency by 5-10 percent and reducing the chance of discharge wire breakage.
Special cooling system and thermo-insulation material limit the thermo-range of the machine's coolant container to minus and plus 0.3C and that of the machine's body to minus and plus 0.5C to ensure precision of the processing temperature.
The machine's accurate measurement of  workpiece is attained by the online measurement system that uses contact probe to measure three points each on the workpiece's X, Y, and Z axis and the error compensation with B-axis machining.
This machine uses oil as coolant instead of water to minimize expansion-contraction on metal workpiece, which tends to be significant with water coolant.
In addition to the linear motion drive system, CHMER also has developed independently the controller and the rotary B-axis table.
The company targets promoting its equipment at aircraft builders who boast 90 percent self-content ratio, which is typically required by multinational manufacturers such as Boeing and Airbus.
Aircraft Sector Recovering
A CHMER sales rep at the show pointed out that the international aircraft industry has recovered from the 2008 global economic meltdown due to increased orders for new airplanes worldwide. The recovery has motivated, he said, aircraft builders to increase outsourcing mostly from Asia, where economic growth has been relatively stronger than elsewhere and manufacturing cost is comparatively lower than in Europe and America.
Taiwan and Japan are their favorite contract suppliers because China is not as trustworthy. Compared with Japan, Taiwan offers more advantages in contract manufacturing due to more competitive cost, said the sales rep. His company has received considerable orders from Taiwan's contract manufacturers like Aerospace Industrial Development Corp. (AIDC), reportedly Taiwan's biggest aircraft-component maker.
EDM, the sales rep said, has more merits than any other type of machine tools in processing aircraft components as turbine blades that are made of nickel-based alloy. They usually build very small vents on these components, which can be only completed by melting instead of drilling or boring or other processing methods.
Award of Eminence
Hiwin, reportedly Taiwan's No.1 and the world's No.2 manufacturer of ball screws and linear guideways, won the Award of Eminence for its direct drive CNC tilting rotary tables, to have become one of the world's few manufacturers capable of making CNC tilting rotary table using direct-drive servo motor.
Hiwin's CNC tilting rotary table with direct-drive servo motor wins the Award of Excellence.
Compared with the worm-screw drive system, direct-drive servo motor can do much more precision work thanks to its gearless action. The AB-500 rotary table, for instance, boasts repeated accuracy of 0.036 arc-sec in rotating angle and 0.042 arc-sec in +/- 120-degree swing angle, with table rotating at 135 revolutions per minute (rpm).
At this show, Joen Lih Machinery Co., Ltd., a leading grinding-machine maker in Taiwan, exhibited a wide range of grinding machines equipped with hydraulic cylinder, precision ball screw, or linear motion drive system as the power driver of its guideway system.
The linear-motion drive surface grinding machine, JL-818ATD, was debuted at the show. According to its technician, linear-motion drive system is mostly integrated into high-end machines for excellent precision. "In short, you can say the system is the miniature version of maglev rail, generating no friction and therefore no vibration at all due to its contactless sliding action. So, the system achieves much higher precision on a machine than any other type of drive mechanism," he said.
Joen Lih's JL818ADT surface grinding machine uses linear motion drive.
Mostly thanks to linear motor, JL-818ATD boasts plus-and-minus 0.001 millimeter for each cycle of automatic up-down feed.
The JL-2025X is the company's first milling machine after diversifying from making only  grinding machine. This is a high speed-spindle type for mold-making industry, boasting plus-and- minus 0.002 millimeter in repeated positioning accuracy.
Working with the Mechanical & Systems Research Laboratories (MSRL) of the government-backed Industrial Technology Research Institute (ITRI), the company is reportedly the only Taiwanese grinding-machine maker that builds products for wafer-polishing for semiconductor industry.
Door-marked Operating Modes
Quick-Tech Machinery Co., Ltd., a member of the Tongtai Group, impressed buyers with not only advanced technology but also user-friendly functions by debuting a series of CNC turning-milling combos that come with 12 icons on tempered-glass doors indicating 12 operating modes, including conveying, lubricating, cooling, door, N.C. ready, CNC auto, and auto power-off.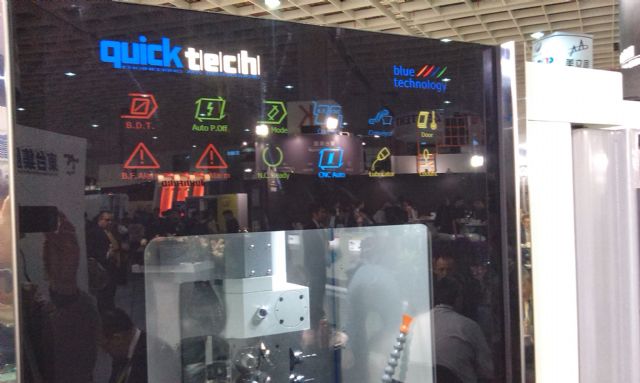 Quick Tech's CNC turning-milling combo with 12 icons on tempered-glass door show 12 operating modes.
These icons are color coded into four categories of yellow, blue, green and red to indicate caution, normal, ready and alarm, respectively.
The door-marked indicators make it easy for operators to monitor several machines at once by easily seeing specific problems on the control monitor attached to each machine. The idea to display the operating status on the glass door came from head-up-display (HUD) technology.  
According to managing director, Jacky Haung, technology should not be the only thing that generate value in machine tools. Making machines friendly to users is something that Taiwan's machine-tool makers can do besides technology to add value to their products.
The company's machines displayed at this show were mostly for heavy-duty cutting and cutting complex workpieces with multiple axes, dual cutting systems, an adjustable control panel, and a corded handheld control unit.
Multitasking CNC Machining Center
Union Mechatronic Inc. exhibited the horizontal multitasking CNC machining center HM-34X, featuring four spindles that move synchronously in the same direction to cut four workpieces.
The unorthodox design allows users to remove completed workpieces from the worktable while the spindles are still cutting other workpieces, making the machine more efficient. The company plans to equip this machine with a robotic arm to replace a human operator to remove workpieces.
This machine comes with a tool magazine holding 72 cutters, enabling this machine to bore, mill, drill, thread, or groove workpieces, and an automatic tool changer with a two-second tool-change cycle.
HM-34X is ideal for making parts used in automobiles, motorbikes, machinery, hydraulic systems, and plumbing systems.
According to the vice president, J.R. Ho, HM-34X is Taiwan's first horizontal CNC machining center with four spindles synchronously moving in the same direction. It is a challenging technology to achieve when you have to assure the four tools cutting on four separate workpieces are exactly the same in size and depth. She ascribed the company's success in developing this machine mostly to the management team, which is composed of machinery specialists with over 30 years of field experience.
Mechatronic's impressive track record also prompted Schaublin Machines SA of Switzerland to announce their strategic alliance at the show.
5-axis Milling-Turning Combo
Pinnacle Machine Tool Co., Ltd., a leading five-axis machine-tool maker founded in 1976 in central Taiwan, rolled out its first five-axis milling-turning combo, BX700T, at the show.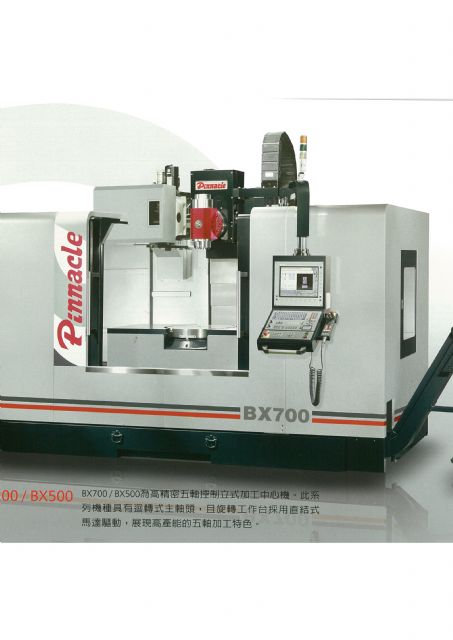 Pinnacle rolls out its first five-axis milling-turning combo, BX700T.
BX700T is also a synchronous-motion machine, with its +/-120 degree swing head, or B axis, driven by direct-drive motor and its rotary table, or C axis, turning at 1,200 revolutions per minute. The machine's repetitive error and positioning error for its X, Y and Z axes are plus and minus 0.003mm and plus and minus 0.005mm, respectively.
This machine's turning capability is achieved by using the Heidenhain TNC640 controller from Germany.
BX700T is suitable for making relatively large items with multi-asymmetric faces, such as turbine blades for aircraft and precision molds for electronic components.
Shenq Fang Yuan Technology Co., Ltd., a major machining-center maker in Taiwan founded in 1996, promoted the patented 5AX-890 five-axis machining center at the fair this year.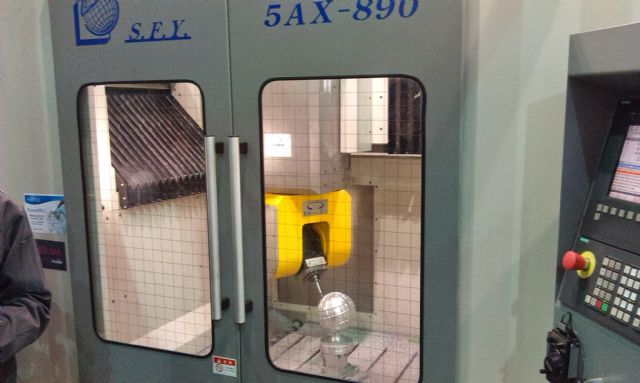 Shenq Fang Yuan's patented 5AX-890 five-axis machining center.
This machine is patented for its 24,000 rpm spindle that swings plus and minus 110 degrees in B axis and rotates plus and minus 225 degrees in C axis, being suitable for processing intricate products such as watch cases, jewelry, small and mid turbine blades, and tire molds for high-end cars.
Rigid column and one-piece base structure is responsible for this machine's 10 micron in repetitive positioning error.
According to general manager, Jimmy Huang, a veteran with 30 years of field experience in an 18-year-old firm, the company has many advantages over competitors including its in-house design and assembly, which enable the company to avoid underselling and dispute over product liability.
"Also our machines can be scaled up to workstation size in accordance with customer needs. And we can build automation for customers, and a notable feature is the automatic dial-up of pre-set phone numbers over the Internet when problems are identified but not yet solved," Huang said.
5-axis CNC Machining Centers
At this show, Campro Precision Machinery Co., Ltd., founded in 2003 to specialize in CNC machining centers, primarily promoted CNC five-axis machining centers for making car parts such as wheels or aircraft parts, and its capability to integrate robotic arms with individual CNC lathe and mill.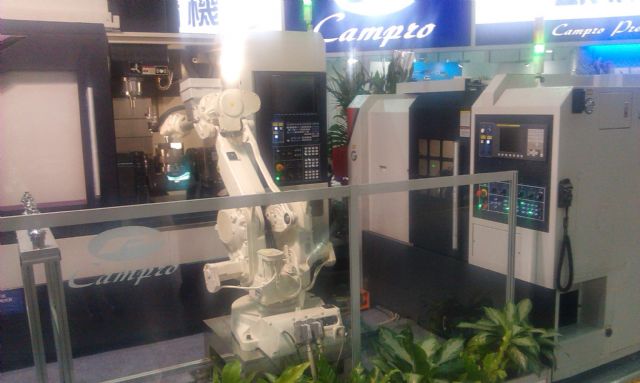 Campro's robotic manufacturing solution.
The combos for making car parts suggested the company's product emphasis has shifted towards auto and aircraft industries from electronics industry, which was previously the backbone application of its machines.
Its U500 five-axis machining center is a machine for aircraft and car industries. This machine is equipped with a built-in 12,000 rpm spindle, with A axis swing of plus 30 degrees to minus 120 degrees, and C axis rotating 360 degrees. Its tool traverses 36 meters, 36 meters and 30 meters in X, Y and Z axes, respectively.
The company's machines began integrated with robotic arms around four years ago in tune with customer demands. A sales rep at the show pointed out that manufacturers with huge production scale but less diversified products are more likely than smaller manufacturers with diversified lineups to adopt robotic production.
He noted that integrating robotic arms with machine is a growing trend in many industries and typically due to rising labor cost, and stated, "Integration is not difficult work for us since we've provided customers turnkey planning for many years. Usually their priority concerns in automation revolve around time, workpiece load and unload, and repetitive positioning precision."