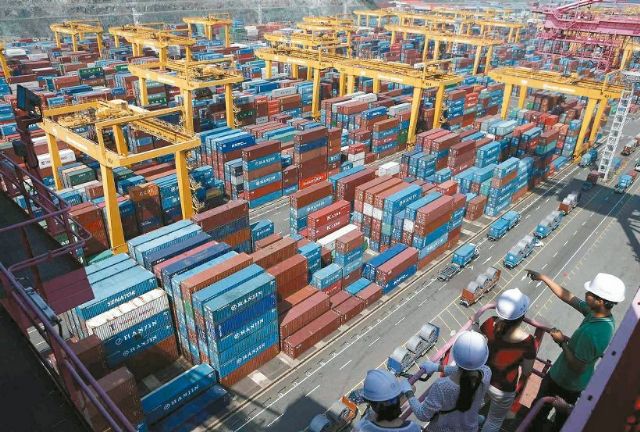 Taiwan's February exports down 6.7% YoY to US$19.86 billion (photo courtesy of UDN.com).
Affected by fewer working days throughout February due to the Lunar New Year break, alongside impacts of recently new lows in crude oil prices on local mining, petroleum and plastic industries, Taiwan witnessed its exports in the month drop by 6.7 percent year-on-year to US$19.86 billion, dragging down the total for the first two months to only US$44.98 billion, 1.3 percent less than the same period of last year, according to the latest report from the Ministry of Finance (MOF).
Based on the January-February exports, MOF predicts the total for Q1 to drop a yearly 0.49 percent to US$72.95 billion, or, more pessimistically, to fall deeper if monthly exports in March fail to exceed US$28 billion.
MOF admits that March exports in fact will not likely reach the said level, given exports last March only hit the third-highest of US$27.74 billion even without plummeting oil prices as has been seen recently to have squeezed profitability of mining, petroleum and plastic sectors for months. But, MOF officials are still pinning their hopes on possibly rising industrial demand across Asia for new production equipment to drive growth of  Taiwan's exports.
Separately, exports by local mining and chemical sectors during January-February plummeted nearly 50 percent YoY, or an equivalent of about US$2.8 billion, dragging down Taiwan's overall export growth rate by 6.1 percentage points as a result. More notable is that exports by the sectors have been on a downturn for six months, mainly due to weak oil prices, noted MOF.
In contrast, exports by electronics, optoelectronics, machinery and transportation equipment industries, MOF said, all have been steadily recovering for months through February. For instance, the report shows that cumulative exports of electronics and integrated circuits in January through February grew by 8.8 percent and 13.1 percent, respectively, YoY, while those of machinery also soared by 9.5 percent.
Although Taiwan's exports for Q1 are very likely to shrink compared to a year ago, the government's current account has been driven by the explosively growing trade surplus. Citing statistics by Taiwan Customs, MOF notes that while seasonally adjusted exports in February was still 2.8 percent than a year earlier, corresponding imports, nevertheless, dropped deeper by 13.3 percent, leading to a trade surplus of around US$4.56 billion, US$3 billion more than last February.
For the first two months, the cumulative trade surplus hit an all-time high of US$9.36 billion, indicated MOF officials, who added that Taiwan's monthly trade surplus has exceeded US$4 billion for five months in a row.
More Shadows Loom
While incredibly low international oil prices are regarded responsible for Taiwan's declining exports so far, Bureau of Foreign Trade (BOFT) pointed to other headwinds, including tendency among emerging countries toward trade protectionism and gradual slackness in China's domestic market demand, that are likely to cast shadows on Taiwan's export-driven economy in the years ahead.
With the
Economist
 report in January on the growing trade protectionism among emerging countries, BOFT notes, the World Bank also issued its Global Economic Prospects 2015 in the same month to warn that global trade may continue to slow this year, due partly to shrinking market demand in both the U.S. and Europe, and partly to emerging countries' rising awareness for the need to protect local industries from globalization.
Perhaps affected by protectionism, Taiwan's exports to the ASEAN bloc composed of Indonesia, Malaysia, the Philippines, Singapore, Thailand and Brunei showed a 9.4 percent YoY decline, or an equivalent of US$390 million, to US$3.75 billion in February, compared to a 15.2 percent and 12.7 percent growth to the U.S. and Japan, respectively. BOFT states that exports to the regional market have dropped for three consecutive months.
Also notable is that exports to China (including Hong Kong) totaled US$7.01 billion in the month, sharply down 17.3 percent YoY, to which BOFT officials attribute mainly weak market demand there, reflected in the Chinese government's report showing that the country's consumer spending during this year's Chinese New Year holiday (February 18-24) totaled only RMB678 billion (US$135.6 billion) for a 11 percent growth over a year ago, which was weaker than 13.3 percent and 14.7 percent growths in 2014 and 2013, respectively.
(SC)
Taiwan's Jan.-Feb. 2015 Exports by Destination
Destination

Jan.-Feb. Exports

YoY Growth Rate

Main Product Categories

Value

Proportion

China and Hong Kong

US$17.35 Bn.

38.6%

-2.1%

Electronics, machinery, transpiration equipment

ASEAN Bloc

US$7.96 Bn.

17.7%

-8.4%

Electronics

The U.S.

US$5.36 Bn.

11.9%

11.3%

Base metals, ICT products, transportation equipment

Europe

US$4.03 Bn.

9.0%

-8.6%

Transportation equipment

Japan

US$3.21 Bn.

7.1%

7.2%

Electronics

Source: Ministry of Finance