Compiled By KEN LIU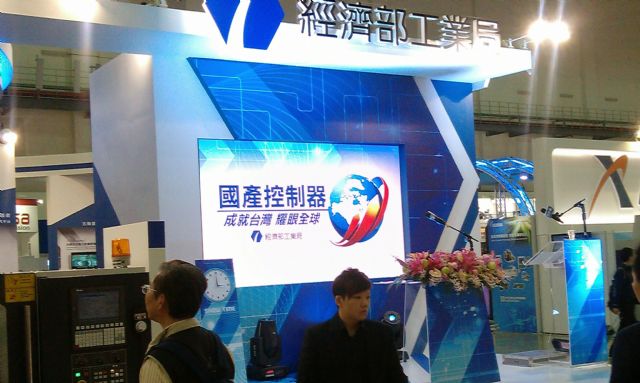 A booth displaying Taiwan-made CNC controllers
Taiwan-made controllers stole the spotlight at the Taipei International Machine Tool Show (TIMTOS) this year, underscoring efforts by the island's machine-tool industry to enhance product value to fend off global challengers.
In their drive to tap international markets, local machine-tool controller makers have received a helping hand from th Ministry of Economic Affairs (MOEA) and semi-official Precision Machinery Research Development Center (PMC), which set up a booth on Taiwan-made machine-tool controllers at the show.
The PMC display presented controllers made by Advantech-LNC Technology Co., Ltd., Delta Electronics Inc., and Syntech Technology Co., Ltd., as well as control system applications in machine tools from Goodway Machine Corp., Tongtai Machine & Tool Co., Ltd., Yang Iron Precision Corp., Manford Machinery Co., Ltd., Falcon Machine Tools Co., Ltd., and Chiah Chyun Machinery Co., Ltd.
The Advantech-LNC controllers in the display included the LNC-T688D, which meets the requirements for cylindrical, polar, elliptical, and parabolic interpolations thanks to its high-precision, high-speed interpolation function. It is integrated with several intelligent functions such as supporting the semi-visual basic syntax, and its built-in math function can be used to plan path and simulate graphic for gear and toll processing. It is embedded with charge coupled device (CCD) smart vision for positioning and shape/appearance analysis. All data comes up on a 10.4-inch TFT-LCD monitor of the controller.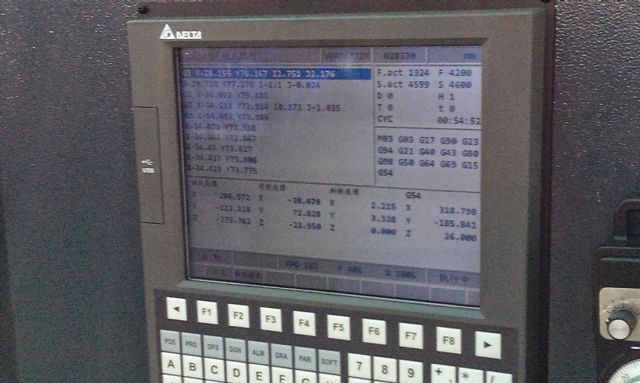 Delta's NC-311A controller
The NC-311A is among Delta's controllers integrated into the machines displayed at the dedicated booth. NC-311A controls a maximum of five servo-driven axes, automatically tuning the servo system's parameter with its ECM20-bit servo motor. Coming with the Delta Motion Control Network, the controller performs excellent anti-noise and simple-wiring merits and delivers pulse commands on high speed application without loss. It performs real-time, synchronous control of multiple axes and offers thermal-compensation, high-speed, and high-precision options.
Refined cutters made by Tongtai CNC machines using an Advantech-LNC controller
Advantech-LNC has introduced control systems for integrated machining ranging from mold cutting, component pressing, mold grinding and polishing, as well as plastic mold injection and removing finished products. Its systems are applicable to high-end machine tools, industrial robots, plastic-rubber processing machines, motor-processing machines and energy equipment.
Delta released Taiwan's first CNC controller, which has been integrated into light-duty, high-speed machining centers made by local, small manufacturers for processing electronic components, plumbing, and car parts.
Syntech offers a variety of PC-based, CNC controllers for mold-cutting machines, tapping machines, and turning-milling combos.
Goodway has integrated Advantech-LNC's controlling systems into its Swiss-type CNC turning-milling combos for cutting dental implants, whose machined quality and precision rival those of imported machines.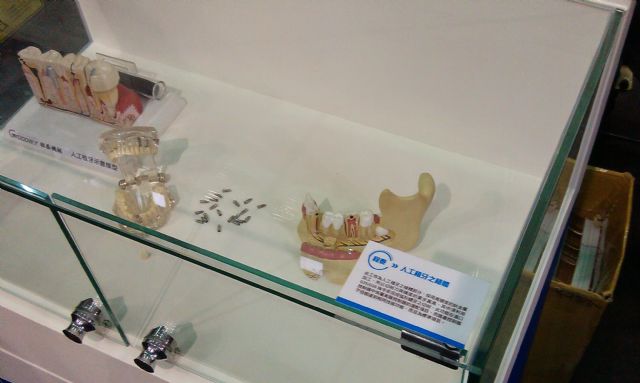 Quality dental implants made with Goodway turning-milling combos using an Advantech-LNC controller
With Syntech's control systems, Falcon's vertical CNC turning centers have significantly improved processing precision on non-circular pistons for cars and motorbikes.
The government-backed Industrial Technology Research Institute (ITRI) also exhibited a feature-laden controller featuring AI Turn-Mill Multi-tasking Controller Technology for turning-milling combo and five-axis machining center.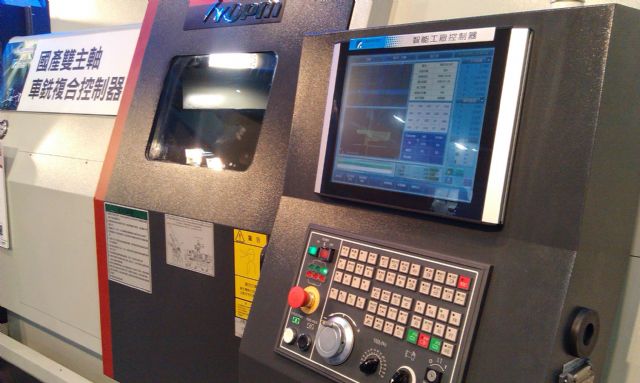 ITRI's AI Turn-Mill Multitasking Controller Technology controls a turning-milling combo.
The controller's software-based position-control servo accelerates transmitting cycle time of velocity command up to 125us on EtherCAT protocol, using the 48/32 IO universal EtherCAT communication module. The controller's simultaneous dual-spindle control design allows turning work-pieces to be exchanged, cut off and machined on the machine en masse.
Thanks to the double turning-milling control system, the controller can boost machining efficiency to 100%. Its graphical tool management interface supports tool-life management and parameters of 3D tool shaping. The system also has a user-friendly dialogue edit system that supports 2.5-dimension CAD/CAM program-edit systems.
The controller generates 3D machining simulation of the first of the workpieces to be processed to ensure accurate machining. Its real-time collision-proof function reduces the collision response time to only 30 milliseconds. Its built-in thermal compensation module confines the precision error caused by the thermal expansion on cutters to within 10 microns.
The controller's remote-monitoring function can simultaneously manage multiple machines, showing running status, production efficiency, and alarm status.
The ITRI controller has been built into machines from the Fair Friend Group and Ching Hung Machinery & Electric Industrial Co., Ltd., according to Chen.
"The main purpose of our controller is to allow the controller to work with controlling drivers and motors from various manufacturers through the EtherCAT protocol interface," said Dr. Chen Lai-sheng, director general of ITRI's Machine Tools Technology Center, whose office is in charge of the project.
Chen pointed out that the control system from international big-name suppliers are not mutually compatible, making the drivers and motors from one company unable to work with the control computer from another company unless the users adopt the complete system from the same company. "The big-name suppliers usually provide their customers a compatible interface only at an expensive extra charge," he said.
EtherCAT protocol, Chen noted, is likely to become an international standard for control systems. "Once the standard is accepted, control systems will become a plug-to-work game. Users can buy EtherCAT-enabled motors and drivers from one company and plug them into in EtherCAT-enable control computer from another for work tasks," he said.
Using locally-developed controllers is crucial to the future development of Taiwan's machine-tool industry, which is running out of trump cards as competitors from industrially advanced nations are turning out fairly low priced high-end machines and mainland Chinese manufacturers can generally beat on price thanks to cheaper labor.
Worse yet, the mainland Chinese authorities are requiring that all Taiwan-exported CNC machine tools included in the early-harvest list of the cross-strait Economic Cooperation Framework Agreement (ECFA) use control systems either made in Taiwan or the mainland. All non-conforming products have been booted from the duty-free list from 2014.
Taiwan's machine-tool industry uses about 55,000 to 60,000 control systems a year, with around 40,000 supplied by Japanese and German makers and the rest made by local manufacturers. FANUC, Mitsubishi, Siemens, and Heidenhain are the major foreign suppliers, while Syntech, Advantech-LNC and Gentec Technologies Co., Ltd. are the dominant Taiwanese brands.
Advantech-LNC executives expect the requirement spelled out in ECFA to accelerate the integration of Taiwan-made controllers into the island's machine tools.
But some think otherwise, pointing out that the reliability of Taiwan-made CNC controllers is still low relative to that of the controllers from the industrially advanced economies. "Under this circumstance, how can you convince mainland Chinese manufacturers to unhesitatingly accept machines made with Taiwan-made controllers? If your quality is questionable, how effective can the agreement be in enforcing the requirement of using controllers made in Taiwan or the mainland?" asked a sales rep of a local machine-tool maker depending on foreign controllers. He added that the island's locally-made controllers are mostly accepted by local machine makers selling second-tier products.
A Delta sales rep accepted the criticism that the island's controllers are still behind those from industrially advanced economies in terms of quality. "It's a fair comment since they've spent 40 or 50 years developing the technology, more than twice the time we have spent. Their technologies allow their controllers to confine processing error within single-digit micron-meter levels regardless of the insignificant vibration," he said. However, he believes Taiwan's controller technology will one day catch up with those from industrially advanced economies, citing the progress the island's technology has already achieved.
Grinding-machine maker Joen Lih Machinery Co., Ltd. uses a Syntech 6-CB controller in its JL-818ATD surface grinding machine, which is also equipped with leaner motors. A Joen Lih engineer at the show said the controller delivers quite good precision with the company's three-axis machines. "But we're still assessing the company's controllers for our five-axis machines," he noted.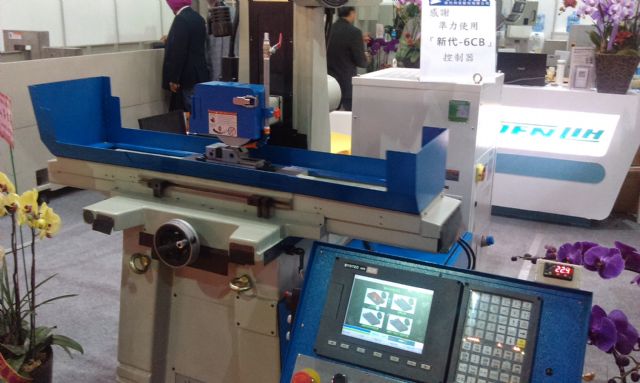 Joen Lih's JL-818ATD grinding machine is equipped with a Syntech 6-CB controller.
The Syntech 6-CB controller is a PC-based system, which the engineer said is gaining traction due to its simpler scalability for integrating with robotic arms, compared to micro computer-based controllers.