Quanta Computer Inc. of Taiwan, recognized as the top notebook PC contract assembler globally, has reportedly won a contract assembly order from Japanese personal computer (PC) vendor Vaio Corp. for its first smartphone "VAIO Phone". Quanta has been for some time the contract assembler for VAIO notebook PCs.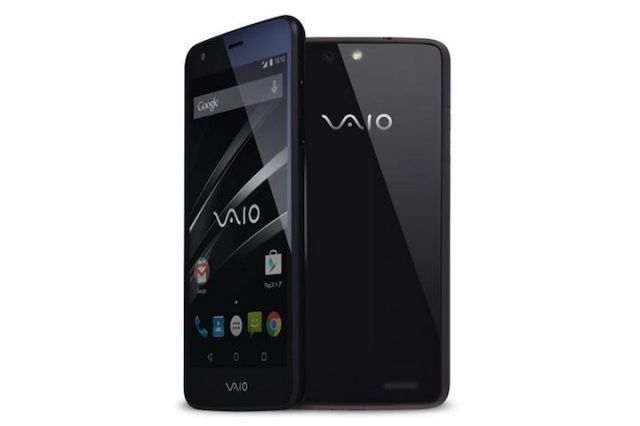 The VAIO Phone smart phone launched by the eponymous Japanese PC vendor. (photo from Vaio)
VAIO is a PC brand originally owned and operated by Japanese consumer-electronics giant Sony Corp., which sold the brand in early 2015 to a Japanese investment firm to reduce losses by divesting the business division amid its extended loss-making operation.
Sony stopped VAIO-brand PC shipments in Q2, 2014 after the company sold the brand, causing buzz in the market regarding the ripple effect from the pulling out of the nameplate. In the third quarter, however, the new owner of the VAIO brand immediately launched a series of notebook PCs, including 11-, 13- and 15-inch models, after corporate restructuring.
Apparently trying to expand its product line to find new revenue sources, Vaio has decided to branch  into the smartphone market, first in Japan. The company reportedly tied up with telecom company Japanese Communications Inc. to jointly develop  Vaio's first smartphone product, VAIO Phone, in Q4, 2014 but launched the new product just recently in Japan. The new phone may have an unplanned boost behind its launch with the Japanese government scheduled to liberalize the cellphone market in May by allowing for use SIM cards from any telecom from all nations, drawing attention from global cellphone vendors.
The VAIO Phone's operating system is Android 5.0, with a 5-inch, 720p screen and a 13-megapixel camera. Priced at 51,000 Japanese yen, the smartphone is positioned by the vendor as a mid-segment model, in contrast to Sony which has positioned its Xperia series in the upper-segment.
Industry insiders say Quanta is the contract assembler for the VAIO Phone, as well as the ELUGA series smartphone for Panasonic, another Japanese brand.
Quanta has been winning increasing orders for smartphone production. In addition to Vaio and Panasonic, the company is also a supplementary  supplier for Asustek Computer Inc.'s ZenFone 2. Currently, notebook PC production accounts for about 67 percent of Quanta's overall revenue, followed by cloud computing (about 12 percent), and cellphone business for 1 percent.
Quanta is also the contract assembler for the Apple Watch, the latest smart gadget developed by  Apple Inc. of the U.S. that is to be launched early April in nine countries simultaneously. To assure  ample supply of the first batch of five million units, Quanta has been aggressively recruiting new production-line workers. Tim Cook, Apple's CEO announced that the Apple Watch will be sold in some nations starting late April, including China, the world's largest single market. The American company has raised its first-wave inventory level to five million units.
To attract workers to meet Apple's volume requirement, Quanta reportedly is offering incentives to new employees at its Chinese assembly plant, including higher salary and lucky draws for passenger cars.
Insiders say currently there are some 30,000 workers at Quanta's assembly plant in Changshu, Jiangsu Province of China, which is far less than the 60,000 originally planned.