Both of the high-profile Taiwan Stock Exchange (Taiex)-listed bicycle manufacturers in Taiwan, Giant Manufacturing Co., Ltd. and Merida Industry Co., Ltd., as well as the reportedly world's largest bicycle chain supplier KMC Chain Industrial Co., posted year-on-year (YoY) revenue growths in the first two month.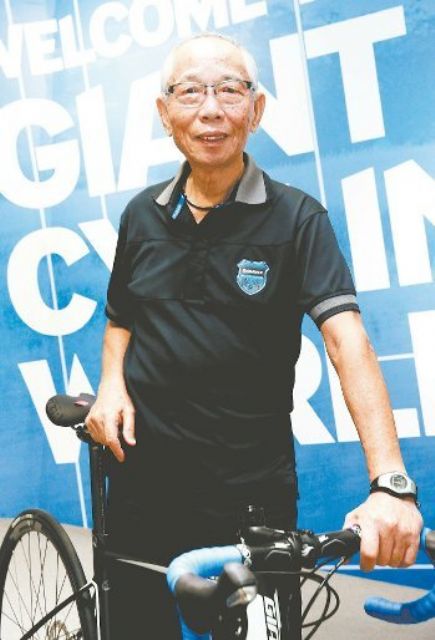 King Liu is nicknamed "Godfather" of Taiwan's bicycle industry and chairman of high-profile bicycle maker Giant. (photo from UDN)
In February, Giant and KMC reported YoY revenue growths of 4.8 percent and 9.3 percent, respectively, with Merida seeing a 1.8 percent YoY drop. Industry sources say most companies' bicycle and parts sales in China were affected by the long Chinese New Year holiday (when workers are on hiatus) during the period, but that in the U.S. and Europe saw continual increase.
Giant had group revenue of NT$4.04 billion (US$134.8 million) in February, up 4.8 percent YoY, with cumulative revenue of NT$8.71 billion (US$290.3 million) in the first two months, a 5.6 percent YoY increase. Regarding own-brand bicycle sales, Giant saw shipment increases in Europe, the U.S., Japan and Taiwan, though sales in China were affected in February by the Chinese New Year holidays.
Merida had February revenue of NT$1.73 billion (US$57.7 million), down 1.8 percent YoY, with cumulative January-February revenue of NT$3.77 billion (US$125.7 million), up 6.9 percent YoY. Regarding bicycle exports, Merida's Taiwanese factory maintained double-digit shipment growth thanks to customers' increasing orders for 2015 models.
Driven by increasing demand for high-end bicycles and the stronger demand for aftermarket replacement bicycle parts in Europe and the U.S., KMC registered cumulative first-two-month revenue of NT$530 million (US$17.7 million), up 25 percent YoY, including NT$216 million (US$7.2 million) reported in February (up 9.3 percent YoY).
KMC said that orders from global customers for high-end bicycle chains have been increasing, so the company's high-end chain shipments now account for 75 percent of the production at its Taiwanese factory. The chain maker said that it has gradually completed its global sales-channel restructure, including acquiring distributors in Europe and the U.S. In mid-2014, KMC took over its Chinese subsidiary KMC Tianjin, which produces and markets bicycle chains in the big Chinese market. The chain maker said that the Chinese market has been expanding due to increasing popularity of cycling especially in urban hubs where commuting by car is costly and a hassle, so the company's performance in China is likely to be even more impressive.