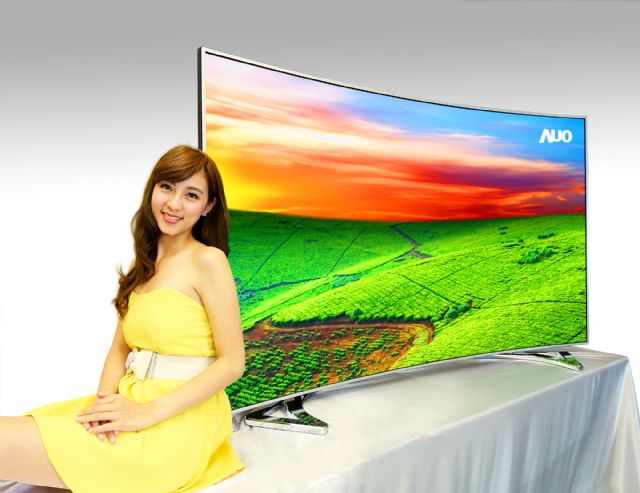 AUO's 85-inch UHD 4K quantum-dot curved LCD TV display significantly enhances color saturation. (photo from AUO)
AU Optronics Corp. (AUO), reportedly the second-largest maker of thin film transistor-liquid crystal display (TFT-LCD) panels in Taiwan, debuted new products and technologies at the China Information Technology Expo (CITE) 2015 held in Shenzhen, Guangdong Province of China from April 9 to 11.
A notable exhibit by the Taiwanese maker is the full array of UHD (Ultra High Definition) 4K quantum-dot curved LCD TV displays, with other products also attracting ample attention from visitors, including ALCD (Advanced LCD) technology and 35-inch ultra-wide curved LCD, currently reported as the world's largest in size with greatest curvature in monitor display. In terms of products for mobile-device and automotive applications, AUO showcased 5.2-to-5.5-inch Full HD and WQHD smartphone displays with super high pixel density; high resolution in-cell touch technology and oTP-Lite (On-cell Touch Panel) integrated touch panel, 9-to-12.3-inch center console and cluster displays for automotive  applications, 1.6-inch active matrix organic light-emit diode (AMOLED) panel and 1.4-inch full circle AMOLED display for smart watches.
Image Quality Breakthrough
AUO's complete series of 55-, 65-, 75- and 85-inch UHD 4K quantum-dot curved LCD TV displays adopt the next-generation quantum-dot wide-color-gamut technology, being integrated with even wider chromatic range to significantly enhance saturation to achieve better image depth and vivid hues. In addition, the 4000R golden curvature and super-narrow bezel designs help to upgrade the overall premium quality of the display.
AUO again raises the bar by pushing the limit of image quality by revealing the ALCD technology, which perfectly combines UHD 4K ultra-high resolution, curved design, quantum-dot wide-color-gamut, and HDR (High Dynamic Range) technologies to achieve image quality of a higher level with incredible detail and true colors, to enable transmission of images that come to life. AUO's 65-inch LCD TV display equipped with ALCD technology boasts the optimal 3000R curvature to deliver exceptionally immersive experience. In addition, HDR technology renders images in higher detail and its super slim direct LED backlight structure achieves a module of only 15mm thick to further the industry trend towards slim, streamlined, simplistic aesthetics.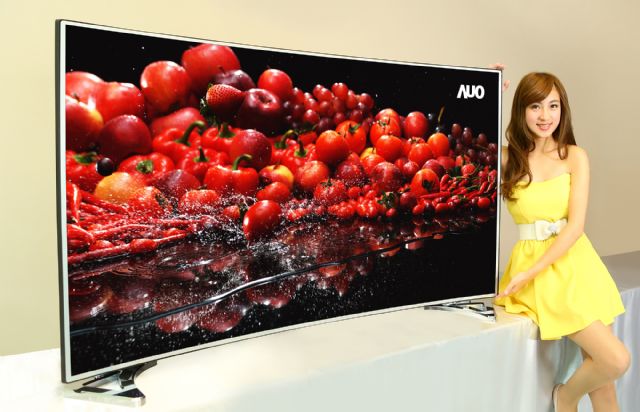 AUO leads global counterparts to launch ALCD (Advanced LCD) technology for image quality breakthrough. (photo from AUO)
Professional Display Market
For high-end desktop monitor applications, AUO presented the 35-inch ultra-wide curved LCD, reportedly the world's largest in size with the greatest curvature, for desktop monitor applications. Its 2000R ultra-high curvature, WFHD (2560 x 1080) super-fine image quality, 100 percent sRGB wide color gamut, and 21:9 ultra-wide cinema image ratio together achieve immersive, lifelike viewing experience. The display is also multifunctional to suit image processing, data analysis, audio-video gaming, and industrial purposes.
Another new product was AUO's 75-inch UHD 4K ultra high resolution e-board LCD capable of displayng much more content and sharper images and texts. Equipped with 120Hz frame rate, the display enhances the dynamic flow of image for educational, specialized and commercial purposes.
Amazing Smart Life
As for applications for mobile devices, AUO exhibited a full series of large-sized, high-resolution smartphone displays. The 5.5-inch WQHD ultra-high-resolution low-temperature poly-silicon (LTPS) display features super high pixel density of 538 ppi (pixels per inch). The 5.2-inch Full HD wide-color gamut LTPS display achieves  lifelike image, colors coupled with super slim design complete with a paper-thin bezel of only 0.8mm. Another 5.5-inch Full HD a-Si display employs AUO's special pixel design to achieve  high resolution, brightness, and low power consumption, which reportedly are the leading specifications of a-Si technology.
For integrated touch solutions, AUO showcased 5.5-inch Full HD LTPS and 5-inch HD a-Si in-cell touch panels featuring glove-friendly and spill-proof design for users to operate conveniently in all sorts of environments. For notebook PC applications, AUO's 15.6-inch oTP-Lite touch panel makes devices much slimmer without using  cover lens. The touch panel is also capable of being sensitive up to ten touch points simultaneously. For tablet applications, the 8-inch oTP portrait touch panel with high brightness and edge-to-edge design is available to offer enhanced operating and viewing experience.
Facilitating Smart Car Navigation
To tap opportunities presented by the emerging telematics segment, AUO develops products for the automotive display market, offering a full lineup of high performance car displays with high resolution, wide color gamut, wide viewing angle, and high weather resistance. AUO's 9-inch portrait car display for center consoles, which has  full lamination and special surface treatment to achieve impressively low reflection rate under  sunlight, heading the market trend for low reflection product applications.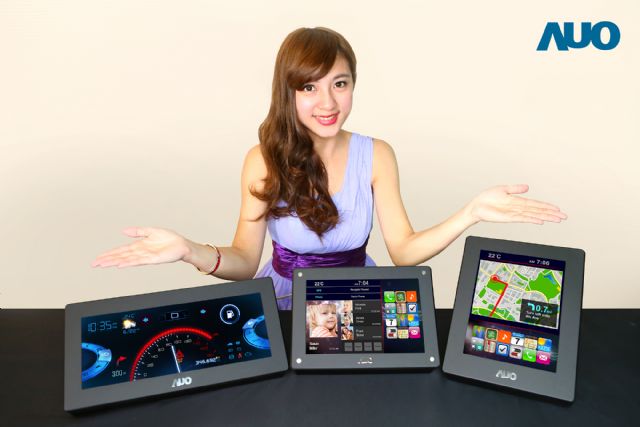 AUO's 9-to-12.3-inch center console and cluster car displays. (photo from AUO)
AMOLED Wearable Devices
AUO said that it realizes the importance of wide color gamut, ultra slim and lightweight, and low power consumption features of AMOLED, and has developed 1.6-inch AMOLED and 1.4-inch full-circle AMOLED displays for smart watches. The full-circle AMOLED panel is especially suitable for smart watches, with special circular configuration for full display that also achieves  more attractive contour. The display can be built with applications for personal fitness, healthcare,  mobile payment, and identification to offer on-the-go, trendy convenience for mobile device geeks and anyone seeking a new mobile experience.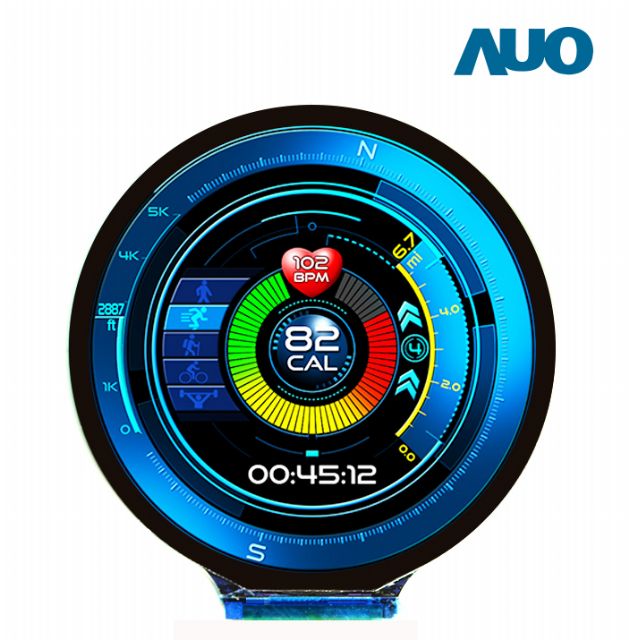 AUO's 1.4-inch full-circle AMOLED displays for smart watches. (photo from AUO)