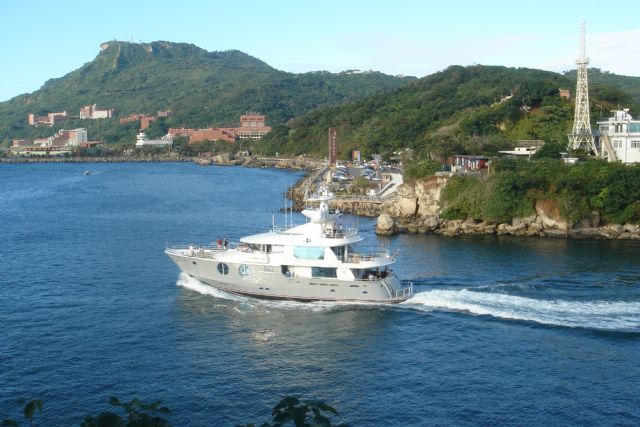 Taiwan's yacht exports totaled US$172 million for a 13.16% growth in 2014 compared to US$152 million in 2013.
Taiwan's yacht industry chalked up a 13.16 percent yearly growth in exports of US$172 million in 2014, the first double-digit growth in the past five years to indicate an encouraging turnaround since the global yacht market began to sour amid the aftermath of the global financial meltdown in 2008, according to the latest statistics compiled by Taiwan Yachts Industry Association (TYIA).
TYIA notes that the industry's exported yachts totaled 120 units in 2014, 19 units less than in 2013, but overall export revenue surged 13.16 percent year-on-year (YoY) from US$152 million, mostly due to growing shipments of megayachts and superyachts (typically up to and exceeding 80-feet long) that generate higher margin than conventional, smaller models whose sales are generally less prone to economic fluctuations.
With Taiwan-made yachts remaining sought-after by owners in Japan, Singapore, Hong Kong, the U.S. and Canada, TYIA emphasizes that the industry expects to see even stronger growth trajectory in the years to come, if the economy across the EU bloc continues to steadily recover.
TYIA's data shows the industry saw its exports reach a record high of 1,755 yachts in 1987, with total value of US$190.792 million or US$108,714 per unit on average, sharply up 34.35 percent from US$142.01 million posted a year earlier. In the year, about 81.68 percent of the total was exported to the U.S., with 40-to-50-foot models making up the majority.
Since then, however, exports have dropped year by year to hit a nadir of 228 units in 1994, due mainly to negative factors as appreciation of New Taiwan dollar, rise of labor costs in Taiwan and imposition of luxury taxes in the U.S. The increasingly challenging market has forced Taiwanese yacht builders to move upmarket by upgrading technology for production of 80-foot-plus yachts.
That strategy witnessed positive results. The industry scored export revenue of US$323.53 million by exporting only 244 units (around US$1.325 million per yacht) in 2008, increasing by 15.12 percent from US$281.05 million and 236 units posted in 2007, hence putting Taiwan among world's top-10 yacht builders.
Mainly dampened by the global financial crisis, the industry's export revenue hit an all-time low of US$144 million in 2010, when overall exports totaled only 110 units.
Despite exports fluctuating, the industry remains in ship-shape in global competition. The latest news report from ShowBoats International, a global yacht publication, shows Taiwan set to rank among world's sixth-largest supplier, or the biggest in Asia, for the third consecutive year in 2015, when the total length of megayachts and superyachts ordered with local builders is estimated at 5,312 feet.
Taiwan's Yacht Exports by Year
Year

2010

2011

2012

2013

2014

Export Revenue

US$144 M.

US$158 M.

US$156 M.

US$152 M.

US$172 M.

YoY Growth Rate

-30.10%

9.72%

-1.27%

-2.56%

13.16%

Export Volume

110 units

110 units

120 units

139 units

120 units

YoY Growth Rate

-30.38%

0%

9.09%

15.83%

-13.67%

Source: Taiwan Yachts Industry Association