Mainly dampened by weak international crude oil prices that hover around US$50 a barrel, coupled with growth slowdowns in exports by Taiwan's electronics suppliers, Taiwan's overall exports plummeted 8.9 percent year-on-year (YoY) to only US$25.27 billion in March, stirring fears that the island's 2015 exports may fail to grow as high as 1.03 percent YoY as forecast by the government, according to the latest report by Ministry of Finance (MOF).

MOF indicates that the said export drops are widespread over local industries, including staple suppliers of transportation equipment, machinery, base metal and related products.

The report shows that exports of machinery, transportation equipment, base metals and metallic products, textiles and optical devices declined 5 percent, 10.7 percent, 10.3 percent, 6.7 percent and 10.3 percent, respectively, YoY in the month; and those of plastic and rubber, chemical and mining products dived 7.9 percent, 14.5 percent and 47.1 percent, to which, MOF stresses, record-setting low crude oil prices were attributable.

As can be reasonably expected after many months of declines in global crude oil prices that have prompted layoffs and cutbacks in new projects by major oil explorers, Taiwan's exports of mining products and chemicals both have continuously dropped for 7 consecutive months.

Flat growth in exports of electronic and ICT (information and communication technology) products, which together make up the majority of total exports, also added salt to injury. MOF points out that Taiwan's exports of electronics and ICT products totaled only US$8.136 billion and US$1.132 billion, respectively, inching down by 0.2 percent and 0.7 percent.

MOF officials emphasize that exports by the electronic industry declined the first time after 24 consecutive months of growths, mainly due to a whopping drop of 44.5 percent in solar cell exports, which offset a 5.3 percent increase in exports of integrated circuits that typically command a dominant share of the total in the industry.

As a result, overall exports in Q1 declined the first time by 4.2 percent after five successive quarters of growths, with the drop in March exports being the deepest since August, 2012.

As for imports, March's totaled US$21.2 billion for a 17.6 percent YoY decline, including those of capital equipment and agricultural and industrial products, down 19.5 percent and 20.6 percent, respectively, YoY. In contrast, imports of consumer goods surged yearly 6.2 percent, with the growth mainly led by imports of sedans, which soared 19.5 percent, shows MOF's report. For Q1, overall imports amounted to US$56.83 billion, down 15 percent YoY.

Taiwan posted a Q1 trade surplus of US$13.42 billion, US$6.94 billion more than the same period of last year, according to MOF.

Mixed Results
While Taiwan's March exports turned out to be disappointing to the export-driven economy, the overall export picture shows some upbeat stories.

According to MOF, exports to Taiwan's top-five destinations, including Europe, China (including Hong Kong), and the six ASEAN nations (the Philippines, Vietnam, Thailand, Malaysia, Singapore and Brunei), all showed drops ranging 7-14 percent in the month, except the U.S., to which exports reached US$2.95 billion to be US$1 million more than a year ago as well as growth for the 15th straight month, with that to Japan also edging up 0.2 percent.

MOF notes that of the total exports to the U.S., electronic exports showed the strongest growth of 7.7 percent, trailed by a 6 percent increase in those of base metals and related products, which were contrasted by exports of machinery stateside that plunged 18.5 percent YoY.

Despite the major stock markets in the EU bloc having risen sizably in Q1 due to ECB's (European Central Bank) quantitative easing, along with Greece making progress to negotiate with the International Monetary Fund to repay loans and undertake financial reforms, Taiwan's exports to the regional market, however, still plummeted 13.6 percent YoY in the month.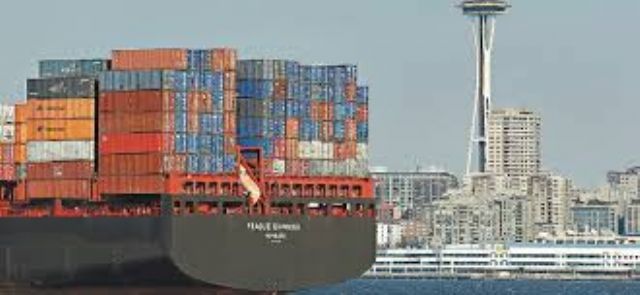 Taiwan's exports to the U.S. rise for the 15th straight month in March (photo courtesy of UDN.com).
Taiwan's Exports by Category During Q1, 2015
Category

Export Value in March

YoY Growth Rate

Export Value for Q1

YoY Growth Rate

Electronics

US$8.136 Bn.

-0.2%

US$23.189 Bn.

5.5%

Base Metal and Related Products

US$2.277 Bn.

-10.3%

US$6.520 Bn.

-5.6%

Plastics & Rubber

US$1.979 Bn.

-7.9%

US$5.254 Bn.

-9.6%

Chemicals

US$1.784 Bn.

-11.2%

US$4.725 Bn.

-14.5%

Machinery

US$1.743 Bn.

-5.0%

US$4.879 Bn.

4.0%

Optical Devices

US$1.597 Bn.

-10.3%

US$4.379 Bn.

-0.9%

ICT Products

US$1.132 Bn.

-0.7%

US$2.791 Bn.

0.5%

Mining Products

US$1.099 Bn.

-47.1%

US$3.073 Bn.

-47.8%

Textile

US$1.037 Bn.

-6.7%

US$2.655 Bn.

-3.3%

Transportation Equipment

US$1.011 Bn.

-10.7%

US$2.900 Bn.

3.7%

Source: Ministry of Finance