Compiled By KEN LIU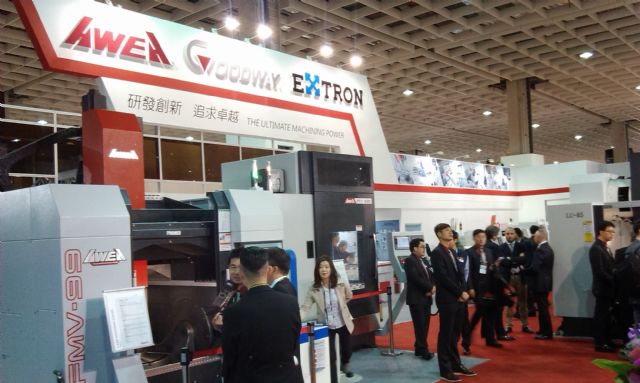 Goodway launches "tri-pronged strategy" to boost 2015 revenue.
Edward Yang, the founder and chairman of machine-tool maker Goodway Machine Corp., announced the firm's "tri-pronged strategy" to help achieve its goal to boost consolidated revenue 32.9 percent to NT$10 billion (US$322.58 million) this year from last year's NT$7.81 billion (US$252.16 million) to mark the company's 40th anniversary.
Despite being confident of achieving the goal, Yang remains cautious about the NT-dollar-to-U.S-dollar rate, which affects Taiwan's export competitiveness. Compared with the devaluation pace of South Korean won and Japanese yen, NT-dollar has dropped relatively slowly against the greenback, said Yang.
Essentially the strategy is composed of plans to accelerate production expansions both at its manufacturing sites in Taiwan and China, strengthen capacity to develop machines to process aircraft products and acquire Japanese machine-tool makers to sharpen its competitive edge to compete at a global level.
As part of its expansion in China, Goodway unveiled a new manufacturing site with an operational headquarters last year in Wujiang District of Suzhou City, Jiangsu Province on the eastern coast, as the base for its continual program to build presence in China.
Phase-1 Factory
The phase-1 factory on the site occupies 50 hectares to crank out computer numerical control (CNC) machines, including combo lathe-mills, tapping centers, bridge-type machining centers, and vertical machining centers, with estimated revenue of NT$2 billion (US$64.51 million) a year initially.
The construction of the phase-2 factory will start in 2016, with the goal to generate NT$1 billion (US$32.25 million) a year of additional revenue at the Wujiang site.
Yang emphasized that Wujiang is strategically located on the Yangtze River Delta, which is widely regarded as China's most important economic zone, covering some 99,600 square kilometers with over 115 million people. Yang said that the markets in the city of Shanghai and the provinces of Jiangsu and Zhejiang alone on the delta have the potential to fuel growth at Goodway and its subsidiary, Awea Mechantronic Co., Ltd., in China.
Last year, both Goodway and Awea depended on China for a combined NT$1.5 billion (US$48.38 million) of revenue. Swarming orders from China's automotive industry are estimated to bring the two companies 30 percent more revenue this year.
Goodway and Awea are constructing phase-1 factories at the Chiayi Dapumei Intelligent Industrial Park in central Taiwan. They will construct factories and dormitories for 3,000 employees on 151,800 square meters of land at the park in two stages over three years at a cost of around NT$3 billion (US$96.77 million), aiming to generate revenue up to NT$5 billion (US$161.29 million) a year.
According to Yang, Goodway's phase-1 factory at the Chiayi industrial park will be built on 19,800 square meters of land for NT$500 million (US$16.12 million), with the plant designed to build heavy-duty lathes to generate revenue of around NT$1 billion (US$32.25 million) a year initially.
Awea will also build its phase-1 factory on 19,800 square meters of land, to be designed to produce high-end five-axis machining centers and heavy-duty bridge-type machining centers.
Start-up in Q1, 2016
The two factories are scheduled to start production in the first quarter of next year, to mainly build machines for the aircraft and energy industries.
Yang suggests that Taiwan's machine-tool makers have little alternative but to develop dedicated machine tools for the aviation sector to add value to product, a valid recommendation when the makers are beset by increasingly intense competition from Chinese, South Korean and Japanese competitors.
"Global air traffic will double over the next few years, with the Asia-Pacific region being the biggest market to account for an estimated 37 percent. Over the next 20 years, China alone will need 4,000 to 5,000 new airplanes," said Yang.
Aerospace Industrial Development Corp. (AIDC), Taiwan's biggest aircraft builder partly owned by the Ministry of Economic Affairs (MOEA), Yang said, will create some NT$30 billion (US$967.74 million) of business opportunity over the next two years or so for machine-tool makers after announcing increased outsourcing. And the company has promised to require subcontractors designate Taiwanese machine-tool makers as primary suppliers, enabling the island's machine-tool industry to move upmarket by penetrating the aviation sector.
Uphill Battle for Newcomers
The Goodway founder concedes new entrants to the aviation machine tool sector face relatively high technical challenge but any successful supplier would be a shot in the arm for Taiwan's machine-tool industry. So Goodway aims to be the prime mover behind the cooperation between local machine-tool and parts makers to develop machine tools for the aircraft sector to tap the lucrative business, said Yang.
Yang's firm has entered into alliance with 10-plus local manufacturers including Kao Fong Machinery Co., Ltd., Falcon Machine Tools Co., Ltd., the Fair Friend Ent. Group and Chung Hsin Electric & Machinery Mfg. Co., Ltd. to develop machine tools for the aviation sector. The alliance, he said, will work with AIDC and the MOEA-backed Industrial Technology Research Institute (ITRI) to develop vertical-type five-axis machines, bridge-type five-axis machines and vertical-type combo lathe-mill to process aircraft components.
Yang sees setting up manufacturing sites and R&D facilities in Japan through acquisitions as a means to strengthen global competitiveness. His company is in talks with several Japanese machine-tool makers and laser-machine makers over acquisition deals that are targeted for signing by the end of this year.
"Japanese central bank's quantity easing has further devalued the yen, making Japanese exports more competitive against Taiwan's globally, albeit also making Japanese products more affordable. Besides, the Japanese government has signed free tariff agreements with many economies across the world," said Yang.
Now a Toyota Supplier
Goodway, Yang notes, is now a supplier to Toyota Motor after some 10 years of diligent push into Japan. Pointing out the Japanese emphasis on "superiority of homegrown products," Yang said that Toyota has mostly used made-in-Japan equipment to expand production capacities in China and Thailand while car markets gained momentum worldwide.
At home, Goodway took over the Taiwanese machine-tool maker Yih Chuan Machinery Industry Co., Ltd. in October 2013 to supply bridge-type machining centers for low-end and mid-range markets, as opposed to Goodway's role as supplier of high-end CNC lathes and five-axis lathe-mill combos as well as heavy-duty, high-end bridge-type machining centers and vertical-type machining centers by AWEA Mechantronic Co., Ltd., Goodway's subsidiary. Yang said that Yih Chuan has begun returning revenue to the parent company after swinging to profitability last year.
In competing with South Korean and Japanese machine-tool makers, Taiwan's manufacturers, Yang said, should emphasize cost-performance (C/P) ratio, instead of underselling, simply because price gaps between Taiwan-made machines and machines made by South Korean and Japanese makers have narrowed sizably. "To insist selling products at low prices only jeopardizes profitability to further mire ourselves in underselling competition," he said.
Goodway mainly evades underselling from two approaches: to promote automated production lines and to upgrade machines.
The company has been developing automated-production lines for over 15 years, to have gained upper hand over most Japanese manufacturers in this line. Yang said such production line is highly customized to put off most Japanese makers. "Although there are such manufacturers in Japan, they usually quote relatively higher prices, need lead time longer than six months but offer less flexible design. We have in-house application-specific engineering unit and advanced-technology unit, and we develop dedicated control software independently, enabling only three months of lead time to deliver qualitative consistency and C/P ratio comparable to Japanese makers," Yang said.
Upgrading Pays Off
The maker rolls out annually two to three new models of high-end machines to show its upgrade program is paying off, with the launches being mostly heavy duty, five axes, and combination lathe-mill for the aircraft, energy, and medical-equipment industries, having also shipped five-meter, 200-ton and six-meter, 80-ton heavy-duty CNC machines for the aircraft and energy industries as well as sliding-head lathes for making dental implants and horological equipment.
According to Yang, the company plans to develop heavy-duty bridge-type grinders, laser-processing machines, 3D printers, and micro-machining machines.
High gross-margin machines such as heavy-duty machines and combos are projected to account for 55 percent of Goodway's revenue this year, up from 50 percent in 2014 and 40 percent in 2012, with such machines having helped boost gross margin rate to 28.69 percent in Q1, 2015, compared with the median 25.17 percent throughout last year, said Yang.
Industry executives predict the company to comfortably achieve the 2015 goal based on the increased gross margin; persistent growth in global demand for vehicles, aircrafts, and energy; and added production capacity at the company's factories on Taiwan and China.
In Q1, 2015 Goodway and its subsidiaries generated combined revenue of NT$1.81 billion (US$58.45 million), increasing 11.6 percent year on year.