Compiled by KEN LIU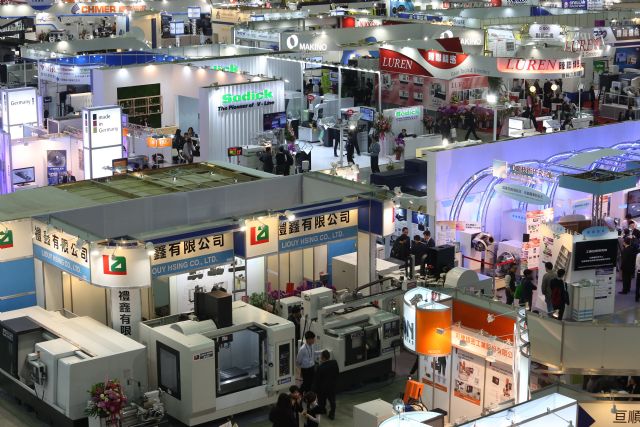 Devalued yen and won are hurting Taiwan's machine-tool export competitiveness. (a machine tool trade fair in Taipei shown)
In the first quarter, Taiwan's machinery exports rose a moderate 4 percent, contrasting machine-tool exports' drop of 2 percent from the same period of last year mostly due to the continual impact of the relatively steeper devaluation of South Korean won and Japanese yen, according to the Taiwan Association of Machinery Industry (TAMI).
Revealing the harsh truth beleaguering the machinery sector with hands tied, the newly-elected TAMI Chairman B.X. Ke says the industry is watching closely if exports keep falling in April, and emphasizes that further undermining of Taiwan's machinery export competitiveness by relatively cheaper currencies of major rivals would spell disaster.
Likely echoing sentiment of many other sectors in Taiwan that rely on export revenue, Ke urges the government to allow the NT-dollar-to-greenback rate to fall to 33-to-1 to strengthen the island's machinery makers' competitiveness on global markets.
Ke says the NT-dollar traded at 31.58:1 U.S. dollar on average in the first three months of this year, down 4.36 percent from the same period of 2013, and has been trading around 31.2:1 in April. Since 2007 the NT-dollar has devalued 4.3 percent against the greenback, compared to the South Korean won's 15.2 percent and Japanese yen's 35 percent, he notes.
Without pointing out the precise mechanisms, whether artificial or due to market forces, Ke says that the NT-dollar-to-greenback ratio has fluctuated along different gradients relative to that of the yen and won, hence resulting in Taiwan's total exports dropping 8.9 percent year on year in the first quarter.
The TAMI data shows that Taiwan shipped US$4.87 billion of machinery overall in Jan.-Mar., increasing 4 percent from the same period of last year, but, when denominated in NT-dollar, up 8.8 percent year on year to NT$154.1 billion.
Such lukewarm growth has given forecasters a wake-up call as the industry had originally predicted optimistically a 10 percent increase for the whole year, which was based on the strong growth in the first two months. In the first two months, Taiwan shipped US$3.13 billion of machinery, rising 9.5 percent year on year, but as high as 14.9 percent to total NT$98.9 billion.
On monthly basis, Taiwan's exports dropped year-on-year 1.3 percent in March from a strong 25.7 percent surge in January and a moderate 3.1 percent growth in February, with the revenue being NT$56.7 billion (US$1.82 billion) in January, NT$42.2 billion (US$1.36 billion) in February and NT$54.9 billion (US$1.77 billion).
Ke points out that China was Taiwan's largest export destination for machinery in the first quarter, with purchase of US$1.35 billion, or 27.8 percent, of Taiwan-made machines to register a 14.9 percent year on year increase. The U.S. imported US$810 million, or 16.6 percent, of Taiwan-built machines, to be the No.2 buyer, albeit with the imports down 2 percent from the previous year. Japan purchased US$294 million, or 6 percent, of Taiwan-built machines, for a 7.9 percent decrease year on year to be the No.3 importer.
Taiwan exported machine tools totaling US$798 million in the first quarter to mark a 16.1 percent increase in January, US$208 million for a 10 percent decrease in February and US$302 million for a 9.8 percent contraction year on year.
China was also Taiwan's top export destination for machine tools in the first quarter, importing US$239 million, or 30 percent, of Taiwan-made machine tools for a 3.6 percent decrease year on year. The United States came in second to absorb US$89.17 million, or 11.2 percent, of Taiwan-built machine tools to mark a 1.7 percent growth year on year. Turkey was the No.3 buyer, importing US$50.62 million, or 6.3 percent, of Taiwan-made machine tools to register a 19.6 percent surge.
The chairman points out that the approximately 40 percent of devaluation of the Japanese yen is undermining international buyers' interest in buying Taiwan's machine tools, to make competition more complicated for the island's manufacturers. 
Without pointing out the political marginalization of Taiwan by China and hence other nations, he is also worried about the South Korea-European Union free trade agreement (FTA), which took effect July 1, 2011, as well as the South Korea-American agreement, which became effective March 15, 2012. Both agreements facilitate expansion of South Korean machine-tool makers' market shares globally to sideline or compromise competitiveness of Taiwan-made machines.
The finalization of the Sino-South Korean FTA in late 2014 is predicted to enable South Korean machine-tool makers to encroach on the market share of Taiwanese competitors in China, via more advantageous trade terms as lower duties.
Ke urges the Taiwan government to accelerate the talks with China to include the island's machine-tool sector in the Cross-Strait Agreement on Trade in Goods, which is based on the Economic Cooperation Framework Agreement (ECFA) signed bilaterally in 2010, to counter South Korea's trade agreements.
Another threat looming is from mainland Chinese manufacturers that wrest shares from Taiwanese manufacturers of low-end, mid-range machine-tool markets. Such phenomenon is inevitable as mainland Chinese operators gradually learn via cooperation with and working for Taiwanese makers, to slowly gain capacity to duplicate technologies to set up their own business. The same process happens in Taiwan among all kinds of businesses.
Taiwan's Exports of Machinery and Machine Tools in Q1, '15
Category

Machinery

Machine Tool

Export revenue

US$4.87bn

US$798M

YoY change (%)

+4.0%

-2.0%

Top 3 export destinations by percentage of Taiwan's total exports

Mainland China (27.8%)
U.S. (16.6%)
Japan (6.0%)

Mainland China (30.0%)
U.S. (11.2%)
Turkey (6.3%)

Note

TAMI originally forecasted 10% increase year on year each for the island's machinery and machine-tool exports in 2015.

Source: TAMI