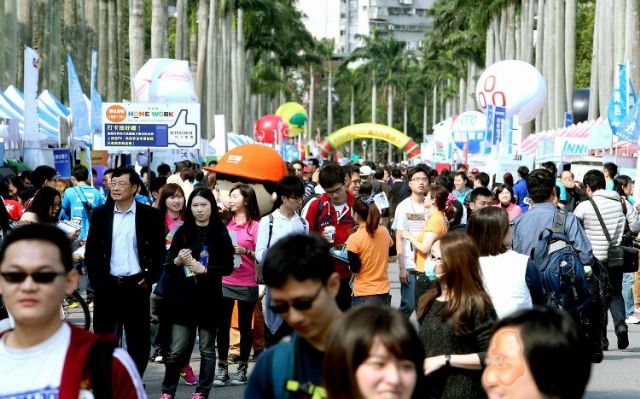 Taiwan's March jobless rate hits 15-year low of 3.72 for the month (photo courtesy of UDN.com).
Impacted by the typical wave of Taiwanese employees looking for greener pastures after the Chinese New Year break, Taiwan's unemployment rate in March inched up to 3.72 percent from 3.69 percent as seen in February, but still hitting a 15-year nadir for the month, according to the latest report issued by the Directorate-General of Budget, Accounting and Statistics (DGBAS).
DGBAS notes that an estimated 431,000 people on the island were unemployed in March, for a jobless rate of 3.72 percent, the lowest for the month over the past 15 years, which it adds shows the steady improvement of the local labor market.
Further proof of the domestic labor market gradually improving is Taiwan's unemployment rate remaining below 4 percent in each of the first three months of this year, compared to 4 percent-plus during same period of last year, says DGBAS. Taiwan's Q1 jobless rate averaged only 3.71 percent, a nadir for the quarter over the past 14 years.
Meanwhile DGBAS reports that the jobless rate for people aged 20-24 and 25-29 also dropped by 1.04 percentage points and 0.46 of a percentage point, respectively, to 12.19 percent and 6.55 percent in March, compared to a year ago, while the number of laid-off workers due to factor lockouts also decreased nearly 20,000 year-on-year to around 118,000.
Although Taiwan's unemployment rate rose slightly in March after six consecutive months of drop since last September, DGBAS emphasizes that the figure is likely to slide again in April.
Taiwan's Jobless Rate by Month
Month

Overall Jobless Rate

Jobless Rate for People Aged 20-24

Jobless Rate for People Aged 25-29

Sept., 2014

3.96%

13.69%

6.74%

Oct., 2014

3.95%

13.62%

6.68%

Nov., 2014

3.89%

13.36%

6.61%

Dec., 2014

3.79%

12.82%

6.52%

Jan., 2015

3.71%

12.52%

6.23%

Feb., 2015

3.69%

12.32%

6.32%

Mar., 2015

3.72%

12.19%

6.55%

Source: Directorate-General of Budget, Accounting and Statistics