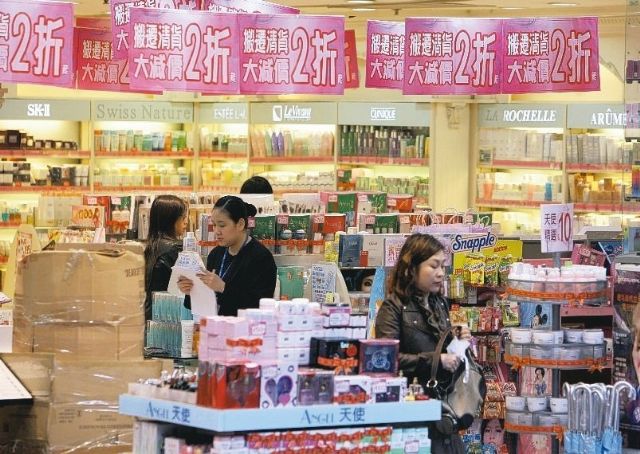 Taiwan's businesses saw total revenue down by 0.7% YoY to NT$1.17 trillion (photo courtesy of UDN.com).
Overall revenue or turnover posted by Taiwan's business sectors, which include according to the government wholesale, retail and food services, totaled NT$1.17 trillion (US$37.14 billion) in March, edging down by 0.7 percent year on year (YoY), according to the latest report issued by Ministry of Economic Affairs (MOEA).
On monthly basis, the revenue rose 11.8 percent over that of February, but, when seasonally adjusted, was down 0.8 percent, shows MOEA's report.
For Q1, the total revenue reached NT$3.46 trillion (US$109.84 billion), inching down 0.1 percent from the same period of last year but set the second highest for the quarter in history.
Separately, revenue generated by the wholesale sector totaled NT$829.3 billion (US$26.32 billion), down 1.5 percent YoY for a couple of reasons, including decreasing purchases by Japanese information-technology firms, price drops in steels and building materials and a low season in the food industry.
On declining IT purchases by Japanese firms, MOEA says the main cause being the relatively cheaper Japanese yen which has made Japanese IT products more price competitive to prompt Japanese manufacturers to "re-shore" production or return production back home. Additionally the withdrawal of a Japanese brand among the notebook PC sector is also a factor driving down the sector's revenue.
Contrasting the wholesale sector's revenue drop, the retail and food service sector scored a 1.3 percent and 1.9 percent increase, respectively, in revenue of NT$315.5 billion (US$10.01 billion) and NT$34.3 billion (US$1.08 billion).
MOEA ascribes the retail sector's growth mainly to robust sales of imported cars and household appliances that save energy and water, as well as buoyant sales posted by online shopping, department stores and supermarkets operators.
The food service sector's surging turnover is attributable to diversification and restaurant expansions undertaken by local brands, notes MOEA. Noteworthy is that the sector's total revenue for Q1 hit a historical high of NT$107.7 billion (US$3.41 billion). However, MOEA warns of a possible revenue drop for the sector in April, mainly due to the snowball effect in the wake of the recent exposure of beverage chains, of which one being a British-branded chain, that uses tea leaves contaminated with toxic pesticides as DDT.
There is an insidious trend among Taiwanese retailers of foods and beverages that try to cut cost seemingly blindly just to save pennies, by knowingly using hazardous industrial-grade ingredients or sometimes unwittingly sourced cheap ingredients from unethical suppliers who import from SE Asian nations, which, as a result, has repeatedly undermined the reputation of Taiwan's food and beverage in the Asian market.
Revenue of Taiwan's Business Sectors
Sector

March, 2015

Q1, 2015

Revenue

MoM Growth Rate

YoY Growth Rate

Revenue

YoY Growth Rate

Wholesale

NT$829.3 Bn.

20.8%

-1.5%

NT$2.373 T.

-1.0%

Retail

NT$315.5 Bn.

-4.3%

1.3%

NT$983.5 Bn.

1.8%

Food Service

NT$34.3 Bn.

-10.9%

1.9%

NT$107.7 Bn.

1.9%

Total

NT$1.179 T.

11.8%

-0.7%

NT$3.465 T.

-0.1%

Source: Ministry of Economic Affairs