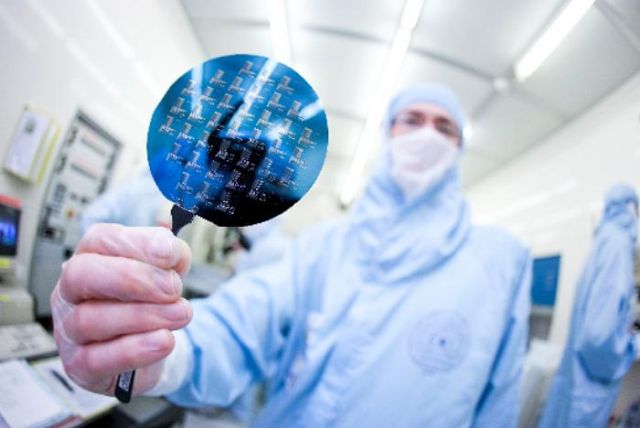 Semiconductor production was the growth locomotive for Taiwan's overall industrial output in March (photo courtesy of UDN.com).
Fueled by the robust electronics and chemical industries, Taiwan's industrial production index (IPI) grew 6.49 percent year on year (YoY) to 111.56 in March, according to the latest report issued by Ministry of Economic Affairs (MOEA).
Meanwhile the report shows the index of production output by Taiwan's four mainstay manufacturing industries, which include, according to the government, information technology (IT) and electronics, base metal and machinery, chemicals and commodities, being 112.84 in March, up 6.97 percent YoY to set the historical high for the month.
The solid growth in manufacturing output, MOEA notes, is mainly due to the soaring output of semiconductors and integrated circuits (ICs), as well as chemicals.
Mostly driven by ever-wider applications of ICs in smartphones, fingerprint identification systems, power supplies, high-definition large-sized display panels and many others, MOEA says the global demand for semiconductors and such electronic components has remained relatively robust for some time, hence sustaining growth of the IC sector in Taiwan. As result, the sector's production index reached 169.99 in March, up an encouraging 16.27 percent month on month or 24.89 percent YoY, to be the growth engine of  Taiwan's overall manufacturing output.
Another growth driver, MOEA says, is the thriving chemicals industry, whose production index of 112.04 in the month was up 16.07 percent monthly or 13.60 percent yearly to end a persistent downturn over the past eight months in a row, caused by record-low international crude oil prices. MOEA ascribes such surprising uptrend to a couple of factors, including restocking by downstream manufacturers, and increasing outsourcing to Taiwan by foreign chemicals makers across Asia to compensate for vacant production periods resulting from regular factory maintenance.
In the meantime, output by the electronic parts and component sector soared 11.41 percent YoY, mostly due to strong demand for semiconductor contract manufacturing, IC testing and packaging, printed circuit boards and LEDs. For Q1, the sector's output grew 12.93 percent YoY.
In the base metal sector, output edged up 0.17 percent YoY in March, to which insiders who actively ramp up capacity of refined precious metals and a comparatively low base seen a year ago are attributable. For the first quarter, output inched up 0.32 percent YoY.
On another front, Taiwanese computers, electronics and optoelectronics makers posted production 2.63 percent higher in March than a year ago, largely due to surging output of servers, computer parts and components and wearable electronic devices. During January-March, the sector's output significantly increased by 13.33 percent YoY.
The machinery sector registered a 14.14 percent yearly increase in output, of mainly plastic and rubber machines, transmission equipment, and chemical and semiconductor production machines, in the month, mostly due to robust demand from local manufacturers for new production facilities to be set up in Southeast Asia, and China's fast-growing market for industrial automation. For the first three months of this year, the sector's output soared 12.25 percent YoY.
Output by the automotive and related parts and accessory sector rose 3.36 percent yearly, partly due to persistently weak price of crude oil, which has boosted global demand for sedans, trucks and other passenger vehicles, and partly to the robust market for car repair and maintenance services in the U.S. and Europe. For Q1, output saw a 5.25 percent growth over a year earlier.
In Q1, Taiwan's IPI reached a historical high of 103.72 for the quarter, up 5.73 percent YoY, with the production index of the four abovementioned manufacturing industries also hitting an all-time high of 104.6 percent for the quarter, 6.47 percent more than a year ago.
Separately the production index of the base metal and machinery, IT and electronics, chemicals, and commodities sectors for Q1 stood at 96.86, 113.88, 100.60 and 96.20, respectively, up 2.87 percent, 13.00 percent and 1.10 percent and down 0.21 percent, shows MOEA's report.
As for the outlook in the quarters ahead, MOEA predicts the industrial output by manufacturing industries to remain on an uptrend in Q2, albeit with the growth likely to slow, primarily due to the rapidly developing global industry of the Internet of Things, cloud computing and smart chipsets, coupled with Taiwan's chemicals makers gradually shaking off the impact of low international prices of crude oil.
Indexes of Industrial Output in Taiwan by Manufacturing Sectors
Industries

Index

MoM Growth Rate

YoY Growth Rate

Jan.-Mar. Index

YoY Growth Rate

Manufacturing Industry
112.81

23.99%

6.97%

104.60

6.47%

Base Metal & Machinery

106.37

31.74%

4.34%

96.86

2.87%

IT & Electronics

121.08

19.79%

9.82%

113.88

13.00%

Chemcials

109.87

22.08%

7.36%

100.60

1.10%

Commodity

103.05

28.75%

0.71%

96.20

-0.21%

Sectors










Electronics Parts & Components

130.76

17.65%

11.41%

123.54

12.93%

Chemicals

112.04

16.07%

13.60%

103.48

2.78%

Base Metals

105.78

19.93%

0.17%

99.76

0.32%

PCs, Electronic Devices & Optoelectronics

88.85

31.45%

2.63%

81.71

13.33%

Machinery

102.09

39.26%

14.14%

89.53

12.25%

Automotive & Auto Parts

115.04

50.03%

3.36%

102.73

5.25%

Source: MOEA