Compiled By KEN LIU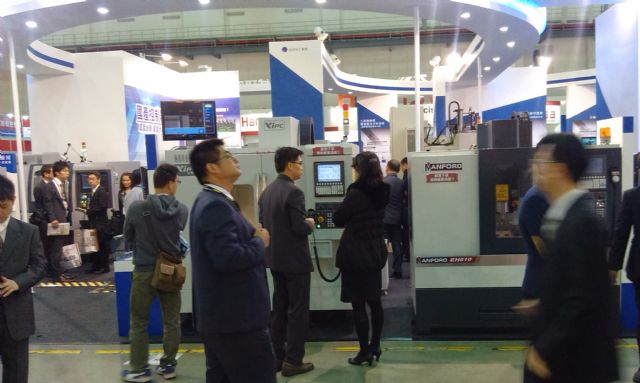 China's buoyant manufacturing industry to drive Taiwan's machine-tool industry.
Taiwanese exhibitors at the 14th China International Machine Tool Show (CIMT), held Apr. 20-25, 2015 at China International Exhibition Center in Beijing, were generally upbeat about prospects to land ample orders from mainland Chinese manufacturers this year in light of the mainland's improved purchasing managers' index (PMI).
China's official PMI, widely regarded the indicator of level of activity at large industrial firms, rose to 50.1 in March from February's 49.9, a touch above the 50-mark that separates growth from contraction.
Taiwan External Trade Development Council (TAITRA), the semi-official trade promoter backed by the Taiwan government, predicts Chinese manufacturers to remain the world's biggest buyers of Taiwan's machine tools this year at the show.
Industry executives project buoyant manufacturing industry in the mainland and America to drive Taiwan's machine-tool industry into a cyclical expansion stage of business this year, to make Taiwan's manufacturers involved in machine-tool technology a focus for stock investors.
Among Taiwan's heavyweight exhibitors at this year's show were Hiwin Technologies Corp., Goodway Machine Co., Ltd., Awea Mechantronic Co., Ltd., Tongtai Machine & Tool Co., Ltd., Shieh Yih Machinery Industry Co., Ltd., Falcon Machine Tools Co., Ltd., Taiwan Takisawa Technology Co., Ltd., Delta Electronic Inc., Advantech Co., Ltd., and Nexcom International Co., Ltd.
Industry executives predict this year Hiwin to mostly rely on its ball screws for machine tools used by carmakers, bearings and heavy-duty bearings to drive revenue growth.
The company's ball-screw production lines are running at full capacity to fill booked orders, which will keep the company's lines humming at least throughout this June.
The company's heavy-duty bearing designed for minimal 20-kilogram workload adopts some unconventional technology to possess an edge over typical counterparts to drive up the company's bearing sales this year, industry executives say.
Foreign institutional investors forecast the company's after-tax net income for this year to exceed the NT$10 milestone to NT$11.54 per share based on the company's better-than-expected revenue for the first quarter, and the optimistic forecast of a 15-18 percent sequential growth in the second quarter.
In the first quarter, the company, reportedly the world's No.2 maker of ball screws and linear guide ways for precision machinery, had consolidated revenue of NT$3.63 billion (US$117.29 million), surging 20.7 percent year on year to hit seven-year high. Industry executives forecast the company's revenue for 2015 to cross the NT$15.8 billion (US$509.67 million) it set in 2011.
Hiwin Chairman Eric Chuo says the company is receiving ample orders for linear guideways and ball screws and has begun delivering industrial and healthcare robots, forecasting the company's revenue for the second quarter to outperform its first-quarter level.
Hiwin has taken over Luren Precision Co., Ltd., a leading Taiwanese maker of gear cutting tools, spin pumps and machinery, to strengthen its robot manufacturing capacity.
Goodway, recognized as Taiwan's No.1 maker of computer numerical control (CNC) lathes, depends on China for a quarter of its consolidated revenue. The company projects its consolidated revenue for this year to hit the NT$10 billion (US$322.58 million) milestone partly driven by sustained growth in China's demand for cars and motorbikes, with mainland Chinese manufacturers therefore having to increase orders for Goodway's lathes.
To date, Goodway still has NT$600 million (US$19.35 million) of undelivered orders while its subsidiary, Awea, still has NT$1.7 billion (US$54.83 million) of backlogged orders, all of which will keep the two companies' production lines busy throughout the end of the third quarter.
To keep up with such brisk order volume, Goodway is boosting production capacity at its manufacturing sites on both Taiwan and the mainland.
In the first quarter, Goodway reported consolidated revenue of NT$1.81 billion (US$58.45 million), up around 11.6 percent from NT$1.62 billion (US$52.38 million) posted in the same quarter of last year. Industry executives predict the company's after-tax net income at NT$1.3-1.5 per share for the first quarter, hitting another high in company history, with its 2014 per-share figure being NT$6.88 per share.
Yuanta Financial Holdings Co., Ltd. has raised its target price of Goodway shares to NT$93 (US$3) for 2015.
Falcon generated consolidated revenue of NT$315 million (US$10.16 million) in March, spiking 50 percent year on year, which helped swell the company's revenue to NT$609 million (US$19.64 million) throughout the first quarter, increasing around 9.3 percent from NT$557 million (US$17.96 million) achieved a year ago.
Industry executives predict the company to swing to profit of around NT$0.1 per share in after-tax net income in the first quarter from loss.
This year, Tongtai mostly exhibited machines for processing aircraft and automotive components at the Beijing trade show. Industry executives predict the company's consolidated revenue for this year to rise at least 20 percent year on year to top NT$10 billion (US$322.58 million), partly due to several new products it recently rolled out and revenue contributed by the French machine-tool maker PCI-SCEMM it recently acquired.
Shieh Yih expects steady orders at least throughout the third quarter after a spike seen in the second quarter. The company unveiled a new factory in Kunshan, China last year to target taking a bigger slice of China's market for machines used in aircraft and automotive industries.
Industry executives project the company's revenue from Chinese operations to rise 50 percent year on year in 2015.
Shieh Yih is pursuing the goal to be a globally top-5 press brand in three to five years by trying to increase revenue at double-digit rate a year.
CNC-system maker Advantech demonstrated its latest ADAM line at the Beijing show.
Although the company says it is likely to attain the goal of increasing revenue by 16 percent year on year this year, industry executives are uncertain if such goal would be derailed by growing reluctance among customers in developing economies to place orders, the slowing recovery of the economy stateside, and the hazy outlook of mainland Chinese and European economies, as well as potentially disastrous outcome from a "Grexit."
Advantech is predicted by industry executives to make NT$5.43 billion (US$175.41 million), or NT$8.63 per share, this year and NT$6.10 billion (US$196.80 million), or NT$9.68 per share, next year, each rising 10.8 percent and 12.1 percent year on year.
Nexcom exhibited control systems that connect to the Internet to be an Internet of Things (IOT) solution for CNC machines and automated factories.