Premier Mao Chi-Kuo recently led a group of ranking government officials to visit China Motor Corp. (CMC) and Gogoro Inc., two major electric-scooter (e-scooter) makers in Taiwan, to encourage the development of the domestic electric vehicle (EV) industry.

CMC, an affiliate of domestic Yulon Group and the local assembler of Mitsubishi cars, is the largest maker of e-scooters in Taiwan, accounting for about 80% to 90% of the domestic market. Gogoro, a young and innovative Taiwanese company focused on energy distribution and management in megacities, unveiled the Gogoro Smartscooter, the world's first high-performance, zero-emission scooter.

When announcing the government's goal to cut carbon emissions, Mao recently said that he once tried to make the high-pollution (especially two-stroke) motorcycles and scooters disappear from the island some 20 years, when he had just begun his career in Ministry of Transportation and Communications (MOTC). The effort ultimately failed as two-stroke powered two-wheelers (PTWs) were the major transportation vehicles in Taiwan at that time. Industry insiders said the Taiwanese government will map out voluntary emission reduction (EVR) plans by October to avoid export barriers in 2020.

Mao said that the e-scooters can help to cut carbon emissions, which are high in Taiwan. Localizing e-scooter production can also encourage e-scooter adoption and strengthen export competitiveness. In Taiwan, Mao said, there are some 14 million internal combustion engine (ICE) PTWs that, if replaced by e-scooters, would create huge demand for the zero-emission vehicles and enhance the export competitiveness of local brands in the segment.


A popular e-scooter made by CMC, the No. 1 e-scooter vendor and exporter in Taiwan. (Source: CMC)
Premier Mao noted that the United Nations Climate Change Conference (COP21) will be held in Paris, France in 2015 and all nations will be required to sign a legal document on regulating carbon emission. Taiwan's high carbon emission could pose a trade barrier if not addressed by the fast-approaching 2020 deadline. Taiwan needs to start preparing now, he said.
Wei Kuo-yen, General Director of Environmental Protection Administration (EPA), pointed out that the COP21 will compile each UN member nation's intended national determined contributions (INDC) document by October. Taiwan, though not a UN member, will follow the previous mode in signing the Kyoto Protocol to submit its INDC document by the date. All related government units are now discussing reasonable carbon-emission goals for the island.
Statistics compiled by International Energy Agency (IEA) showed that Taiwan's CO2 emission totaled 256.61 million tons, accounting for 0.81% of the world total with global ranking of 24th. The personal average CO2 emission from the island was 10.95 tons, which ranked the 20th among other nations.
To further promote the e-scooter replacements and encourage purchases of zero-emission PTWs, the Ministry of Economic Affairs (MOEA) announced it would offer NT$400 million (US$1.33 million) in the second-stage e-scooter subsidies program. The program offers a NT$10,000 (US$333) subsidy (NT$30,000 or US$1,000 for off-shore island areas) on purchases of Taiwan E-Scooter Standard (TES)-certified e-scooters in Taiwan. The MOEA said it expects about 9,000 e-scooters to qualify for the subsidy in the program's first year.
Gogoro
Gogoro is one of the most eye-catching newcomers in Taiwan's and the world's e-scooter industry. "With the world's megacities at a tipping point in population density, pollution fallout and rapid expansion, it is essential that we re-imagine the energy infrastructure and create a new mindset for change in tomorrow's urban generation," says Horace Luke, company co-founder and CEO. "The Smartscooter and Gogoro Energy Network (a battery swapping infrastructure to enable a more efficient, cleaner and flexible energy future) will capture the hearts of the next generation and become a catalyst for more efficient, cleaner, and smarter energy choices in our cities."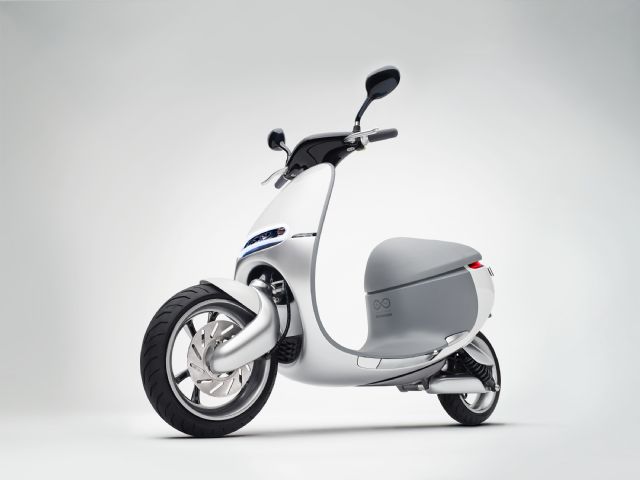 The Smartscooter is an attractive, zero-emission e-scooter. (Source: Gogoro)
Founded by technology veterans Luke and co-founder and chief technology officer (CTO) Matt Taylor, the Smartscooter and Gogoro Energy Network are Gogoro's first products. In October 2014, Gogoro announced that it had raised US$50 million in Series A funding in 2011, and is currently closing its Series B round of US$100 million to commercialize and go-to-market in 2015. Industry sources said that the young high-tech company has also applied to Taiwan's National Development Fund for billions of NT dollars in direct investment. The government will decide on the application by June.
Luke has overseen product development and corporate strategy from the outset, having been chief innovation officer at HTC, a major smartphone vendor in Taiwan, where he was instrumental in leading the company's transformation from a white-label hardware manufacturer to a competitive, innovative mobile phone brand in the world.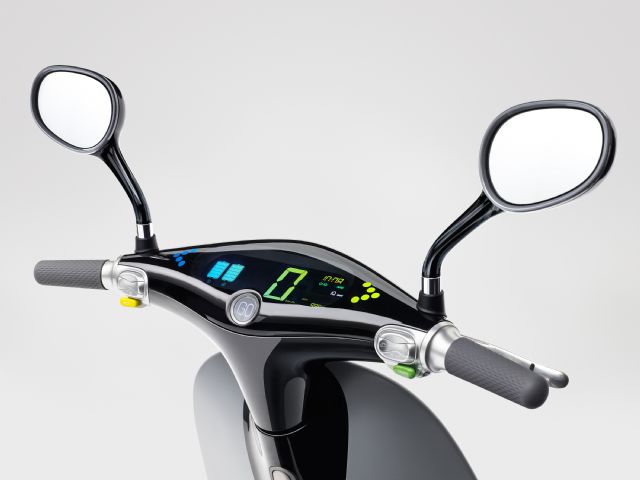 The Smartscooter features state-of-the-art design. (Source: Gogoro)
Gogoro has been funded by Samuel Lin, chairman of Ruentex Group in Taiwan and one of Asia's most successful entrepreneurs with diverse businesses including retail, sustainable technology, healthcare, financial services, property development and textiles.
From the drivetrain to the dashboard, according to Gogoro, the Smartscooter utilizes the precision, processes and materials for supercars to offer top-level performance that is both user-friendly and accessible to the mass market. To deliver unprecedented power, agility, acceleration and handling, Gogoro re-imagined the entire ride experience and then created a unique powertrain, chassis, suspension and electronics to deliver the best efficiency, handling, acceleration and riding range possible.
The Gogoro Energy Network is a modular battery-swapping infrastructure that is deployable across a city to provide broad consumer access to portable power through battery vending machines called GoStations.
The Gogoro Battery is an engineering breakthrough with a variety of technologies including 25 sensors, near field communication (NFC) connectivity and 256-bit security encryption. It utilizes Panasonic's industry-leading cylindrical 18650-size automotive-grade lithium-ion energy cells to deliver the ultimate in safety, performance, efficiency and portability. The Smartscooter is the first vehicle to be integrated into the Gogoro Energy Network, and both will begin initial rollout in 2015.