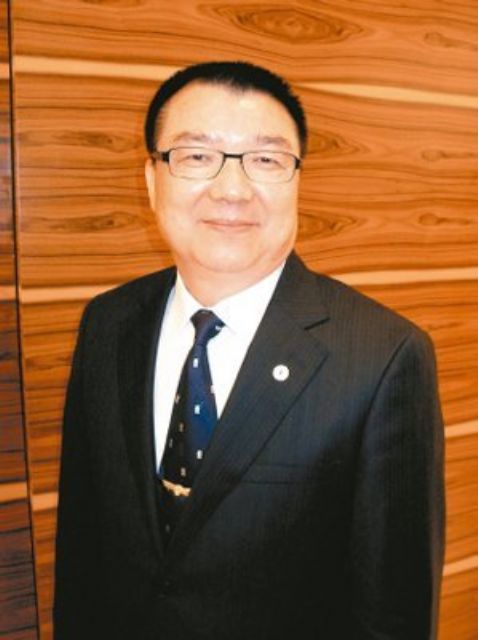 AIDC's newly nominated chairman Anson Liao (photo courtesy of UDN.com)
The Taiwan-based Aerospace Industrial Development Corp. (AIDC), according to Globalsecurity.org, began life in the late 1960s when Taiwan's aerospace industry emerged in response to the implementation of national security and self-reliant defense policies mandated by the Taiwan authorities, also the island's only manufacturer of military and commercial airplanes, trainers and aircraft engines and components, is expected to see promising future in the next five years, based on undelivered orders already exceeding NT$100 billion (US$3.17 billion) to date, says the newly nominated chairman Anson Liao at an investor conference held earlier.
The firm's report shows the supplier had garnered over NT$40 billion (US$1.27 billion) of new orders throughout last year, and then about NT$26 billion (US$825.39 million) in the first quarter of this year, to bring total orders to be filled in the next five years to over NT$100 billion.
Liao said such impressive order book is attributable largely to big orders from Boeing and Airbus for system parts for civilian aircrafts, as well as from GE and Rolls-Royce for aircraft engine crankcases.
With such large volume of undelivered orders, coupled with the global market for civilian aviation showing considerable growth potential, Liao said that AIDC is likely to finish this year with better performance than last year.
At the conference the company reported consolidated revenue of NT$24.924 billion (US$791.23 million) for last year, with net after-tax profits of NT$1.871 billion (US$59.39 million), surging 46.7 percent year on year, and EPS (earnings per share) of NT$2.06. For the first quarter of this year, the firm posted NT$5.839 billion (US$185.36 million) in consolidated revenue, up 4.9 percent yearly.
In addition to civilian airplanes, Liao stressed the firm's military aircraft business has also been growing over the past few years, mostly thanks to Taiwanese government's program to strengthen its airforce, including the upgrading of F16 fighters.
As part of such program, the upgrading of 66 advanced trainers will totally cost the government about NT$69 billion (US$2.19 billion) to drive growth of AIDC's military aircraft business this year, said Liao.
In response to its explosive business growth, AIDC is budgeting about NT$2.4 billion (US$76.19 million) for capital expenditure this year, including construction of a new hangar to upgrade F16 A/B fighters and a new production center for engine crankcases.
Meanwhile, to more effectively tap business opportunities created by the booming global aerospace industry, Liao mentioned that AIDC will step up integrating resources throughout its supply chain, to ultimately put more effort on ODM (original design manufacturing) business, which calls for genuine dedication, investment, talent that go far beyond filling OE orders.
AIDC's Performance by Year
Year

2010

2011

2012

2013

2014

Consolidated Revenue

NT$17.9 Bn.

NT$20.1 Bn.

NT$22.6 Bn.

NT$23.1 Bn.

NT$24.9 Bn.

Net After-tax Profits

NT$1.013 Bn.

NT$1.126 Bn.

NT$1.248 Bn.

NT$1.289 Bn.

NT$1.872 Bn.

EPS

NT$1.12

NT$1.24

NT$1.37

NT$1.42

NT$2.06

Source: Market Observation Post System