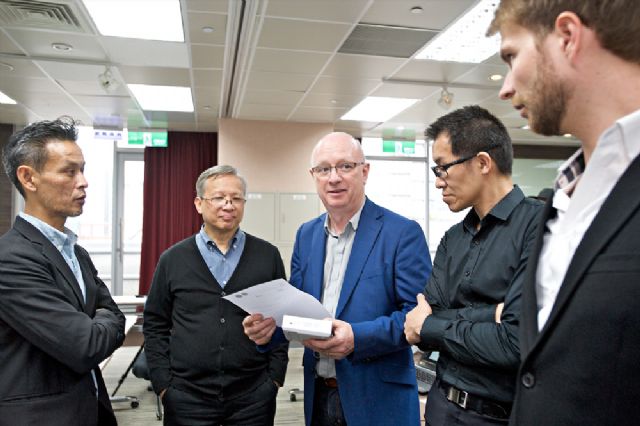 Jurors discuss selecting winners of Computex d&i Awards 2015.
With the core driver of progress and success in sales and marketing of the ICT (information-communication technology) sector still generally recognized as innovation, the 2015 Computex d&i Awards Taipei remains an anticipated event alongside the annual, high-profile Computex Taipei trade show.
This year, the 6 jurors chose 72 entries out of 271 from ICT manufacturers across the world to be honored for smart and innovative technologies.
Among the shortlisted winners are Philips, Dell Inc., Union Genius Computer Co., Ltd., HTC Corp., Acer Inc., Asustek Computer Inc., Aiptek International Inc., Asrock Inc., Edimax Technology Co., Ltd., Gigabyte Technology Co., Ltd., Micro-Star International Co., Ltd., Silicon Power Computer & Communications Inc., Thermaltake Technology Co., Ltd., Serafim Technologies Inc., and Unitech Computer Co., Ltd.
Philips wins for its Moda LCD Monitor coming with the Ambiglow Plus Base, which introduces a fresh, colorful twist to understated lighting of home by adapting the monitor for a vivid 3D experience.
Dell is chosen for its PC-Alenware Area 51 desktop game console, which features the compelling Triad Chassis for state-of-the-art performance.
Union Genius wins for its Near Field Communication-enabled (NFC-enabled) multi-functional smart rings, which are made of high-grade ceramic and IP68-graded for water and dust protection. These rings are versatile to lock/unlock doors, transmit medical alerts, and unlock mobile phone code or password.
HTC is selected for its HTC One M9 smartphone, which features an exquisite dual-tone and all-metal casing with jewelry-grade brushed surface finish.
Asustek is selected for its ASUS ZenFone2, which features ultra-slim body and round back as well as extraordinary photography capability even under low ambient light.
Asrock is chosen for its ODiN Aurora laser projection mouse, which obviates the need for a traditional roller mouse to control a computer.
All the winning products will be showcased at the Taipei World Trade Center (TWTC) Nangang Exhibition Hall, Booth I0407 during Computex Taipei 2015, to be held June 2-6. This annual event in Taipei, which began in 1981 according to its web site, is recognized as the world's No.2 ICT trade show, trailing the International Consumer Electronic Show (CES) in Las Vegas, Nevada, U.S.A.
In its eighth year in 2015, the Taipei Computex d&i Awards competition is administered by iF International Forum Design GmbH, which has been contracted as an impartial party by co-organizer Taiwan External Trade Development Council (TAITRA).
According to TAITRA, the semiofficial trade promoter, the uptrend in the number of entries for this year's competition reflects encouraging interest among the global ICT industry, as well as due to the organizer's statement on the web site to promote winners at global ICT trade shows.