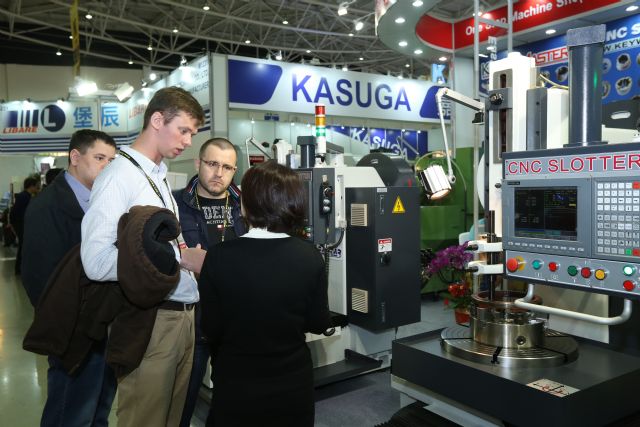 Stronger NT-dollar saps competitiveness of Taiwan-built machine tools. (machine tool supplier at trade show pictured)
Taiwan's leading machine-tool makers say the recently rallying NT-dollar weakens their exports, which have been weaker so far in the second quarter relative to that in the first quarter.
These leading manufacturers include Tongtai Machine & Tool Co., Ltd., Victor Taichung Machinery Works Co., Ltd., Goodway Machine Corp., AWEA Mechantronic Co., Ltd., Taiwan Takisawa Technology Co., Ltd., Roundtop Machinery Industries Co., Ltd., Falcon Machine Tools Co., Ltd., Quaser Machine Tools Inc., Yeong Chin Machinery Industries Co., Ltd., and Kao Fong Machinery Co., Ltd.
Executives of these companies say in April alone they each posted losses ranging US$6 million to US$10 million in currency exchange when the NT-dollar appreciated past the 31:1 NT$-to-US$ benchmark in late April.
They earlier forecasted the NT-dollar to likely drop below the 32:1 rate this year, prompting the retention of at least US$10 million of cash. But when the NT-dollar rose to 31.3:1 US-dollar in late March, such appreciation not only erased all their outstanding income from foreign exchange operations in the fourth quarter last year but also led to their multimillion greenback losses in the first quarter this year.
As the island's machine-tool sector depends on exports for over 80 percent of revenue, industry executives say the 31:1 NT-dollar-to-greenback rate already exceeds the industry's maximum tolerance, and that Taiwanese manufacturers lose some 2 percent in gross margin for each NT-dollar in appreciation against the greenback.
To minimize loss, many Taiwanese manufacturers have re-quoted the exchange rate of exports at NT$30.5-31 for US$1, compared to their originally planned rate of 31:1, having even quoted 30.2:1 for some urgent enquiries.
For exports destined for Europe, they have reset quotation exchange rate at 34-to-1, up from 38-to-1 that was set early this year to reflect the devalued euro against US dollar.
Tongtai executives confess that the firm has seen downtrend in orders in recent months due to very aggressive quotations from European and Japanese competitors, despite still holding some NT$2.15 billion (US$69.34 million) of undelivered orders and has received orders for August delivery. Both the euro and Japanese yen have depreciated since the final quarter last year, with the euro having rallied against the greenback in early May due to the majority win by the British conservatives.
Kao Fong executives also feel the lower euro and yen have indeed affected Taiwan's exports of high-end machine tools, which are mainly sought-after by European machine-tool buyers. They say the company still holds over NT$600 million (US$19.35 million) of booked orders and has begun receiving orders for delivery in the third quarter.
Taiwan Takisawa executives note that the company will book losses from foreign exchange on its balance sheet in April after writing down over US$10 million of loss from the same in the first quarter. They say the company has begun tracking enquiries for August delivery and still has undelivered orders to keep production lines humming for at least three months.
Attempting to minimize profit erosion due to the depreciated euro and yen, the island's machine-tool makers are asking their component suppliers, including THK Co., Ltd., Fanuc Corp., NSK Ltd., Hiwin Technologies Corp., to pare the prices of products by 2-3 percent. Last year, ball-screw maker THK, control-system supplier Fanuc, and ball-bearing maker NSK of Japan and Taiwan's die-casting parts makers cut prices by 3-5 percent.
Taiwanese machine-tool makers say the lower yen and recently appreciated NT-dollar have narrowed the price gap between high-end machines built by Taiwanese makers and Japanese makers to only 10 percent instead of 25-30 percent, to have already hurt their competitiveness.
Secretary general of the Taiwan Machine Tool & Accessory Builders' Association (TMBA), J.C. Huang, predicts business to stay flat for Taiwan's machine-tool industry this year, with urgent orders accounting for the majority of sales.
Huang notes that in the first quarter the island's machine-tool exports were US$798 million, down 2 percent from the same quarter of last year, and, based on such result, 2015 exports will likely slip 2-3 percent year on year for Taiwan's machine-tool industry as a whole.
Export Destinations of Taiwan's Machine Tools in Q1, 2015
| | | | | |
| --- | --- | --- | --- | --- |
| Export ranking | Destination | Export value | Export percentage (%) | YoY change (%) |
| 1 | Mainland China | US$239M | 30.0 | -3.6 |
| 2 | U.S. | US$89M | 11.2 | 1.7 |
| 3 | Turkey | US$50M | 6.3 | 19.6 |
| 4 | Thailand | US$31M | 3.9 | -28.6 |
| 5 | Holland | US$26M | 3.3 | 16.0 |
| 6 | Germany | US$26M | 3.3 | -15.6 |
| 7 | Japan | US$25M | 3.2 | 9.7 |
| 8 | Russia | US$24M | 3.1 | -2.6 |
| 9 | Malaysia | US$22M | 2.8 | 9.2 |
| 10 | Vietnam | US$21M | 2.7 | 34.7 |
Source: Taiwan Association of Machinery Industry (TAMI).