Both the top-2 Taiwan Stock Exchange (TAIEX)-listed bicycle manufacturers in Taiwan, Giant Manufacturing Co., Ltd. and Merida Industry Co., Ltd., reported negative earning growths in the first quarter, due mainly to worse-than-expected sales in China and losses from currency exchanges.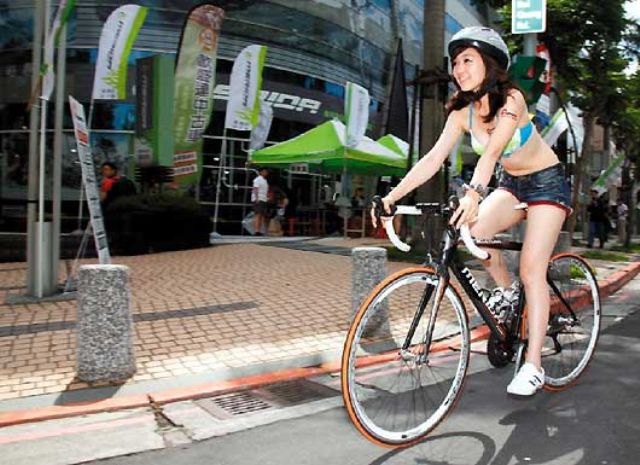 Taiwan's top-2 bicycle makers, Giant and Merida, see revenue growths in Q1, 2015 but suffer losses from currency exchanges. (photo from UDN)
Giant had group revenue of NT$14.59 billion (US$486.3 million) in the first quarter, up 2.7 percent from the same period of last year, or year-on-year (YoY), for operating profits of NT$1.34 billion (US$44.7 million), a 11.5 percent YoY increase. Due to non-core-business loss of NT$200 million (US$6.67 million), the firm's net earnings were NT$947 million (US$31.6 million), for earnings per share (EPS) of NT$2.53 (US$0.08), down 10.6 percent YoY.
The Taiwanese bike maker's seven factories worldwide together turned out and shipped 1.73 million bicycles in the first quarter, up 6 percent YoY. As for own-brand sales, Giant's subsidiaries in the U.S., Taiwan and South Korea reported good performances, with its European subsidiary posting minor loss due to currency exchange factors. Giant's sales in China fell as result of slowing demand in the big market, but are expected to recover in the second quarter.
Giant plans to begin production of new 2016  models from the second quarter for launch in the second half. The firm's new products won extensive praise among global customers when showcased at the international bicycle shows held in Taipei, Taiwan in March and Shanghai, China in May. In addition the Giant-sponsored Giant-Alpecin racing team on new high-end Giant bikes has scored impressive performance that is expected to further accelerate the maker's sales in the second half.
Merida had consolidated first-quarter revenue of NT$6.19 billion (US$206.47 million), up 9.22 percent YoY. Due to minor loss in currency exchanges and sales decline in China, the firm registered EPS of NT$2.35 (US$0.08), down 2.9 percent from NT$2.42 (US$0.08) a year earlier.
However, Merida stressed that the second quarter is a traditional high season for bicycle sales in China and exports to Europe and the U.S., and the company is justified to be optimistic towards operations over the next few months based on steady orders being booked. To meet global demand for higher quality and stylish high-end bicycles, Merida inaugurated three new coating lines at its factory in Taiwan in 2014, which the firm said will likely further elevate export average selling prices (ASP) of products.
The No. 2 bicycle maker in Taiwan also poured NT$200 million (US$6.7 million) into expanding the production capacity of its electric-bicycle production line. The project is expected to be completed in mid-2015 to first ease supply shortage for the European and U.S. markets.