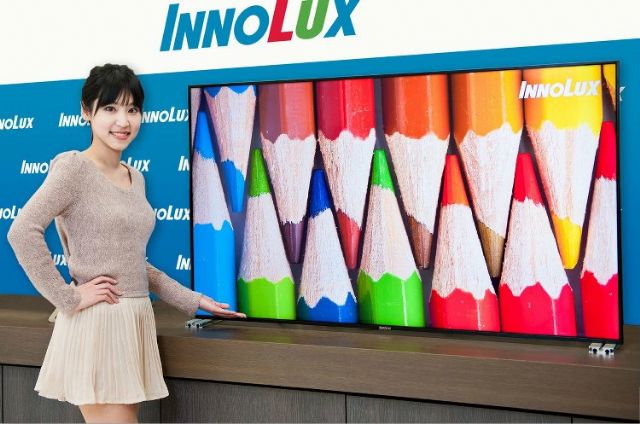 Innolux has gained steam from 4K2K high-definition displays to gradually leave behind its Taiwanese rivals. (photo courtesy of UDN.com)
Taiwan-based Innolux Corp., the island's top-2 display panel maker by shipment, ended Q1 of this year with impressive performance, hence further improving its financial health to lay sound foundation for more sustainable development amid thriving market demand for large-sized, high-definition display panels.
According to the latest financial report issued by Innolux in early May, the firm posted consolidated revenue of NT$100.158 billion (US$3.17 billion) for the quarter, down 12.9 percent quarter-on- quarter due largely to seasonal factors and price drops of display panels.
Contrasting such lackluster revenue result, the company's gross profit rate surged by 1.6 percentage points to 17.7 percent in the quarter, leading to operating net profits of NT$11.231 billion (US$356.53 million), pretax profits of NT$10.061 billion (US$319.39 million) and after-tax net profits of NT$8.65 billion (US$274.60 million), with single-quarter EPS (earnings per share) of NT$0.87.
More notable is that while the gross profit rate hit Innolux's all-time high, the firm's operating profit margin of 11.2 percent, EBITDA (earnings before interest, taxes, depreciation and amortization) margin of 25.3 percent and profit margin of 8.6 percent all led the global industry.
Bolstered by the encouraging profit result, Innolux has further improved its financial health by greatly reducing its long- and short-term debts to NT$79.5 billion (US$2.52 billion) in Q1, NT$51.5 billion (US$1.63 billion) less than a quarter ago, with the debt-to-total-assets ratio down to 17.2 percent from 27.2 percent. The improved financial figures put the company in a better position to undertake aggressive marketing and sustainably develop in an increasingly bullish global market for display panels.
After such rosy performance in Q1, Innolux is determined to step up raising its output and tap more lucrative segments, such as iPhone displays, this year, with its chairman H.C. Tuan having announced several production line expansion projects at an investor conference held earlier.
One project is to invest jointly with Hong Hai Group, world's largest EMS (electronics manufacturing service) firm by size, to set up a 6-generation LTPS (low-temperature polysilicon) production line for smartphone displays in Kaohsiung, the southernmost major city in Taiwan, which is scheduled to start up by the end of this year with planned monthly output of 23,000-24,000 units, mostly for iPhones.
That joint investment is mutually significant, for it will enable not just Innolux to step up exploring the segment for high-end smartphone displays, but also Hon Hai to further integrate vertically its production of iPhones to reinforce its status as the world's largest contract assembler of the devices.
Optimistic about strong growth potential of large-sized display panels, Tuan also announced at the investor conference that Innolux will also add an 8.6-generation production line this year, to become operational in Q3, 2013 with planned capacity of 40,000 units per month.
Tuan noted that the firm plans to budget NT$35 billion (US$1.11 billion) for capital expenditure this year and then cut the figure slightly for next year.
Performance by Taiwan's Top-2 Display Panel Makers in Q1, 2015
Company

Innolux Corp.

AU Optronics Corp.

Consolidated Revenue

NT$100.158 Bn.

NT$95.302 Bn.

After-tax Net Profits

NT$8.651 Bn.

NT$8.272 Bn.

Gross Profit Rate

17.7%

15.1%

Operating Profit Margin

11.2%

9.4%

EBITDA Margin

25.3%

23.4%

Net Profit Margin

8.6%

5.5%

Source: companies