Compiled By KEN LIU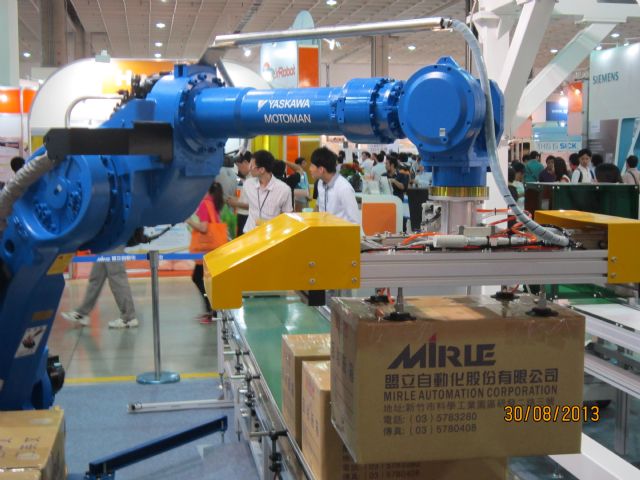 Mirle regards mainland China as springboard to international automation market. (Pictured is an automated conveying system by Mirle at a trade show)
Mirle Automation Corp. Chairman H. Sun humbly says that although his company, Taiwan's No.1 automation-system provider, has built solid command of the local market, it will, if limited to playing on home turf, remain in the little league in terms of operational scale relative to international players like Mitsubishi Electric Corp., Fanuc Corp., and Siemens AG.
Sun's company was founded in 1989 at the Hsinchu Science Park, home to the original local giants of the silicon foundry sector, including TSMC and UMC, in northern Taiwan by spinning off a laboratory from the Mechanical and Systems Research Laboratories (MSRL) under the government-backed Industrial Technology Research Institute (ITRI). He was in charge of the laboratory which was opened in 1982 to work on the Ministry of Economic Affair's projects to develop automation technology for the island's manufacturing industry.
Eyeing China Market
After securing its market leadership on Taiwan, Mirle is, as is with most other sizable firms on the island, eyeing the vast mainland China market, aspiring to compete with the government-backed Beijing Research Institute of Automation for Machinery and the state-owned Sia Sun Robot & Automation Co., Ltd. in the fields of robot and automated storage and retrieval system, says Sun.
"The combined scale of the Taiwan market and the mainland market is big enough for us. To dominate these two Chinese markets will enable us to catch up to international players in operational scale, technology and product," says Sun.
Sun concedes that it is a long-term or decades-long goal to become a globally leading provider of automation systems, but Mirle's short-term objective is to focus on becoming the world's leading supplier of automation systems for liquid crystal display (LCD) factories.
In the LCD-equipment industry, the company is already Taiwan's biggest supplier of color filter in-line processing system in terms market share. However, underselling competition from other local manufacturers compelled the company to manufacture clean room stackers two years ago.
Diversification
In 2014, Mirle branched out into the manufacturing of wet-process equipment after Daifuku Co., Ltd. of Japan and Samsung Group of South Korea began vigorously developing clean room stackers when it was Taiwan's No.1 supplier of such stackers.
The processing equipment Sun's company builds for the LCD industry includes wet-process equipment, bonding system, glass laser-cutter, and 3-dimension optical glass molding press, which are sold in both Taiwan and mainland China.
Last year, Mirle spent around NT$100 million (US$3.22 million) to construct a laboratory in Houli District, Taichung City, central Taiwan to develop automated storage and retrieval system for Class-10 clean room, whose air must contain less than 10 particles of 0.5 micron-or-larger per cubic foot. The company has built a 50-meter-long suspended conveying system inside a clean room in the laboratory.
According to Sun, the clean room facility has drawn over NT$1 billion (US$32.25 million) of orders since early this year, after being displayed to LCD-panel manufacturers on both sides of the Taiwan Strait vying to invest in sixth-generation low temperature poly silicon (LTPS) panel factories.
Record-setting Order Volume 
To date, the company holds over NT$4 billion (US$129.03 million) of undelivered orders, including the NT$1.5 billion (US$48.38 million) of orders received this January alone. "Regularly, we can receive NT$600 million (US$19.35 million) of orders in January. But thanks to the clean room facility, we won record number of orders this year," Sun says.
In the area of industrial controllers, the company rolled out all electric-controlled injection molding controllers in 2014. The controllers are integrated with Mirle-built servo motor instead of hydraulic-driven motor to effectively boost processing precision of injection-molding machines from customers such as Victor Taichung Machinery Works Co., Ltd.
Mirle entered the LCD-automation industry in 2009, when its first factory at the Southern Taiwan Science Park was unveiled as part of the company's phase III expansion project, before which the company's phase II expansion began in 1999 when the company made initial pubic offering (IPO) on the Taiwan's over-the-counter market. The company had spent its first decade mostly struggling to clear a debt of NT$190 million (US$6.12 million).
Sun stresses that in the automation industry, buyers typically judge a supplier by its track-record, preferring to deal with suppliers that have built stellar reputation in the industry. "Before Mirle became well known, we had been mostly working hard to cultivate talent, sign minor deals, explore niche market, and build marketing channels," Sun recalls.
Surprising Break
Before it had under its belt any remarkable projects, Sun approached in 1990 Barry Lam, chairman of laptop PC maker Quanta Group, to offer to build the group's small, automated storage and retrieval warehouse at its factory in Linko, northern Taiwan. Lam surprised Sun by agreeing to give him the contract without hesitation. Obviously showing a streak for adventure, Lam said that Quanta makes the world's best laptop PCs, so Mirle can definitely build the world's best automated warehouse, Sun recalls.
Lam's willingness to give a relative newcomer a chance was partly attributable to Mirle's generation of revenue of NT$150 million (US$4.83 million) in its first year of operation, which by 2014 had risen to NT$6.8 billion (US$221.61 million), an increase of 4.14 percent year on year.