MediaTek Inc. of Taiwan, a well-known fabless semiconductor company, recently announced the mass production of its latest cellphone chip MT6735, which is also installed in several smartphone models under brands, such as ZTE, Lennovo and TCL, to undergo related tests in China and to be launched after May.

Pointing to obstacle in the market, industry sources say that the widely reported hot selling Apple iPhone in China as well as demand for medium- to low-end smartphone in the big market have not met the typical hype associated with the huge consumer market in China. Only after the third quarter, the traditional peak season for cellphone products, some institutional investors say MediaTek's shipments of the new chip will likely begin increasing.

MediaTek's MT6735 is a 64-bit quad-core World Mode 4G LTE platform based on the ARM Cortex-A53 64-bit processor with ARM Mali-T720 graphics. Designed for the "super-mid" market, MT6735 delivers a premium mobile experience and gives consumers a wider choice of smart devices at more affordable prices. The new MT6735 features integrated 4G LTE World Mode and CDMA2000 3G for global high-speed mobile network compatibility. Dual-band 802.11n Wi-Fi and Bluetooth 4.0 support high-performance wireless networks and devices, and a 13-megapixel image signal-processor supports high-quality smartphone camera applications. MT6735 also supports 720p HD displays, and 1080p Full HD video recording and playback.

MediaTek senior vice-president Chu Shang-tsu pointed out that it is the first MediaTek chip developed for the CDMA field, and the new MT6735 has passed related tests conducted by China Telecom to reflect MediaTek's expertise in chip design and quality control.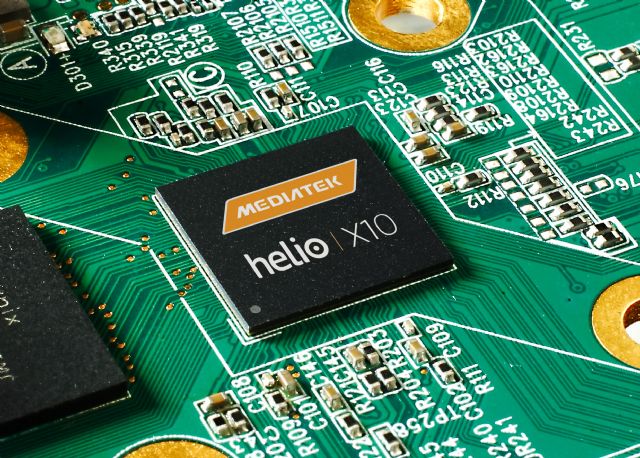 MediaTek began in Q1 volume shipments of its Helio X10 8-core smartphone chips targeting high-end market. (photo from MediaTek)
In addition to the MT6735 and the low-cost version MT6735M, MediaTek said that its shipment of the Helio X10 8-core platform has been increasing. MediaTek's Helio is a family of premium mobile processors utilizing leading heterogeneous computing technology. Though MediaTek's new smartphone chips have been winning orders from Chinese vendors, stagnant sales of its medium- to low-end chips will most likely impact the Taiwanese company's operational results in the second quarter.
Industry sources say that Apple has tied up with Hon Hai, the major electronics services provider, to offer trade-ins to owners in China of older iPhones who plan to upgrade to the latest model, which will likely undermine sales of low- and medium-end smartphones there. Occurrence of such trend is credible for iPhones command cachet to be status symbols equivalent to designer accessories, so erstwhile buyers of cheaper smartphones would opt for second-hand iPhones rather than new, low-end Samsung, Xiomi etc.
MediaTek is scheduled to launch an 8-core World Mode smartphone chip targeted at the medium-end cellphone market, the MT6753, in the second quarter. Many cellphone vendors are waiting for the new platform to be delivered in the third quarter to develop new models for sale in the peak season starting October to year-end.
In the first quarter, MediaTek registered consolidated revenue of NT$47.54 billion (US$1.58 billion), down 14.3 percent from the fourth quarter of 2014, but up 3.3 percent from the same period of last year. Some institutional investors forecast that the company's Q2 quarter-on-quarter revenue growth might near 10 percent, lower than the generally expected 15 percent to 20 percent, but stronger growth is predicted in the third quarter after MediaTek begins volume shipments of new chips.