The spending to lay solid foundation for them to explore the increasingly bullish market for high-definition display panels
Compiled by QUINCY LIANG

Reportedly holding optimism toward the market, four major Taiwanese makers of thin film transistor-liquid crystal display (TFT-LCD) panels have decided to invest about NT$79.5 billion (US$2.65 billion) as whole in capital spending this year, up 80 percent from 2014 to be the largest sum of its kind in four years. Such capital spending, according to the panel makers, will be used to carry out production-capacity expansion and overcoming technical bottlenecks.

Among the four companies, AU Optronics Corp. (AUO) plans capital spending of about NT$40 billion (US$1.33 billion), up 135 percent from 2014; while Innolux Corp., Chunghwa Picture Tubes Ltd. (CPT) and HannStar Display Corp. NT$35 billion (US$1.17 billion, up 70 percent year-on-year or YoY), NT$2 billion to NT$2.5 billion (US$66.7 million to US$83.3 million), and NT$1.5 billion to NT$2 billion (US$50 million to US$66.7 million), respectively.

With recovery in global demand for TFT-LCD panels, the panel makers generally deem to hold enough capital for the annual spending this year. However, both AUO and Innolux have mapped out capital-increase projects to issue 950 million shares each.

AUO had actual capital spending of NT$17 billion (US$566.7 million) in 2014, less than NT$20 billion (US$666.7 million) it had originally planned. This year the company plans to pour more money into expanding the production capacity of its 8.5-generation (8.5G) panel factory and installing equipment at its scheduled 6G low temperature poly-silicon (LTPS)-TFT in Kunshan, Jiangsu Province of China.

Paul Peng, president of AUO, said his company plans to add additional monthly capacity of 25,000 to 30,000 substrates at the 8.5G panel plant in Taiwan, and the capacity expansion plan is scheduled for completion by 2016.

At AUO's Kunshan facility, he added, LTPS production is expected to kick off in the second half of 2016.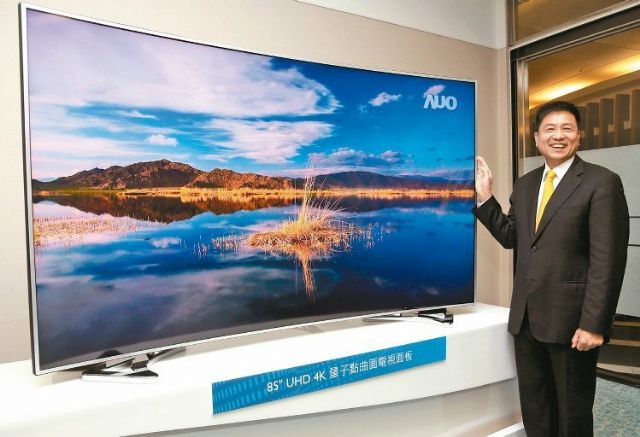 Paul Peng, AUO's president, introduces an 85-inch 4K LCD TV panel. (photo from UDN)
Duan Xin-jian, chairman of Innoux, pointed out that his company plans capital spending of about NT$35 billion (US$1.17 billion) in 2015 to upgrade environmental safety, technologies and breaking through technical bottlenecks, as well as expanding production capacity at its 6G LTPS line and 8.6G TFT line in Kaohsiung Science Park (formerly 
STSP Luchu
 Base) in southern Taiwan, with both the new capacities to be added in 2016.
Innolux's 6G LTPS line has planned initial monthly production capacity of 23,000 to 24,000 substrates. The new facility is expected to have equipment installed in August and kick off mass production late this year; while the company's 8.5G TFT-LCD plant in Kaohsiung Science Park is scheduled to have additional capacity of about 40,000 substrate by the third quarter of 2016.
Both CPT and HannStar are refocusing on small- and medium-sized panels. To meet the increasing demand for higher-resolution displays in portable devices, the two companies will also undertake capacity-expansion projects this year.
CPT said that it plans to invest NT$2 billion to NT$2.5 billion (US$66.7 million to US$83.3 million) into its 6G line at its Taiwanese panel plant, for equipment renovation, technological upgrading, overcoming technical bottlenecks, etc. HannStar said its annual capital spending will be as much as NT$2 billion (US$66.7 million) this year, to be used to upgrade production processes and precision level in production.
Despite reports that the market may be faced with oversupply of TFT-LCD panels, coupled with some Chinese panel suppliers' adding more capacities this year, the four Taiwanese panel makers plan to invest the highest capital spending in four years, which shows their upbeat outlook on business.
Innolux is putting more focus on its high color-gamut panel technology this year, while the firm's scheduled new, large-sized panel line in Kaosiung Science Park will be the special 8.6G format, a specification that the firm is adopting to compete with rivals.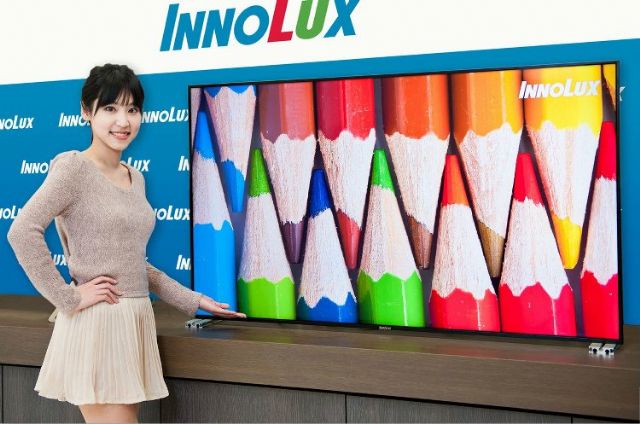 Innolux is focusing on high color gamut panels since its introduction of such products in Q4, 2014. (photo from UDN)
AUO, on the other hand, stresses that it sells not only panels, but also total display solutions with both hardware and software.
Innolux pulled ahead counterparts to launch its high color-gamut panels and won encouraging market response in the second half of 2014. The company's president J.C. Wang said previously with ample optimism that demand for such panels will begin building in 2015, leading to its taking a 30 percent market share in the second quarter compared to only 5 percent in the fourth quarter of 2014. In addition, Innolux's special-specification 8.6G line is scheduled to kick off production in the third quarter of 2016, further raising the firm's monthly large-sized panel shipments.
Paul Peng, AUO's president, said products, technologies, management and speed form the core competitive edge of his company to further widen the lead ahead of typical Chinese rivals, and that competition in global flat panel display (FPD) industry has transitioned from production capacity as in the past to pursuit of products with better, higher cost/performance (C/P) ratios.
Equipment Supplier
Thanks to panel makers' aggressive capacity expansion, including those of TFT-LCD and touch panels, FPD-equipment suppliers have been able to accept increasing orders.
Mirle Automation Corp., for example, said that it holds over NT$4 billion (US$133.3 million) worth of undelivered orders. To explore potential business opportunities generated by multiple LTPS factory-construction projects in Taiwan and China, the equipment maker poured about NT$100 million (US$3.3 million) to set up a super-clean room in central Taiwan to showcase its capability in building such equipment. In early 2015, Mirle won more than NT$1 billion (US$33.3 million) in orders for such products.
Gallant Precision Machining Co., Ltd. reported to hold NT$1.2 billion (US$40 million) of orders, with order-receiving visibility extending into 2016. Marketech International Corp. also reported holding orders exceeding NT$10 billion (US$333.3 million), with shipment schedules already filled into the second half of this year.