With a basic geometry to embrace simplicity and easy access to numerous apps on Apple Store for better practicality as its major attraction to consumers, most observers would agree, with revenue generating figures as support, that the iPhone has managed to become one of the hottest-selling, most sought-after digital devices in human history that have taken on designer-goods cachet that has been partly cultivated by Steve Jobs' idol-proportion charisma, not to mention having redefined the nature and status of smartphone since its debut in 2007 after a couple of similar products had been brought to market, such as the first BlackBerry in 1999.

According to International Data Corp., a global market research firm, iPhone commanded an 18.2 percent share of the global market in the first quarter of 2015, with around 61.2 million units sold, during which global smartphone shipments totaled some 337 million units. With iPhone 6 and 6 Plus adopting large touchscreens and therefore attracting rising customer base, other makers have followed suit to tap the obvious trend towards more smartphone users turning to such gadgets.

After Apple CEO Tim Cook stated earlier at the firm's earnings call, "We're seeing a higher rate of switchers than we've experienced in previous iPhone cycles," some global market observers have confirmed such trend to back up the claim. For instance, Kantar Worldpanel reported in March that during the first quarter of this year, nearly 33 percent of iPhone users in the five biggest countries in Europe had switched from Android-powered models, while analysts from Citibank also found that almost half of iPhone 6 buyers had previously used other smartphone models.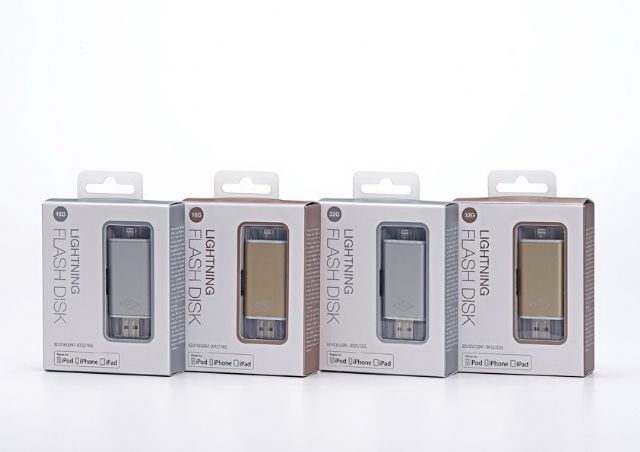 Sleek exterior and attractive color coupled with easy-to-carry packaging are features of SAC's i-Drive USB Flash Disk.
This tendency among consumers turning their backs to non-iPhone handsets will not just assure Apple stronger growth in the short term, but also generate lucrative business opportunities to suppliers of related accessories for the gadget, especially those with functionally amazing products, such as the i-Drive Lightning Flash Disk from Taiwan-based Sino-American Electronics Co., Ltd. (SAC), a notable developer of accessories and payment solutions for mobile phones.
i-Drive Lightning Flash Disk
With two ports, each with USB and 8-pin at the upper and lower end, i-Drive Lightning Flash Disk is the world's first USB flash disk certified by Apple, specifically for backing up and transferring files from iPhone, iPad and iPod without need for online connection, PCs and iTune. Furthermore, SAC claims that this flash disk is also the only on market that can fully encrypt an iPhone address book in compliance with AES (Advanced Encryption Standard), a symmetric block cipher used by the U.S. government to encrypt and protect sensitive classified data and information.
The product supports over 40 different kinds of file formats, and can be easily operated on the screen of the gadget to which it connects with SAC's independently developed app that features user-friendly interface and effective file classification using a softly toned, easy-to-operate graphic environment operating system.
With a built-in battery, this USB flash disc allows users to easily back up data, photos and address books stored in iOS devices, as well as conveniently transfer files between iPhones and iPads anytime, anywhere and without cables and external power supplies.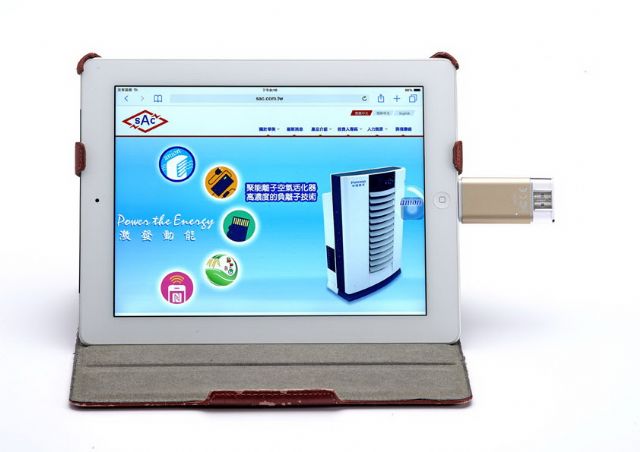 The flash disk has a USB and 8-pin port for backing up and transferring files among Apple's gadgets.
For more durability and value, this product has aluminum alloy housing that is widely used in the aerospace industry, also being available in two colors of silver and gold, coupled with a sleek exterior with beveled edge.
SAC
With excellent functionality and value-added exterior design, i-Drive USB Flash Disk reflects SAC's time-proven R&D and production capabilities.
Founded in 1968, SAC is an electronic component developer and maker with a history of 48 years that is now listed on the main board of Taiwan's stock exchange. In addition to the abovementioned USB flash disk, the firm also supplies mobile payment solutions, energy-gathering ionic air purifiers, NFC (near field communication) secure memory cards, open-frame power supplies, switching adaptors, etc. The versatile maker has also branched out into production of LED lamps and TVs, as well as organic fertilizers and water treatment systems.
With operations in Taiwan and China, the firm has passed ISO 9001:2000, ISO 14001, ISO 9002 DNV, CCP, BABT, Q4 CEC, CAS and other certifications, and also continues to invest in upgrading production lines by adding state-of-the-art equipment at its world-caliber factories.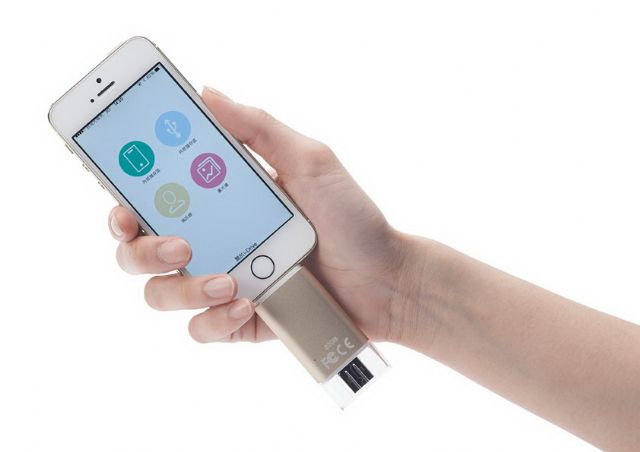 SAC's i-Drive USB Flash Disk app features easy operation and efficient file classification and management achieved by softly toned graphic environment operating system.
As for technological superiority, SAC states that it is Taiwan's first maker of NFC Micro SD cards, smart security chips and NFC 13.56MHz antennas encapsulated in tiny Micro SD cards, and also continues to sharpen its R&D and manufacturing capabilities in line with market trends to satisfy customers with outstanding technical services, high production efficiency and innovation rarely matched by other competitors.